Paris Protests Erupt over Adama Traoré, Young Black Man Who Died Like 'Our Brother' George Floyd in Police Custody
Thousands of people took to the streets in Paris to protest the death of a black man in police custody four years ago in a case which has drawn parallels with the killing of George Floyd that continues to spark unrest across the U.S.
On Tuesday, an estimated 20,000 people ignored a police ban and gathered at the courthouse at the Porte de Clichy in the northwest of the French capital to protest against the 2016 death of Adama Traoré, a 24-year-old man who died after he was pinned to the ground by three officers.
Many of those who gathered wore protective face masks, while some held placards calling for "Justice for Adama" Radio France International reported. Others held placards with the words "Black Lives Matter" on them, in a show of support for the movement in the U.S. and in a nod to the protests that have rippled across the U.S. in the wake of Floyd's death.
While mostly peaceful, police used tear gas and rubber bullets to break up elements of the crowd as projectiles were thrown and clashes broke out during the action.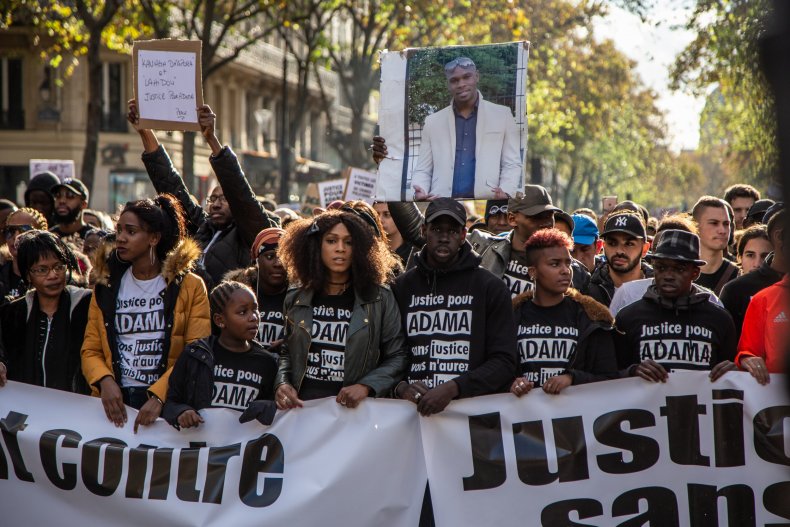 Traoré's case has been a rallying call against police brutality and has been a simmering point of race relations in France. His death followed his arrest after a police chase with one officer admitting that three policemen had pinned Traoré down. He lost consciousness as he was being taken to a police station, where he died.
A report last Friday cleared the officers of blame, saying that he died of heart failure which may have been caused by underlying health issues, with the presence in his body of tetrahydrocannabinol, the active ingredient of cannabis, a contributing factor, France 24 reported.
However his family launched an inquiry which said that he had been asphyxiated and died because of the way he was arrested.
Politicians tried to play down parallels with the American riots with Senator Bruno Retailleau saying that the protests were unacceptable because of the coronavirus restrictions in place.
"What is also unacceptable is that some of those who are commemorating Adama Traoré want to link what happened in the United States to what supposedly happened, four years ago, here in France," he said, according to LCI News.
However the Floyd case was a rallying cry for Traoré's sister, Assa Traoré who told the crowds said that her fight was not just for her family but "it's your fight too."
"Today when we fight for George Floyd who is our brother in the United States, we fight for Adama," she said, in video that was shared on social media.
French government spokesman Sibeth Ndiaye told reporters that the situations in France and the U.S. "are not entirely comparable, neither in terms of history, nor in the organization of society. I call to approach these subjects with great caution," Le Parisien reported.
Meanwhile Paris police chief Didier Lallement said in an email to his city's law enforcers, his force is not violent, nor racist," adding that "it acts within the framework of the right to liberty for all" The Local reported.
Even if the echoes of the Floyd protests were being heard in Paris, the debate surrounding race relations in France is very different to that of the U.S., according to Rokhaya Diallo, a French journalist and anti-racism activist.
"In the U.S., the question of racial discrimination is something that's very clearly enunciated. But in France, there's a refusal, a denial about what happens on French soil," she told the Washington Post.