Adapted Mobility Vehicles Coming in More Varieties With Added Capability
The market for mobility vehicles for the disabled continues to grow. Vehicle modifiers like Braun and new driver assist technologies now allow everyone to be more independently mobile.
There are several federal laws that apply to a disabled person's ability to operate a motor vehicle. Because a broad spectrum of disabilities fall into the category, for the purposes of this article, disabled will refer to people who have lost the use of at least one limb and require special adjustments to operate a car.
Under the Americans with Disabilities Act passed in 1990, and amended in 2008, disabled individuals are protected from being discriminated against in the workplace and for public services. This extends to the Department of Motor Vehicles who cannot deny someone a driver's license solely because of a disability.
This is the same law that requires public buildings to have disabled parking spaces that are at least eight feet wide with eight-foot loading zones and wheelchair ramps.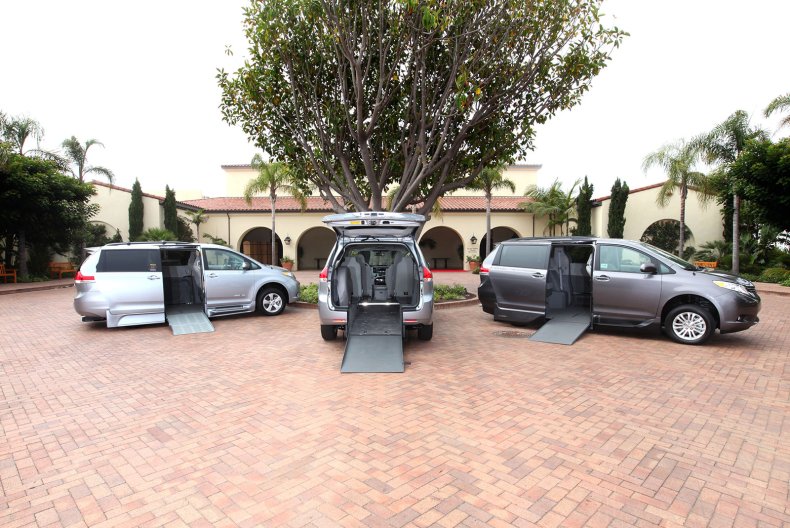 For a car to be considered a "mobility vehicle" it must be a specially engineered adaptation of a vehicle to make it accessible for wheelchair users. Typically this means vans, minivans and SUVs, but cars can be modified as well. According to the American Safety Council, there are certain modifications that must be performed on a vehicle for it to be suitable for a disabled driver.
What are the disabled driving laws?
Modifications vary based on the particular disability but these vehicles should have automatic transmission and button-less features that enables easy control. Mobility vehicles should also have power steering, locks, seats, and windows.
The requirements do shift depending on individual need and state laws. For example, some wheelchair users require rear or side lift to get in and out of the vehicle with hand grips and a transfer board. Other drivers who are unable to use brake and accelerator pedals, will require hand controls substitutes.
Some states have outlawed steering wheel spinner knobs for being too dangerous, but others still allow them. Check your state's vehicle motor laws for specifics.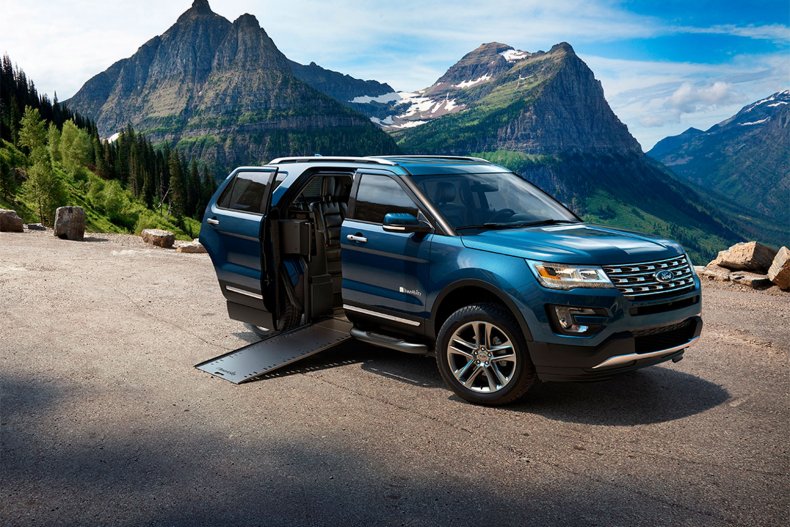 Where to find disabled driver education?
Disabled driver's education is similar to other forms of driver training, and many driving centers provide specific lessons for the disabled.
Like all U.S. drivers, disabled drivers must be at least 16 years old to get their license but can begin to take driving lessons at 15 with a learner's permit. Disabled driver's must also pass the written and road tests as well.
What are the most common vehicle modifications?
There are several types of wheelchair modifications to consider.
Side-entry vans provide extra room for maneuverability because some or all of the floor has been lowered. Owners can typically drive or ride in the first row from their wheelchair, depending on the outfitter, or have the option of riding in the second row. While rear-entry vans allow users to ride from the second row to the rear. These vans are best suited for people who have an accompanying caregiver.
Vans can be lowered or raised to accommodate ramp attachments. A fold out ramp can easily deploy over curbs, making for easy entry and exit. While most ramps are powered, they can be manually operated in case of emergency. The in floor ramp doesn't require ramp deployment for entry and exit through ramp doorways, but can be challenging on high curbs.
Side-entry vans are generally lowered for a shorter ramp and the rear entrance is raised for longer ones.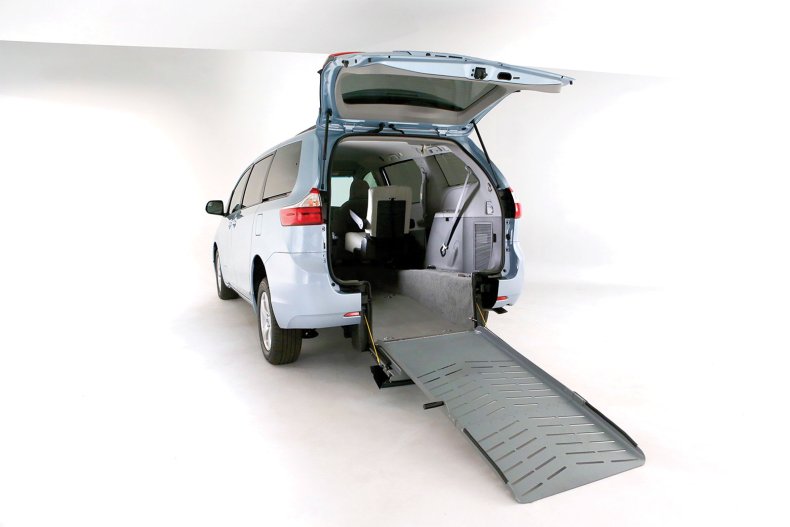 What are the best vehicles to modify?
According to the top mobility vehicle modifier, BraunAbility, a high roof and wide door opening are things to look for and an automatic transmission is almost always a requirement whether using pedals or hand controls.
The company selected its top five cars for disabled people: Ford C-Max, Mercedes-Benz V-Class, Volkswagen Caddy, Toyota Yaris and the BraunAbility Entervan.
For those looking to adapt hand controls, pedals, seat lifts and a wheelchair hoist, the Ford C-Max is a strong option. Owners can add swivel seats or a transfer wheelchair. The car has a large luggage compartment with room for large wheelchairs and even some mobility scooters.
The Mercedes-Benz V-Class has the best seating capacity combined with good measurements for a driver's side seat lift, according to BraunAbility. The van can seat up to seven passenger seats and has a massive cargo compartment.
Volkswagen was generous with space when designing the Caddy which makes it easy to adapt with almost anything.
The Toyota Yaris is a smaller option for those who are living a more urban independent life. Its door opening is large for easier entry and exit and can fit a swivel seat adaptation.
For disabled people who are unable to transfer to and from their electric-powered wheel chair, the BraunAbility Entervan provides a lowered floor along with rear and side entry adaptations.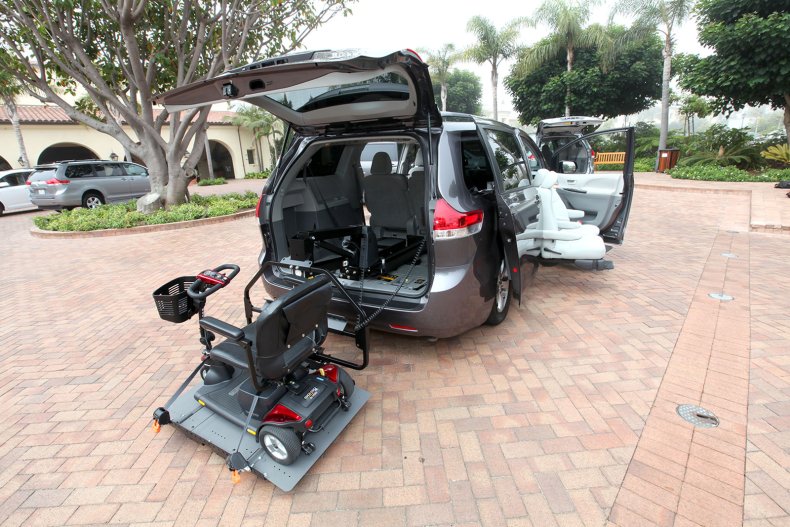 What are programs sponsored by major automotive manufacturers?
There are many programs like Ford Uplift, GM Fleet and DriveAbility Program sponsored by Stellantis that help disabled drivers not only obtain licenses but help fund the modifications. All three programs offer $1000 or more in reimbursement on adaptive equipment.
The Ford Accessibility Program offers a wide variety of adaptable vehicles to meet various needs, budgets and personalities. Depending on the type of adaptive equipment you require, there may need to be structural modifications. Ford will connect you with a local qualified vehicle modifier that best suits your needs.
General Motors will help start the overall process of adapting one to their vehicles with guidance on adaptive equipment and financial assistance. Customers are incentivized to join GM Accessibility Adaptive Equipment Program, with 2 years of the OnStar Safety & Security coverage and Remote Access Plan.