Artie Lange, Addiction and HBO's 'Crashing': Pete Holmes Goes Inside Season 2 Episode That Examines Lange's Struggles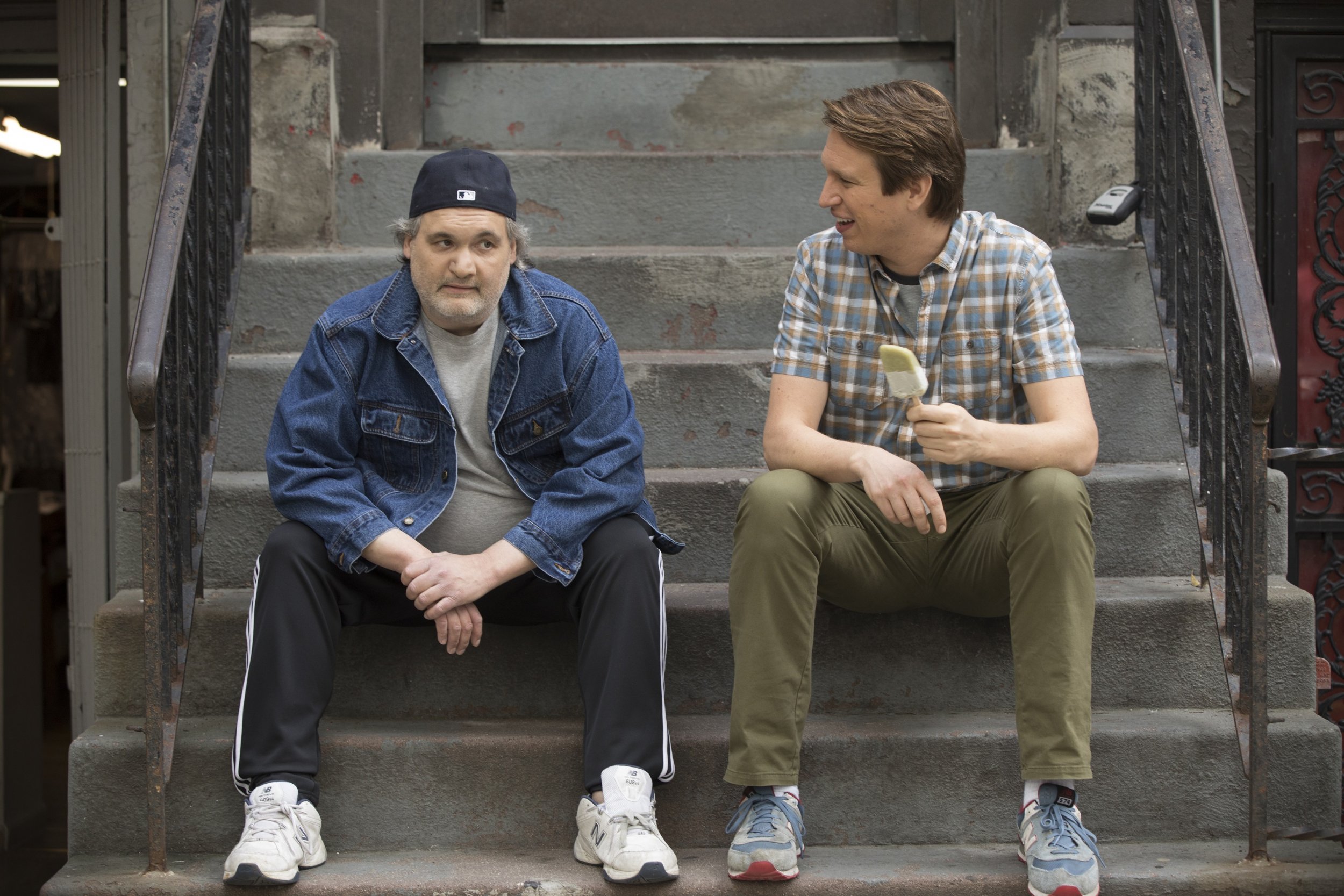 These days, Artie Lange is known for two things: being one of the funniest comedians on the planet, and his very public battle with addiction. Lange has long used comedy to help talk about his substance abuse problems, but the way he handles it on Sunday's episode of HBO's Crashing is more intimate—and intense.
The show, currently in its second season, was created by comedian Pete Holmes and is a fictionalized, thinly-veiled version of his life on and off stage. (Think Louie C.K.'s Louie.) Lange has been a part of Crashing since the beginning, and he hasn't been shy about mining his experiences—no matter how high or low—for the series.
Season 2 has been more low than high for Lange's character. Things are crumbling around him, but he always seems to have a joke for every occasion. "Artie can't not be funny," Holmes told Newsweek. "You shoot a scene with him, and you're like, 'Look, Pete is worried, he came to your house and saw people doing drugs and he thinks you might be using again.' That's the scene. Somehow Artie will pipe in so many jokes." (One of the laugh lines is a bit of wordplay that will be instantly familiar to Lange's fans. "Who were those guys, you had two sketchy guys in your apartment?" Holmes asks. "They're my sketch group," Lange snaps back.)
The scene in question is part of this week's episode, which is a direct and tender confrontation with Lange's real-life struggle with drugs. The comedian has long battled addiction, and in between seasons of Crashing he had a very public relapse. In December, he pleaded guilty to possession of heroin and is scheduled to be sentenced on February 23.
In real life, Lange is best known for his appearances on Howard Stern and in movies like Beer League. On Crashing, his character is a mixture of charming and funny and angry and deceptive. Pete, meanwhile, is a jovial, naïve, former-evangelical still clinging to bits of that belief. The clash between those personalities can be painful to watch, especially when Artie twists himself into knots trying to assuage Pete's concerns—just to get his friend off his back.
If the interactions feel real, it's because, in many ways, they are. "A lot these scenes included improvisation, and in that improvisation the lines were completely blurred," Holmes said. "It's like, 'Where does my character end and where does his character end?'"
In Newsweek's conversations with Holmes, it's clear the episode meant a lot to both him and executive producer Judd Apatow. And it's one that was important to Lange. "This episode was hard to do," Lange told Richard Roeper last week. "But I wanted to do it." (Lange was unavailable for comment for this story.)
Crashing's look at addiction can feel unflinching. What makes it effective, though, is that it doesn't take any easy outs. There is confusion and hurt when Pete, a 32-year-old up-and-coming comedian, confronts the 50-year old veteran of comedy and drug use. Pete thinks Artie is chucking away his success; Artie can't convey the torment—physical and emotional—he's suffering.
After all, how can a naive man-child like Holmes possibly understand Lange's pain? In the show, it's not so spelled out. But in real life, the death of his father after a tragic accident looms large. In 1985, during Lange's first year of college, his father—Lange's best friend and hero—was working on a roof, fell off and became a quadriplegic. He died in 1990 after "losing the will to live," Lange told Rolling Stone in 2009.
"Pete's sort of still living in that bubble: 'If you're a good person and you're honest and you're funny and you look people in the eye, shake hands and smile, everything will be fine,'" Holmes told Newsweek. "And Artie is on the other side like, 'Sometimes you do everything you can. You're trying to be a good person. And your father falls off a roof.' He's showing there's more complexity and ambiguity in the world.'"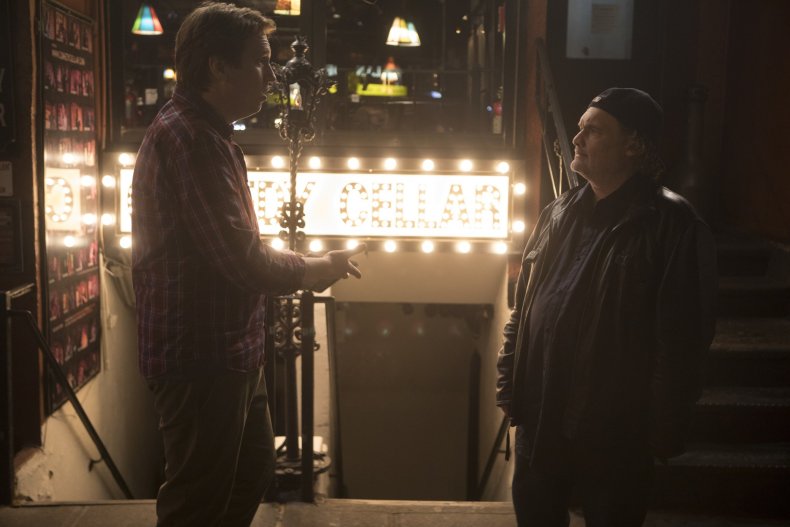 Without venturing too much into spoiler territory, Pete and Artie have a major fallout near the end of the episode. Pete trots out tired pleas for Artie to get clean—"Don't you owe it the people who love you?" he demands—and Artie responds in furious anger. It seems like there are no jokes left to tell.
But then, moments later, comedy reasserts itself and Artie is back onstage. "We've all had shit days, try as hard as you can not to do that again," Lange says to the crowd as a dazed Holmes looks on.
"Is anybody else having the time of their life?" Lange continues. "I am."