Did Addison Rae Get Banned on TikTok? Creator Jokes It's 'Time to Get a Job'
Addison Rae has joked that it's time for her to "get a job" after revealing to fans she has been "permanently banned" from TikTok.
The internet celebrity rose to fame on the platform but will no longer be able to access her account due to "multiple violations" of the company's Community Guidelines.
"Well time to get a job," Rae tweeted on Thursday night to her 4.8 million Twitter followers.
It is not clear what community guidelines she has broken. Newsweek has reached out to TikTok for comment.
At the time of publishing, Rae's account appears normal on TikTok but it is not clear whether she is able to post new content or not.
Her last video, an ad for Nintendo, was posted one day ago.
The 21-year-old is known as one of the video platform's biggest stars and has a staggering 84.8 million followers.
Other TikTok celebrities have been wrongfully banned due to mass reporting in the past, but it is not clear if this is what has occurred to Rae this time.
However, if the ban is legitimate, it represents a big loss in earnings for the star.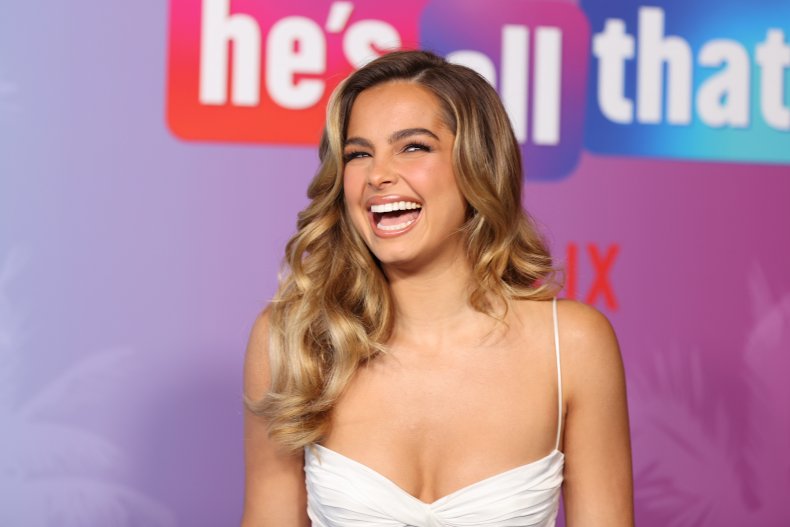 Forbes estimates that she earns $5 million per year due to her content on the platform.
Her brand deals through her videos with the likes of Reebok and American Eagle have seen her make it big financially and she was also cast in the Netflix remake of She's All That.
Rae has also been increasingly working the red carpets in 2021 and made her Met Gala debut recently. She also released her first single, "Obsessed," this year.
"damn they actually banned you.. why would they ban one of the biggest creators on the app," one fan replied to Rae on Twitter.
While YouTuber Larray joked: "I've been needing an assistant."
The TikToker has always praised the platform that made her famous and gushed about how anyone can have the same opportunity as her by using it to make videos.
"With TikTok, everyone is welcome. It doesn't matter what age; people are making videos and content," she told Forbes last year.
"It is such a fast pace and simple app, that's the appeal. Anyone can use it and has the chance to go viral. That is what makes it so addicting. You can post a video, and thousands of people from across the world can see that one video, and you had no idea it would reach that far."
She also credits "consistency" with her exponential growth on the platform.
"I attribute all my social media growth across all platforms to one thing: Consistency," she said. "I am always really active. Daily, I post three to five pieces of content on each platform. People notice how often I post, how much I interact with them, and people really like that."