Addressing Congress, Pope Francis Salutes America as 'Land of Dreams'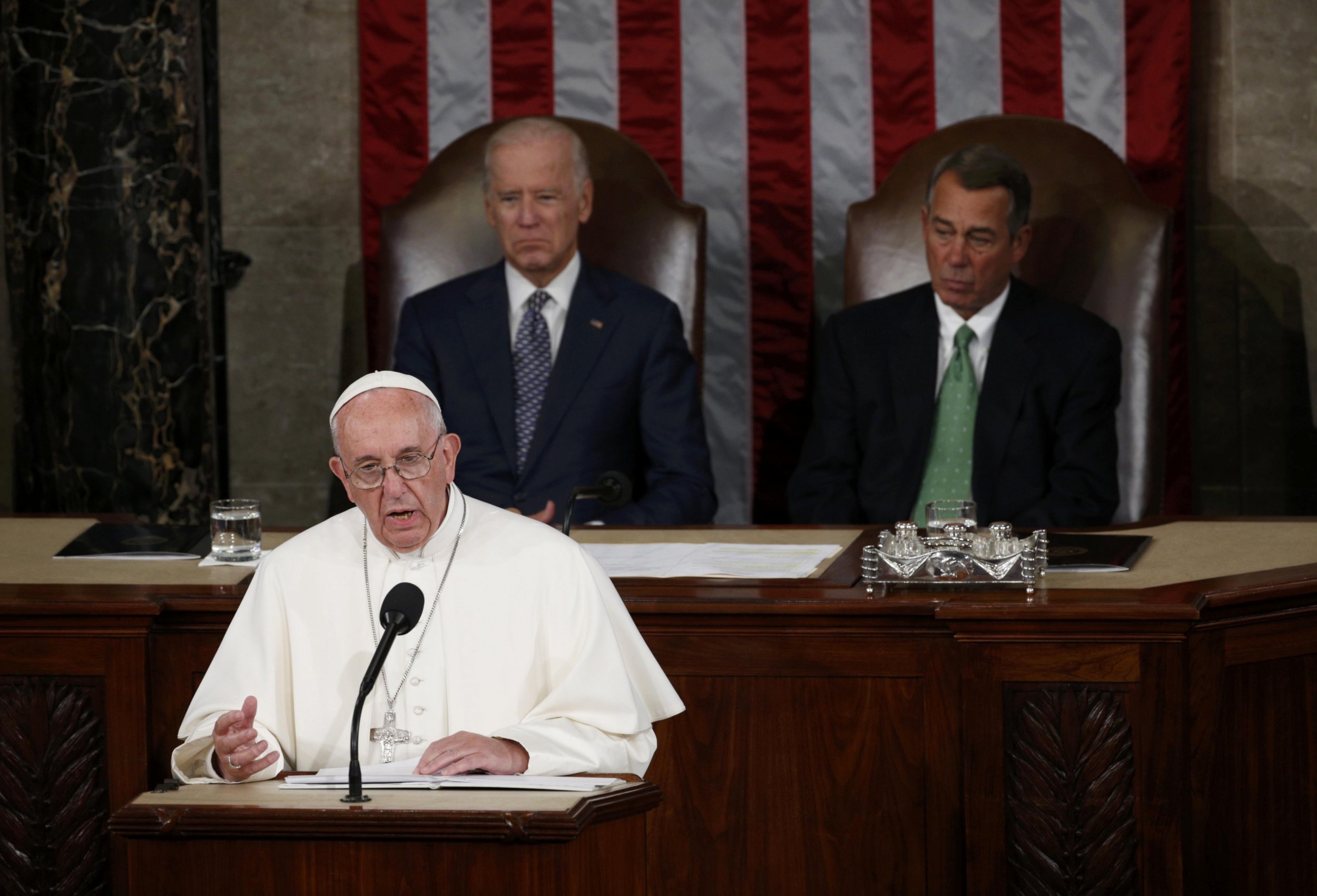 Pope Francis used an unprecedented address to Congress to implore divided lawmakers to avoid "polarization" and "simplistic reductionism which sees only good or evil—or, if you will, the righteous and sinners."
With just four working days left for lawmakers to avoid another government shutdown, it remains to be seen whether the Democrat and Republican members packing the House floor Thursday morning will take the pope's message to heart.
Francis was not the first pope asked to address Congress, but he is the first to agree to it. Speaking in English, the pontiff called for a new "spirit of cooperation," gently chastising an institution that has become synonymous with gridlock and dysfunction. He spoke slowly and softly, with the thick accent of his Italian-Argentine roots, prompting members of Congress and the other assembled dignitaries to listen intently.
"The complexity, the gravity and the urgency of [today's] challenges demand that we pool our resources and talents and resolve to support one another, with respect for our differences and our convictions of conscience," said the pope, who is making his first visit to the United States. He met with President Barack Obama at the White House on Wednesday and is traveling up to New York City later on Thursday, followed by a stop in Philadelphia before returning to the Vatican.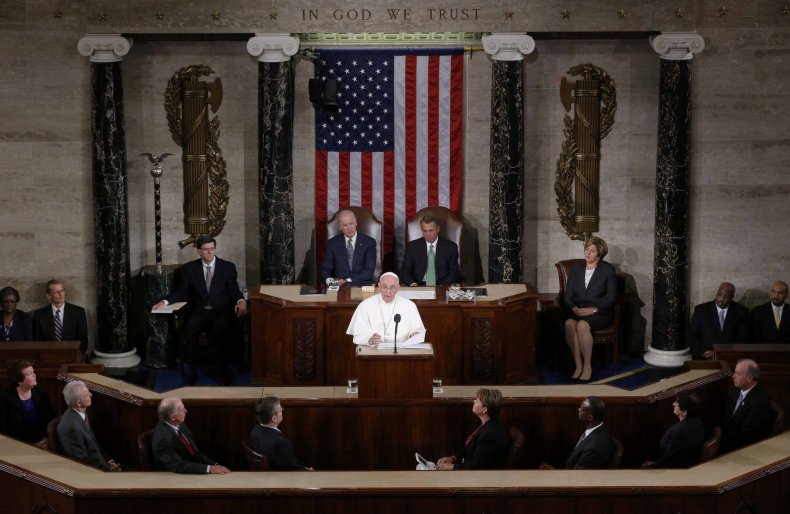 Though the pope is new to U.S. soil, he displayed an admiration for American history, weaving in references throughout his speech to two giants of American Catholicism, Dorothy Day, who fought for social justice, and Thomas Merton, a monk and writer who promoted religious tolerance. He also cited better-known icons like Abraham Lincoln and Martin Luther King Jr. Francis noted the 50th anniversary of King's march from Selma to Montgomery, Alabama, "part of the campaign to fulfill his dream of full civil and political rights for African-Americans."
"I am happy that America continues to be, for many, a land of dreams," Francis said. That earned a standing ovation from the assembled members of Congress, which includes a large contingent of Catholics. Both House Speaker John Boehner and House Minority Leader Nancy Pelosi are practicing Catholics, as is Vice President Joe Biden, who took his honorary place behind the podium as president of the Senate. A number of presidential candidates were also in attendance, including the four Republican senators and one Democrat who are running for the White House, as well as Republican hopefuls Chris Christie and Ben Carson, who sat in one of the galleries reserved for guests.
The pope used King's dream to segue into a pointed appeal on immigration, an issue that has been the subject of more recent demagoguery than virtually any other, thanks to Donald Trump and other presidential candidates.
"We, the people of this continent, are not fearful of foreigners because most of us were once foreigners," Francis declared to widespread applause He acknowledged that past settlements in the Americas have often led to violence and that native peoples were treated poorly. "Nonetheless, when the stranger in our midst appeals to us, we must not repeat the sins and the errors of the past."
The pope highlighted the refugee crisis now roiling Europe, which is grappling with a flood of millions of people fleeing conflict in Syria and elsewhere. But he also made a reference to immigration from Latin America, pointing out that "on this continent, too, thousands of persons are led to travel north in search of a better life for themselves and for their loved ones, in search of greater opportunities."
"We must not be taken aback by their numbers," Francis told Congress, "but rather view them as persons, seeing their faces and listening to their stories, trying to respond as best we can to their situation." He didn't have to add that that's something the U.S. has often failed to do, particularly when it comes to the wave of Central American women and children who crossed into the country last summer, only to be locked up by immigration officers or sent back to violent conditions at home. "We need to avoid a common temptation nowadays: to discard whatever proves troublesome," the pope warned. "Let us remember the Golden Rule: Do unto others as you would have them do unto you."
That prompted raucous cheers from the Democratic side of the chamber, but much more muted applause from Republicans.
Immigration was just one of the issues the pope touched on that have been at the forefront of his agenda since being elevated to the papacy two years ago. He's staked his reputation on fighting global poverty and inequality and lifting up the poor. And on Thursday he reminded lawmakers that that is a fight that "must be fought constantly and on many fronts, especially in its causes."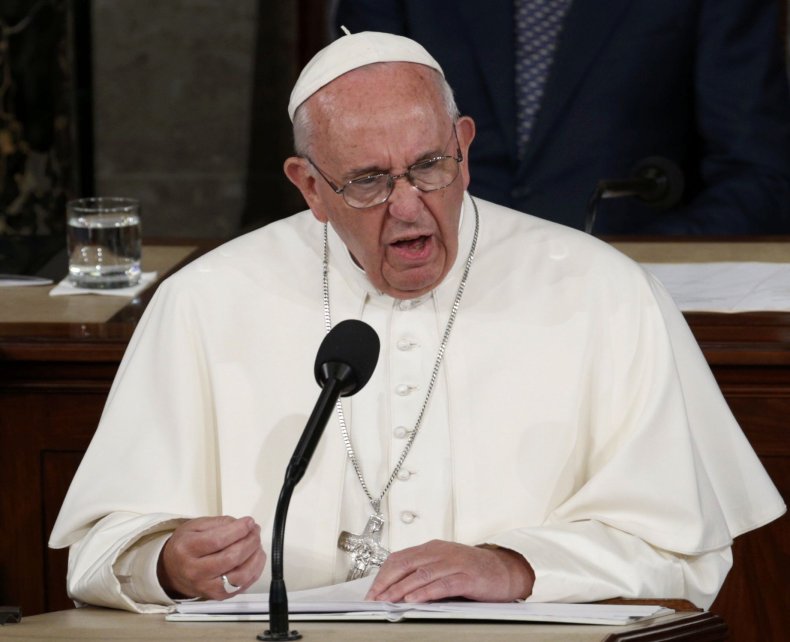 "It goes without saying that part of this great effort is the creation and distribution of wealth," the pope continued. Business "is a noble vocation" as long as it is focused on "service to the common good." And he reminded Congress that "if politics must truly be at the service of the human person, it follows that it cannot be a slave to the economy and finance."
The pope spoke just briefly on one of his most controversial forays into policy—his call to combat climate change. Referencing his groundbreaking encyclical Laudato Si', Francis said the United States—and this Congress—have an important role to play in averting "the most serious effects of the environmental deterioration caused by human activity."
Francis also lauded diplomatic dialogue, alluding to "efforts made in recent months to help overcome historic differences linked to painful episodes of the past." He seemed to offer a direct retort to critics of renewed relations between the U.S. and Cuba, which he helped broker. Dialogue, he said, "requires courage and daring, which is not the same as irresponsibility," a line that Obama and the Democrats who voted for the Iran nuclear deal must have appreciated.
But the pope also offered plenty of rhetoric that Republicans could embrace, including some on the family and the sanctity of life. He again invoked the Golden Rule in claiming that people have a "responsibility to protect and defend human life at every stage of its development," which drew the GOP members in the chamber to their feet. Francis also made a call for religious freedom, saying that "it is important the...voice of faith continue to be heard." Toward the end of his speech, he expressed concern for the family, worrying that "fundamental relationships are being called into question, as is the very basis of marriage and the family," an apparent allusion to gay marriage, which the Supreme Court legalized across the country this summer.
Francis called forcefully for the abolition of the death penalty, saying that "a just and necessary punishment must never exclude the dimension of hope and the goal of rehabilitation." It was one of the few issues he raised that has not headed the American political agenda. Perhaps the "Francis effect" will change that.
In typical partisan fashion, politicians after the speech quickly seized on the portions of Francis's remarks they agreed with. Republican Senator Ted Cruz, a presidential hopeful, tweeted:
Cruz's Senate colleague Bernie Sanders, who's running for the Democratic nomination, focused on a very different part of the pope's message. "The pope is right in saying all of us must address the grotesque income and wealth inequality we are seeing throughout the world," he tweeted.
A few embraced the pontiff's call for solidarity and fraternity. "I am delighted to have had the opportunity to hear @Pontifex share his message of faith and love today in our nation's Capitol," tweeted Carson.