Addyi, the Drug for Women's Low Libido, Will Hit Pharmacy Shelves Saturday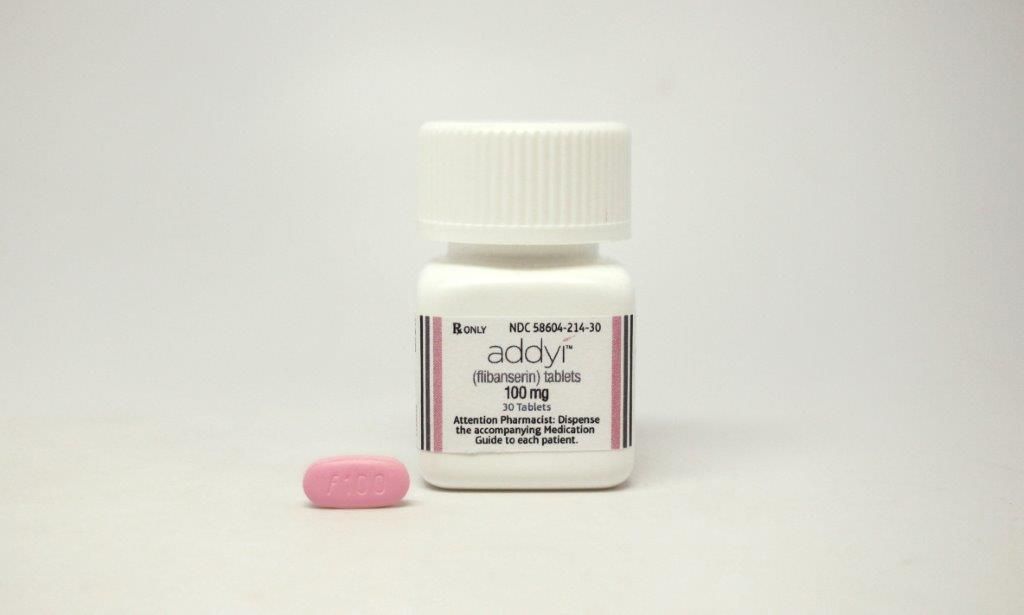 The highly controversial drug to treat low libido in women will hit pharmacy shelves on Saturday. Addyi (flibanserin), which is taken once a day, earned approval from the U.S. Food and Drug Administration (FDA) in August for the treatment of hypoactive sexual desire disorder (HSDD) in premenopausal women. It's the first-ever drug approved and marketed for women with HSDD, a condition included in the Diagnostic Statistical Manual for Psychological Disorders-5.
Addyi is a nonhormonal drug that works by targeting dopamine and noradrenaline neurotransmitters, and lowering levels of serotonin. Throughout the drug's formal review, health officials and physicians questioned the safety and efficacy of this little pink pill. Critics have said clinical trials of the drug showed it wasn't effective enough—and that its negative side effects outweighed its potential for positive impact. Studies reported that, on average, Addyi only increased sex frequency by an average of two or three times per month. Many have said the outcome of studies to date are not enough to support prescribing the medication, which caused a number of notable side effects in early studies. Approximately 11,000 women have taken part in clinical trials for the drug, which was previously rejected twice by the FDA.
The FDA approved Addyi under a stipulation that Sprout Pharmaceuticals, the maker of the drug, would include a black box warning cautioning women of their risk for "hypotension and syncope in certain settings." These "certain settings" include consuming alcohol with the drug and taking CYP3A4 inhibitors. CYP3A4 is the most common liver enzyme, and inhibitors include commonly prescribed antifungals, antibiotics, calcium channel blockers and other heart medications.
But those who are optimistic about the drug say it could be life-changing for a huge population of women, who often suffer silently and worry about deteriorating marital and romantic relationships. According to a study published in the Archives of Internal Medicine in 2008, 26.7 percent of premenopausal women and as much as 52.4 percent of menopausal women experience low sexual desire at some point in their lifetime.
In September, Sprout launched its Addyi Risk Evaluation and Mitigation Strategy (REMS), a formal training program to begin certifying physicians and pharmacies on how to prescribe and dispense the drug safely. The company has outlined certain criteria that a patient must meet before a physician can confidently prescribe the drug, which is assessed with a five-question screener, called the Decreased Sexual Desire Screener (DSD). Patients and health care professionals can call 1(844) Pink-Pill for more information. On Friday, the hotline's on-hold music was care of Kenny G. and James Taylor.
The company's chief executive Cindy Whitehead told Newsweek in August that conversations with insurance companies were promising, with most providers willing to offer coverage for Addyi similar to Viagra, Cialis and other erectile dysfunction drugs for men. Whitehead said depending on what insurance plan a patient has, she can expect to pay anywhere between $30 to $75 a month for the medication.
Dr. Elizabeth Kavaler, a urologist at Lenox Hill Hospital in New York City, says she has patients who have already asked her to write prescriptions. Since the drug first made the news, at least 10 of Kavaler's patients have inquired about a prescription. While she recognizes that Addyi may come with risks, Kavaler says she is pleased to have an option for her patients who experience distress from low sexual desire.
"As a physician, it is my role to provide safe options for patient with bothersome symptoms. The FDA has deemed Flibanserin safe," she says. "Therefore, I feel comfortable offering it my patients who are seeking treatment. I am grateful that we have something to offer these women."