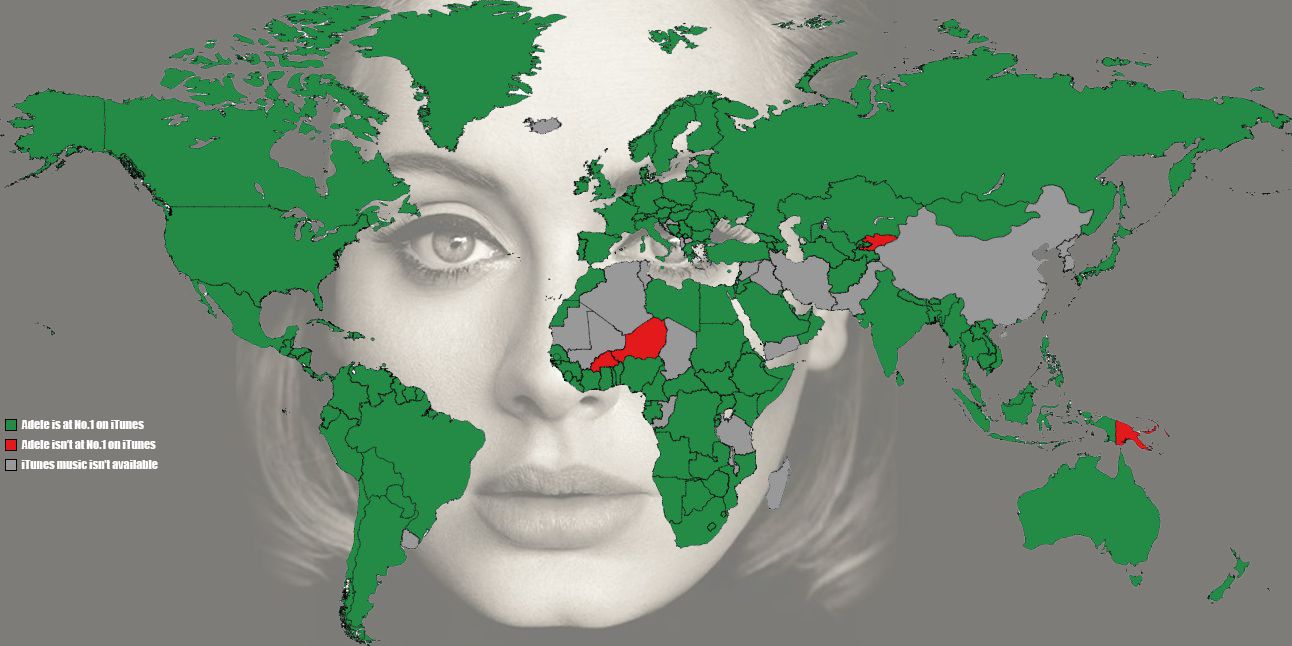 Following the release of Adele's third studio album, 25, #AdeleWatch is captivating music fans the world over as they wait to see just how many industry records the British star can break.
Billboard reported on Monday that 25 had sold 2.3 million copies in the U.S. in three days, putting it well on course to break *NSYNC's single-week sales record of 2.4 million for their album No Strings Attached, released in March 2000.
To illustrate the extent of Adele's worldwide dominance, Digital Spy, with the help of mapchart.net, has created a map showing what it looks like to be top of the iTunes chart in 110 countries.
The countries in green are where Adele is currently No.1, while the areas in red represent countries she might have to consider touring if she wants to gain top spot. The regions in grey don't yet have local iTunes stores.
So who has managed to resist Adele's allure? According to hotmusiccharts.com, in Niger Adele is currently fifth in downloads, behind Bob Marley's remastered Legend album and French singer-songwriter Laartiste's recent release, Fenomeno. Anguilla has given Justin Bieber a sense of Purpose by relegating 25 to No. 2.
But Adele has her work cut out in Burkina Faso, where she barely breaks the Top 40. No doubt Belgian musician Stromae, who sits at No.1, would be happy to give her some advice on cracking the market.