Yes, Anders Behring Breivik Is a Monster. No, He Doesn't Deserve Solitary Confinement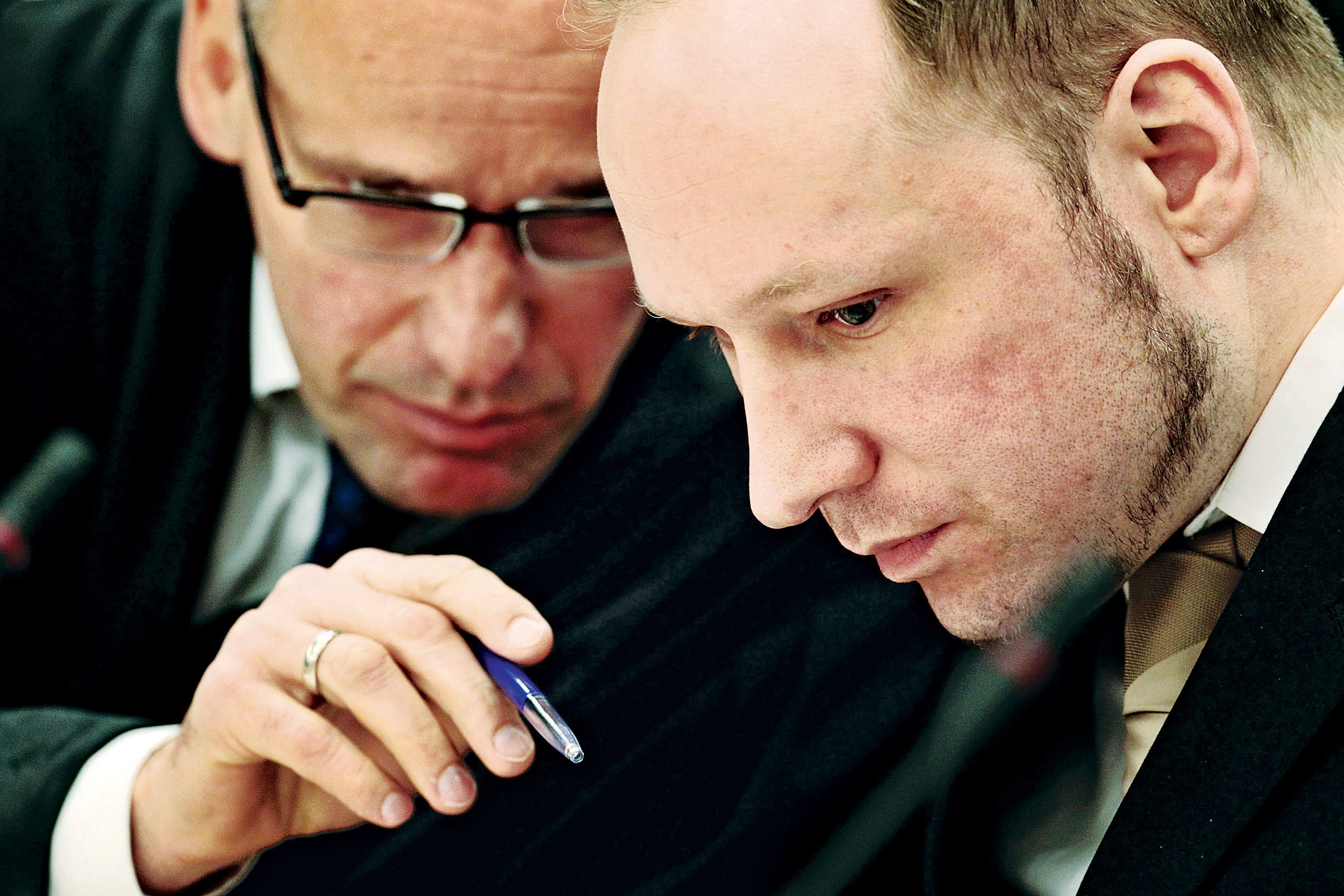 Americans hate to be told when the Europeans have gotten something right: progressive taxation, high-speed rail, soccer, low-alcohol beers that don't taste like urine. And they have gotten it right again, in Norway, where a district court in Oslo has ruled that mass murderer Anders Behring Breivik was deprived of his human rights by having to undergo solitary confinement.
To call killers "monsters" is something of a cliché, but I can't think of a better word for Breivik, who murdered 77 people, including dozens of teenagers, in 2011. Sentenced to 21 years in prison, Breivik was being held in solitary confinement, though images of a lightless cell don't exactly apply in his case. Photographs from Skien prison suggest a dorm room for a freshman who had bad luck in the housing draw.
His internment has not been in "the hole" of the sort one might find at Angola or San Quentin. Far from it. The Guardian reported that "Breivik had access to three cells—one for living, one for studying, and a third for physical exercise—as well as a television, a computer without internet access and a games console, and that he was able to prepare his own food and do his own laundry."
Yet in its ruling, the Oslo court decreed that Breivik was indeed subject to "inhuman or degrading treatment or punishment," a violation of the European Convention on Human Rights. "This applies no matter what," the court wrote, "also in the treatment of terrorists and killers." Breivik is now due a financial settlement to cover legal fees. How his conditions will change was not immediately clear.
To the prophets of law and order here in the United States, the Breivik decision will be more evidence that liberalism has eroded the collective sanity of Europe. Ever since George H.W. Bush ran the infamous Willie Horton ad during the 1988 presidential campaign, soft-on-crime has become one of those epithets that can sink a political campaign, especially a Democratic one.
On some level, fury over the Breivik ruling is totally understandable. He took the lives of 77 people, yet meticulously attends to his own. But justice in an enlightened democracy doesn't work on a simple retributive impulse. Norway's prisons may be excessively "cushy," as some have charged. Whatever the case, Breivik used the legal system to challenge his detention; Norway attended to his case precisely as a laws-not-men nation should, with passionless jurisprudence. The danger is that, in a society that hews to laws, you sometimes end up with an unsettling outcome like this one, legally correct yet viscerally outrageous. It hurts, but you get to call yourself a democracy.
Anyone wishing to be angered by Breivik's "win" will find it easy to do so. But while the "amenities" of his solitary confinement may have been lavish by American standards, that doesn't change the fact that he spent the vast majority of his time—all but an hour or two a day—utterly alone. No number of books or DVDs can compensate for human contact, not with the growing conviction that sustained solitary confinement is torture, especially for those inmates who are already mentally ill.
Those who have been through it remember it with fear. "It is as close as you can get to physically just attacking someone without actually putting your hands on 'em," a former Los Angeles gang member who'd spend time in solitary told me for a Newsweek story on the practice in 2014. In the two years since, New York and California, as well as other states, have vowed to attenuate the practice. Earlier this year, President Barack Obama ended the use of the practice for juveniles in federal prisons, arguing that prolonged punitive solitude could have "devastating, lasting psychological consequences."
There are perhaps 80,000 people in some form of administrative segregation across the United States, according to the watchdog group Solitary Watch, and they are not enjoying three-room suites with kitchens and televisions, as Breivik does. The ruling in his favor is not a troubling sign that Norway's prisons are laughably lenient but, rather, another strike against a form of punishment that reeks of medievalism.
The Europeans are right on solitary. On this, as on soccer, we should follow.