Adidas RPT-01 Headphones Review: Surprisingly Good Audio From a Shoe Company
Earlier this year, I expected to listen to lots of new headphones from all the big brands, but Adidas wasn't on that list. I wasn't familiar with Adidas' audio line, and it didn't cross my mind that the company was invested in the music space in this way. I was also not expecting to be impressed by headphones from a shoemaker, but here we are. Adidas has several different audio products firmly in the active sport category, and these on-ear RPT-01 Sport Bluetooth wireless headphones perform really well for that use. Consider me impressed.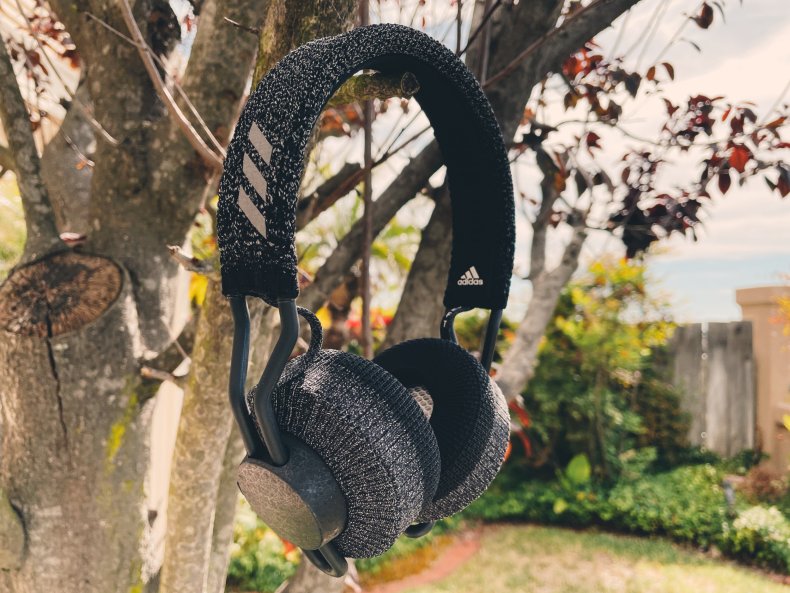 The sound is vibrant, and the materials are sport-friendly. The headphones are a product that could work well for soccer practice, a garage workout session or an afternoon jog. Their best feature for this type of use, a snug and secure fit, is also one of their few downsides. If you can get over some rough comfort on and around the ears, then these headphones, which retail for $169, are a great way to listen privately during a workout.
Adidas Wireless Headphones Fit and Look
Some people love using on-ear and over-the-ear headphones all the time, regardless of location. It's a common sight to see athletes in pregame routines sporting big headphones. For me, however, the bulky, isolating feel these types of headphones have is tough to get over. The RPT-01 features smaller ear pads to cut down on overall bulk, and they are a fairly minimal entry in the category of on-ear headphones. So, if you have felt the same as I have, that on-ears weren't for your fitness time, these might still be able to find their way in for your consideration.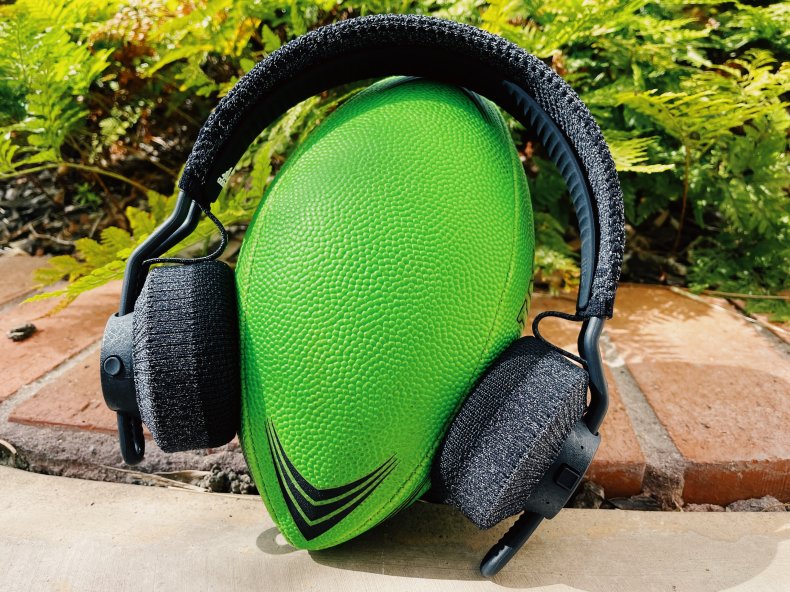 Upon taking the headphones out of the box and feeling the material they were covered in, I was less than impressed. The scratchy fabric is wrapped around the headband and ear pads like a sock might be pulled over a foot. It looks sporty enough, sure, but I'm not sure it's instantly attractive. The rough feel of the fabric makes an even worse first impression.
Luckily, the RPT-01 makes a good first impression around performance and functionality—leading to a more attractive appeal on the second and third viewing. This product really benefits from the overall goal of making headphones for fitness and exercise. It's a smart goal, but more importantly, it's executed thoroughly.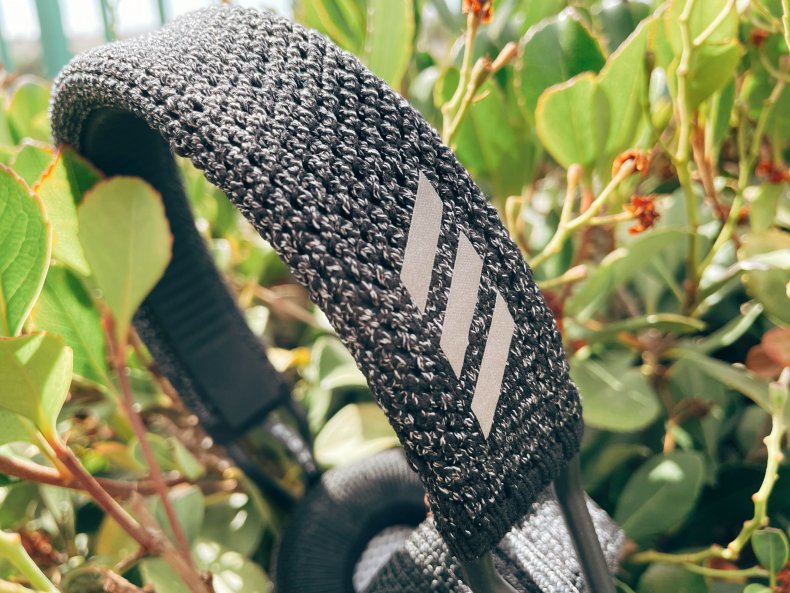 The headphones frame is a bendable, pliable, and plastic. There's a rubber strip of material on the inside of the headband, but other than that, the fabric reigns over most of the surface area. The headband was particularly comfortable, thanks to the light plastic frame and the rubber strip that keeps the top of your head from feeling any pressure.
The ear pads, on the other hand, get all the pressure. It's not a particularly comfortable feeling, but it's manageable. It's immediately obvious that this fit is in service of keeping the listening device in place while you move. It's a laudable design trade-off that, despite the feeling, most people who are moving around, will appreciate.
RPT-01 Fitness Performance
Interestingly, I have very little to say about the way these headphones sound. The audio reproduction is accurate enough to go unnoticed, and the frequency range is respectable enough to completely enjoy all your favorite music. The RPT-01 performs well enough to justify their $169 retail price. (They have been on sale for as low as $99.) They sound really nice, and people should be satisfied when listening to their music collection.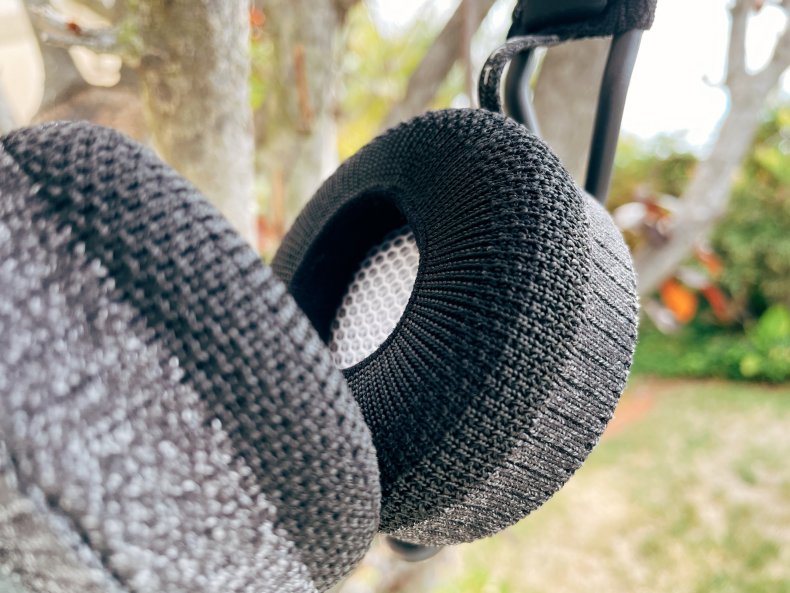 I was interested in experiencing how all the headphone parts work together to produce a sum better than expected. I took to a rowing machine first and an outdoor run second to get the full sense of their robust use. Both handled the movement and sweat without a problem.
In conjunction with the mobile app, the headphones can do a few neat tricks, including being able to customize a hardware button on the left ear. This utility button can be set to do different things for single, double and triple presses. It can trigger voice assistants, for instance, but my personal favorite was its connection with Spotify. If you have a premium account, you can sign in to Spotify and select an artist, album or song list that you want to play when the button is pressed. Of course, your phone will still need to be around, so if you're running with your smartwatch, it won't work. Still, I really like this integration and quick access to music, and reached for it regularly.
On the other side of the headphones, there's a square knob that controls everything else. Up and down control the volume, while left and right skips. It's a pleasant, tactile way to guarantee you get the control correct while you're moving about. Pressing the cubelike button will pause and play audio. The device uses USB-C for charging—a nice, modern touch to help consolidate cables you're carrying in conjunction with other products.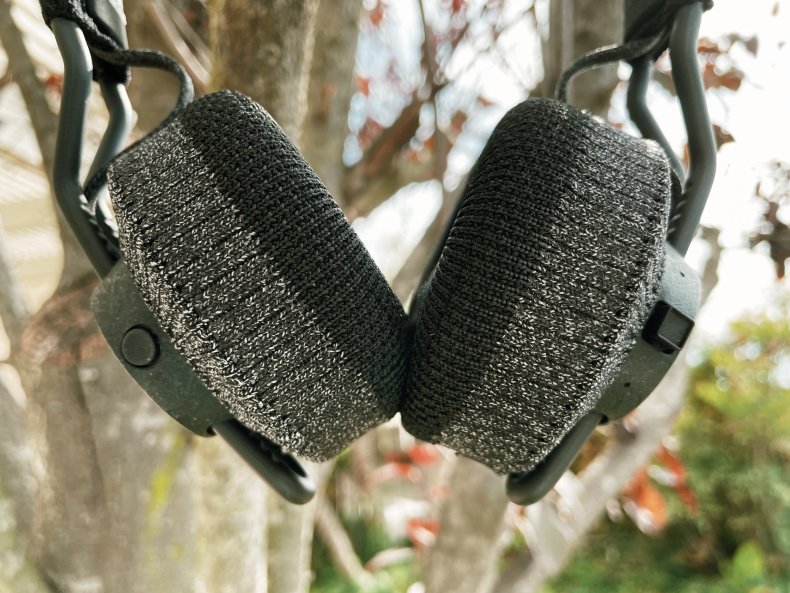 It's not all roses with the headphones. There doesn't seem to be an auto-off, and if there is, it wasn't working very well. Remembering to turn the headphones off every time can be annoying, compared with how most other modern headphones handle this task. It's a minor complaint considering the battery lasts a remarkable 40-plus hours, but an auto-off function would be nice.
Should You Buy the Adidas RPT-01 Headphones?
In hindsight, the RPT-01 is exactly the type of on-ear headphones I would design if I were making something for athletes. The problem here is that the things that make them perfect for outside movement are also the things that give me pause about them. The material around the ear cups is perfect for wicking and avoiding sweat, but it's also rough and scratchy. The pressure needed to keep the on-ear headphones in place during physical activity also causes earaches sooner than later. The headphones are so close to being ideal for fitness buffs—and yet may still not hit the mark for a wider, general audience.
The good news is that I found they do get more comfortable as they get more worn-in. So, while it's hard to recommend them for everyone, universally, these are a durable pair of headphones that you don't have to worry about tossing into a bag full of gear and lugging around to all your different sporting events.
Buy at Adidas.
Newsweek may earn a commission from links on this page, but we only recommend products we back. We participate in various affiliate marketing programs, which means we may get paid commissions on editorially chosen products purchased through our links to retailer sites.