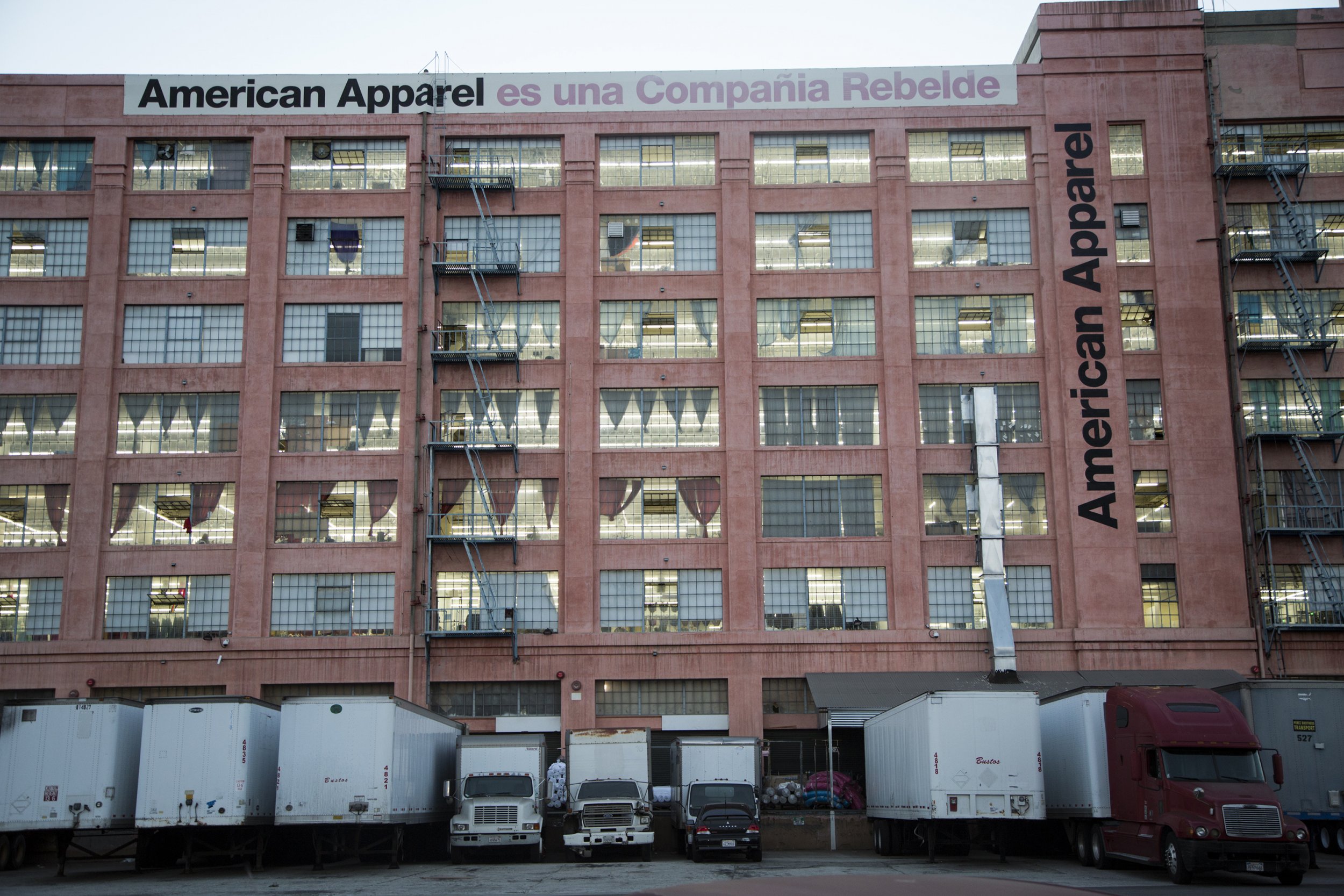 Pour one out for the leotards and jumpsuits: American Apparel, the vertically integrated hipster empire and purveyor of casual bodysuits, will likely be going out of business. On Monday, the company released second-quarter financial results revealing that things are not optimistic: Shares are down 87 percent this year alone, and net losses clocked in at $19.4 million in just the last quarter. Filing for bankruptcy is entirely possible.
A brand representative recently told Fortune that the company has "substantial doubt that we may be able to continue" or that they have "sufficient liquidity necessary to sustain operations for the next 12 months." So you'll have to hunt elsewhere for that perfect Hammer T-shirt.
Former CEO Dov Charney was dumped by his own company last year after several sexual harassment allegations—many of them from former American Apparel models—materialized. New CEO Paula Schneider was brought in last December to try to save the floundering, debt-saddled company, whose finances may or may not have tanked thanks to Charney. Stores have shuttered, the advertisements have become less egregiously sexualized, and a temporary restraining order was filed against Charney by the very company he founded, to prevent him from criticizing it or trying to remove board members.
But the shake-up has not been without its dissenters. Attempts to get back into the black involved sacking factory workers at the store's flagship Los Angeles headquarters, reducing employees' hours and cutting costs in every direction, which has led to a fair share of protests. While American Apparel has been heralded for its fair wages, benefits, made in the USA street cred and the employment it gives thousands of people, the looming debt and legal fees with Charney mean it might be time to say goodbye to those beloved mesh tanks and spandex crop tops.
American Apparel's questionable marketing scheme and tactics in the past, such as cattle calls to cast "real models, not Instagram hoes or thots," made it seem like a sort of deplorable place to shop, despite Schneider's push for socially conscious rebranding. American Apparel will also be remembered for its overpriced tank tops, suggestive advertisements and inability to make sizes for people bearing actual proportions and curves.
Nevertheless, it was a blinding beacon, forever available when you needed a last-minute pair of disco shorts to don for The Rocky Horror Picture Show or an emergency basic T-shirt after a messy spill on the train. So, American Apparel, though you may deserve to go, I'll miss your sweaters. Those were damn good sweaters.