Americans on the East Coast have always been jealous of their fellow countrymen and women out West, next door to some of America's admired national parks. Yosemite's majestic Half Dome, captured brilliantly by Ansel Adams; the Grand Canyon's Horseshoe Bend, memorialized by millions of Instagram users; Yellowstone's endless evergreen forests; Olympic National Park's 70 miles of wild coastline along Washington state—these are merely a few highlights among the wide open spaces, big skies and smoky sunsets that have long defined our understanding of pure, natural beauty.
Surely nothing, East Coast denizens fear, can compare in our backyard, where skyscrapers, Brooklyn hipsters and Jersey Shore attitudes reign supreme. But rest assured, my fellow Yankees: In upstate New York, spread across 6 million acres of largely untouched wilderness, sleeps a park that's bigger than Yosemite, the Grand Canyon, Yellowstone and Olympic combined.
The Adirondack Park is the largest park in the Lower 48. It's the size of Vermont, covers one-fifth of New York state and has 3,000 lakes, 30,000 miles of rivers and streams and more wilderness than anywhere else on the East Coast. It was also the first constitutionally protected wilderness in the world: In 1894, it was protected as "forever wild" by New York state's Constitution, which bans development, logging and the sale or lease of public forests.
Last year, the Adirondacks made headlines when Chinese billionaire and Alibaba founder Jack Ma bought a 28,100-acre property there once owned by Rockefellers and du Ponts—for $23 million. Known as Brandon Park, the property includes more than nine miles of the meandering St. Regis River, plus lakes, trout streams, forests, two homes and a private-label maple syrup operation. If you missed that news item, you may recall the Adirondacks as the scenic backdrop to the 1980 Olympic Winter Games in Lake Placid, home of the "Miracle on Ice."
The Adirondack Park was first seared into the American psyche over a century ago, not long after its founding, when it became the original Hamptons. In the late 19th and early 20th centuries, New York's wealthiest, most powerful families—Vanderbilts, Rockefellers, Posts, Guggenheims—spent their summers at sprawling rustic estates called "great camps." This was glamping on steroids at a time when old money was just hitting puberty. Families built log mansions hidden down long private drives, staffed with fleets of servants and decorated in luxurious backwoods grandeur.
William West Durant, son of a railroad titan, was the mastermind behind the great camp blueprint. Built on secluded plots nestled up to pristine lakes, the camps featured decentralized cabins, each with its own purpose (living quarters, bowling alley). They were made of indigenous materials and brandished their owners' extraordinary wealth. Huge stone fireplaces, soaring log ceilings, bark-clad interiors, bearskins, boathouses, tennis houses, exotic animal heads—these were the hallmarks of the great camp aesthetic. Wooden buildings peeked out through towering spruces, firs and hemlocks; the only real way to tell if you were canoeing past a great camp was the impeccably crafted boathouse with multiple slips tucked against the rugged shoreline. W.W. Durant's masterpieces include railroad magnate Collis Huntington's Camp Pine Knot, built in 1877; financier John Pierpont Morgan's Camp Uncas (1893); and Alfred Gwynne Vanderbilt's Sagamore (1895). All are now National Historic Landmarks.
In 1869, Boston preacher William H.H. Murray penned the first guidebook to the Adirondacks, Adventures in the Wilderness. He wrote of "gleaming" lakes and forests of "emerald-colored velvet" and touted the pleasures of escaping to the untouched, raw wilderness—to a place that "rival[ed] Switzerland." The book became an instant best-seller. Travelers voyaged upstate en masse, seeking a "renewal of life and health." The Adirondacks, Murray said, were a magnificent, undiscovered idyll with the potential to cure—perfect for frazzled, burned-out, workaholic city folk like me.
One hundred and forty-six years later, in the spring of last year, I took Murray's advice and traded my plugged-in, over-scheduled life in New York City for a few days in what The New York Times, in 1864, dubbed "a Central Park for the world."
The Plaid Shirt Equalizer
Somewhere between the Albany train station and White Pine Camp, which served as President Calvin Coolidge's summer White House in 1926, I found myself parked on the side of the road, lost and frantically refreshing Google Maps on my phone. I waited. And waited. Then I noticed that I had no bars. No data. No Wi-Fi.
Shit.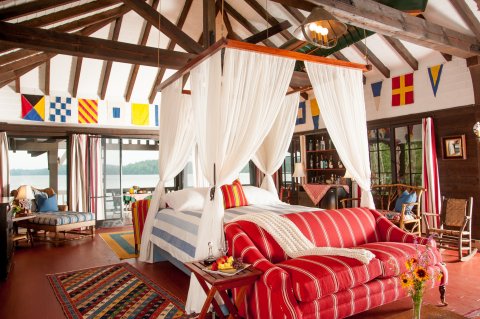 I reached into the glove compartment and pulled out a map of New York. The thing was as large as a quilt, and I suddenly realized I couldn't remember the last time I'd navigated using actual paper. Was I supposed to be looking at grid A2 or F7? I'd had an easier time teaching my septuagenarian parents how to use FaceTime.
"You lost?"
A middle-aged man was leaning out the window of an official Adirondack Park truck. "Happens all the time," he said. He reassured me I was heading in the right direction.
About 10 miles later, I pulled into Glens Falls, a hokey former mill town with three breweries, a handful of local dives and an out-of-place Mediterranean restaurant, Rare Earth Wine Bar, that served some of the best food I ate all weekend. "Glens Falls is the gateway to the Adirondacks, but only if you fail to turn off earlier," said co-owner and chef Paul Parker.
Rare Earth Wine Bar, he admits, may be the right restaurant in the wrong place. "Glens Falls is historically working class. We're struggling to figure out what people want to eat," says Parker, who was serving up a confit duck salad, quail and escargot. (Last December, Rare Earth Wine Bar closed after nearly two years in business. Parker is now the executive chef at Downtown City Tavern, another restaurant in town, where he cooks pizza, wings and burgers.)
Parker's dilemma is emblematic of the symbiotic but often fraught relationship between the region's approximately 132,000 permanent and 110,000 seasonal residents, who live in villages and hamlets, and its 10 million annual visitors. While parts of the Adirondacks look like swaths of rural America, where people work several jobs to pay the bills, others are second (or third or fourth) homes for the .001 percent.
"The region has a history of more than 160 years of incredible extremes of wealth and economic challenges," says William Janeway, executive director of the Adirondack Council. "Going back to the 1850s, the Morgans and other big families built rail lines into the park and bought huge amounts of property. Having that much wealth in a very challenged area made their wealth very obvious, but it also fueled activity and development and jobs."
Of all 11 regions in New York state, the Adirondacks rely most heavily on tourism: 19 percent of jobs here in 2014 were generated by tourism, according to a report titled "The Economic Impact of Tourism in New York." In 2014, tourism in the Adirondacks was a $1.3 billion industry.
What's fascinating about the Adirondacks, though, is that while the region has long been a playground for the über-wealthy, it's just as accessible to everyone else. "With millions of acres of state land and public wilderness, the cost of entry is incredibly low. You can stay in a motel in Lake Placid or camp in a tent in the backcountry," says Janeway. "A plaid shirt is quite an equalizer; it's hard to tell at the local hardware store whether someone is rich or poor."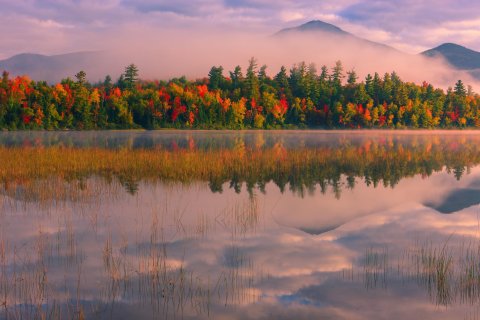 The same can be said for local ice cream shops, many of which have been run by families for decades and attract cult followings that span generations. "Tom Cruise came and left his hat, and the girls went crazy," says Pete Donnelly, who owns Donnelly's Ice Cream, a small white shack on State Route 86 known for its über-creamy cones, views of Whiteface Mountain and long lines snaking through the parking lot of his family's farm. "I said to him, 'You're Tom Cruise, aren't ya?' He said, 'Yeah, but don't tell anybody.'"
Donnelly's Ice Cream operates on a singular concept: Pick a size; the flavor has already been chosen for you. Each day the stand sells one soft-serve flavor, always swirled with vanilla, and the flavor schedule, which locals know better than their home alarm codes, has been in place since the 1960s: a nut flavor on Mondays, chocolate on Wednesdays, strawberry on Fridays and so on. "I like to keep it nostalgic, back to when life was a little simpler," Donnelly explains. "You want a cup of coffee? I go to the local diner. You want all that other junk? Go to Starbucks."
Donnelly, who's in his 70s, likes telling ice cream war stories—about the time President Coolidge's car overheated in front of the farm and his grandmother brought out tea while POTUS sat on the stone wall and waited for the engine to cool off; or about cereal heiress Marjorie Merriweather Post shipping Donnelly's ice cream to Washington, D.C., by plane. Every summer, he says, people drive hours just to pack quarts of ice cream into freezers and take them back to New Jersey or Maine or Massachusetts.
Ice cream shops like Donnelly's are part of what make the Adirondacks special. As Janeway puts it, "People may go away for 25 years, but when they come back, they still go to Donnelly's and there's still a line and there's still only one flavor and there's still the view looking at Whiteface Mountain."
This Is the Point
A century ago, it could take weeks to get to a great camp, while wealthy families ferried their guests upstate on private Pullman cars, complete with gourmet chefs, engraved flatware, marble sinks and etched mahogany (an original 1890 car is on display at the Adirondack Museum). Post whisked her guests to Topridge, her 68-building camp staffed by 85 servants, via private plane and a 26-seat boat.
Last spring, it took me just six hours by train and car from New York City.
My first destination was White Pine Camp, which I found at the end of a two-and-a-half-mile dirt road in the middle of a forest. While most great camps are now privately owned or serve as summer camps for kids, White Pine Camp is one of three that invite commoners to visit and stay over. Sagamore, the Vanderbilt family's 46-bedroom estate on Raquette Lake, is now a museum and educational institute. The Point, William Avery Rockefeller's camp on Upper Saranac Lake, is a renowned Relais & Châteaux property. White Pine Camp, on the other hand, is more of a "Relax & Shut Up."
Built in 1908 by New York banker Archibald White, White Pine Camp sprawls across 35 acres of towering pines. Thirteen cabins—some designed by Addison Mizner in the early days of his career, before he became the architectural visionary of Boca Raton, Florida— overlook the glassy, dark blue Osgood Pond. There's a rickety two-lane bowling alley that wouldn't be out of place on the set of a Wes Anderson movie or the next installment of the Friday the 13th horror movie franchise. Nearby sits one of the most coveted photo destinations in all of the Adirondacks: the Japanese Tea House, a tiny gazebo perched on a grassy island that can be reached only by crossing a narrow, 300-foot wooden bridge, then an arched sori bashi bridge, both hovering over a quiet lagoon.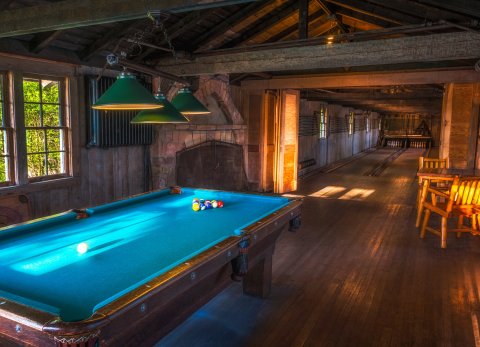 Cabins range from $155 to $370 a night during the high season (late June through October), and they're all TV-, phone- and Wi-Fi-free. The main house has watery coffee on tap and spotty internet service if you get lucky, but the whole point of being here is unplugging: Guests are strongly encouraged to park at a faraway lot, so that cars are never even seen. When I asked an innkeeper for restaurant recommendations, he replied, "Don't forget, you will have a full kitchen and grill, and by an urbanite's standards the immediate dining scene is almost a food desert."
Since I didn't bring any food with me aside from the necessities (fruit and nut bars, bottled cold-brewed iced coffee, peanut M&Ms), I wound up eating out most nights, so it was with great relief that I arrived at the Point, which offers the opposite approach to its guests. "When you're here, we want you to feel like this is your camp," says Joe Maiurano, director of operations. "Anything you want, you can have."
William Avery Rockefeller built the Point as a birthday present for his wife in the early 1930s (at the time, it was called Wonundra). Today, it's a year-round retreat on 75 secluded acres and may just be the least affordable adult summer camp out there, where you can dine, play, relax and slumber as the titans of the Gilded Age once did. Its philosophy? As Maiurano put it, "The answer is 'yes.' What is the question?"
The Point, which has received the coveted Five-Star award from Forbes every year since 1999, is so exclusive that there are no directions on its website. "We will send you detailed driving instructions upon confirmation of your reservation with us," the site reads. There are no signs for the Point, either, just a street address along a road that winds beneath a canopy of trees. Instead of a security guard at the front gate, there's a charming little birdhouse with red shutters, light gray logs and a gable roof over the front door, designed to match the Point's cabins.
I typed in 001 on the keypad, then said, "Hi, this is Abigail, I'm checking—"
A cheery voice interrupted: "Hi, Ms. Jones, welcome to the Point!"
The simple log and twig gate parted, and I drove through, down a long, tree-lined drive, past a croquet court, horseshoes, a row of Adirondack chairs and a handful of exquisite cottages. Three people met me in front of the main house. One whisked away my bags, then my car. Another led me into Reindeer Hall, an eight-sided, wood-paneled room with eight stuffed deer heads hanging overhead and an elaborate orchid centerpiece on an intricate wood table with carved branches for legs. A third handed me a glass of champagne. It took me a moment to realize I'd just finished checking in.
The price for admission is steep: $1,600 to $3,500 a night, before taxes, but that gives you carte blanche access to unlimited meals, alcohol and activities. (Not bad, considering theatergoers are now paying nearly $900 a seat to see Hamilton) There are tennis courts, hiking trails and hammocks strategically hung before picturesque vistas. The opulent pub has a working jukebox, pool table and bearskin rug, complete with head and fangs. A lean-to on a wooded promontory offers a nightly campfire, s'mores and truffled popcorn, with enough pillows and blankets to make it both socially acceptable and comfortable if you happen to fall asleep. Kiehl's amenities will freshen you up, and the cache of boats includes an electric, glass-enclosed Elco that's used for sunset cocktail cruises, as well as the 33-foot 1933 replica Hacker-Craft, a James Bond-worthy, hand-constructed mahogany speedboat. The entire property can be yours for $25,650 a night.
You need a life jacket for your pet? Just ask. Want to eat a Porterhouse steak for two at 4:30 a.m.? No problem. Need a helicopter to Saratoga Springs to watch the horse races and make it back in time for dinner? They could probably arrange that too. There are only a few things you won't find at the Point: Wi-Fi, TVs and phones in your room. (Internet access is available in the visitors' center, inconveniently located at the far end of the property.)
The rooms all have names too. I stayed in Iroquois, the former bedroom of Rockefeller's daughter. Mohawk was once the master bedroom. Sentinel was the original stables and garage. The most sought-after room, the Boathouse, features a billowing canopied bed, panoramic views, a bathtub for two, plus two swinging twin beds that hang on the porch.
The Point takes relaxing seriously, so its other great passions are partying and eating. You get the feeling they want to be sure everyone is lubed up, which is accomplished by having wet bars pretty much everywhere: in the great hall, in the pub, at the lean-to by the campfire and in the boathouse. There's a fifth bar in the Boathouse room, available only to those guests. When my companion asked for bourbon, he was gleefully offered a four-flight tasting of Pappy Van Winkle, a bourbon so rare that The Wall Street Journal called it "a $5,000 bottle of liquified, barrel-aged unobtanium."
In the great camp tradition, most meals are communal, which is great until it's not. An elaborate barbeque luncheon featured fried focaccia with caramelized onions, gourmet mac and cheese, and fried chicken (with white meat, because I asked), each one featuring ramps, flowers and Japanese knotweed foraged from the Point's grounds. But the pièce de résistance of dining at the Point is the seven-course black-tie dinner, held on Wednesday and Saturday evenings in the great room (animal head count: 32, including moose, Cape buffalo, springbok and caribou).
Waiters wearing white gloves serve elaborate dish after elaborate dish, each one tailored to your dietary whims and paired with the finest wine. "May we drink so much that we see double and feel single," a staffer toasted as we started digging into our warm bread and ramp-infused butter. Between courses, I excused myself to use the ladies' room, and when I came back, my companion looked at me with panicked eyes, nodded toward the couple next to us and whispered, "They're anti-vaxxers!"
On my final morning at the Point, after 48 hours without the internet, I caved and walked over to the business center. "Hello, Ms. Jones!" someone said when I walked in. I'd never seen this person before, but I smiled back, then sprinted for the unmanned computer in the corner. As I let Facebook melt away the peace and calm of my last two days, I heard the front door swing open.
"Hi! We were wondering if we could have a tour?" a woman asked.
The same person who greeted me when I walked in explained that tours are offered only to guests.
The woman insisted, "Oh, but we've always wanted to see the Point! Can't we take a quick look around?"
This exchange continued for seven or eight awkward minutes, until the woman finally stormed out. There would be no tour. At the Point, it turns out, the answer is, very occasionally, "no."