Selfie With Hitler? Indonesia Museum Removes Nazi Waxwork After Backlash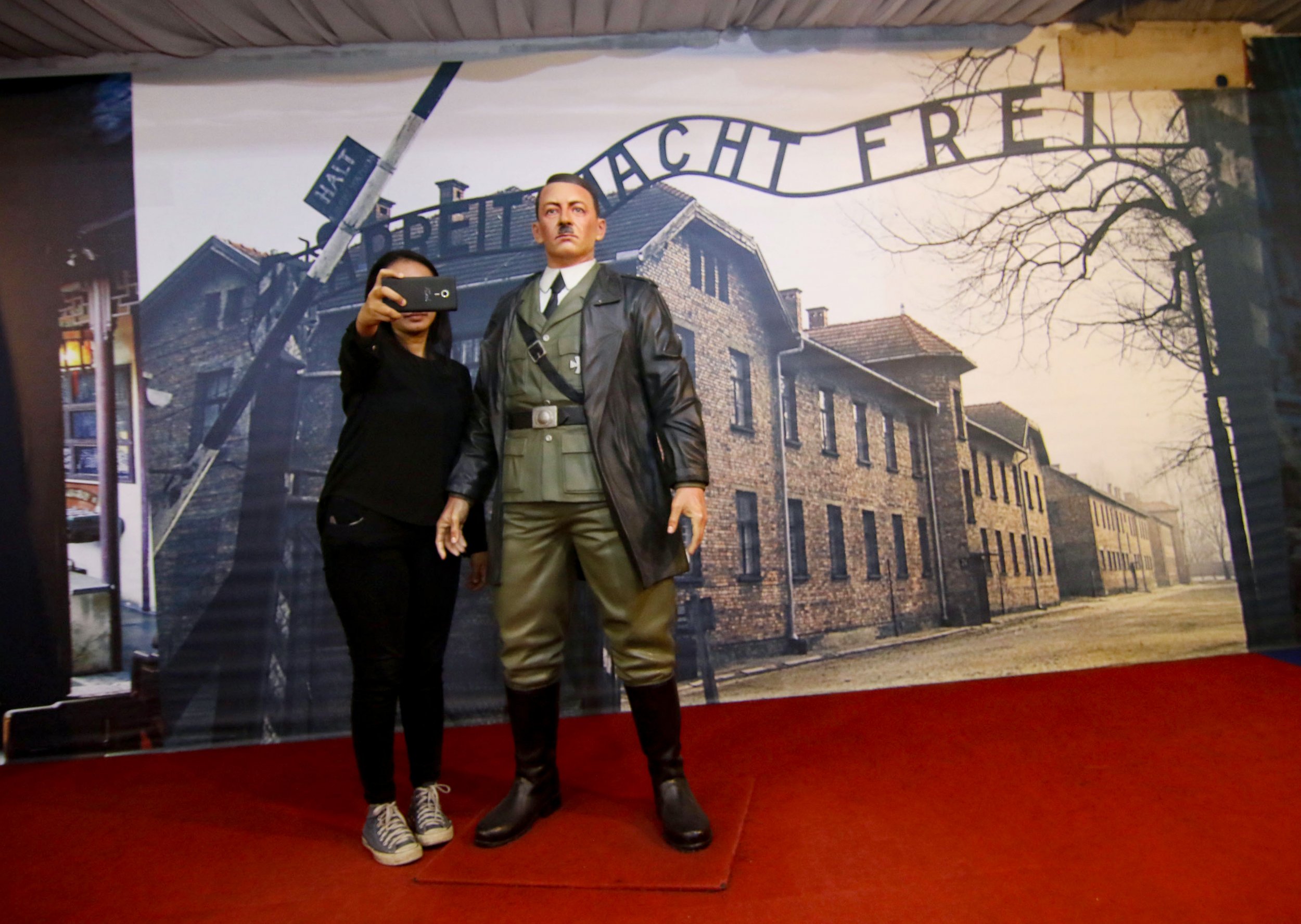 A museum in Indonesia displayed a waxwork figure of Adolf Hitler standing against a mock up of the gates of the Auschwitz concentration camp for more than three years.
But now, the statue of the Nazi dictator—which the museum said was one of its most popular with selfie-taking punters—has been taken down following complaints that it is glorifying anti-Semitism.
The Hitler waxwork had been on display at the De Mata Trick Eye museum in Yogyakarta, on the Indonesian island of Java, since 2014. It stood in a room opposite a depiction of the country's current president, Joko Widodo, and next to a waxwork of Star Wars villain Darth Vader, AP reported.
The figure stood in front of a huge image of the gates of Auschwitz emblazoned with the Nazi slogan "Arbeit Macht Frei"—meaning, "Work sets you free."
Auschwitz was the largest of the Nazi concentration camps, where Hitler's regime sent Jews and other minorities to be compelled into forced labor or slaughtered en masse in gas chambers. It is estimated that more than one million people died at Auschwitz, including 960,000 Jews.
The waxwork had prompted complaints from rights groups. Rabbi Abraham Cooper, associate dean of the Simon Wiesenthal Center in Los Angeles—which campaigns against Holocaust denial and anti-Semitism—told the AP: "Everything about it is wrong. It's hard to find words for how contemptible it is."
Cooper added that the statue showed a "disconnect" with history. "When Hitler was finished with Europe he was going to come after the folks in Asia," he said.
Read more: "It's not a stage"—Auschwitz Memorial criticizes a congressman for filming a video inside a gas chamber
The museum at first defended its display, with its marketing officer, Warli, saying that no visitors had complained about the display and that the Hitler waxwork was "one of the favorite figures for our visitors to take selfies with."
But the marketing officer later said that the display had been taken down on Friday night.
Indonesia has witnessed Nazi-related controversy before. The city of Bandung played host to a Nazi-themed cafe—where waiters wore the uniforms of the SS, the Nazi party's feared paramilitary wing—for several years until it reportedly closed in early 2017.
And a 2014 music video in tribute to presidential candidate Prabowo Subianto stoked controversy for allegedly using Nazi imagery and iconography.
Andreas Harsono, Human Rights Watch's Indonesia researcher, told the AP that the waxwork was sickening but suggested it was emblematic of anti-Semitic feeling in Indonesia. The southeast Asian country is the world's most populous Muslim nation, and Harsono said that a narrow reading of the Quran and the Middle East conflict had contributed to anti-Jewish attitudes.