Adolf Hitler's Car Will Be Sold at Auction—Who Would Buy It?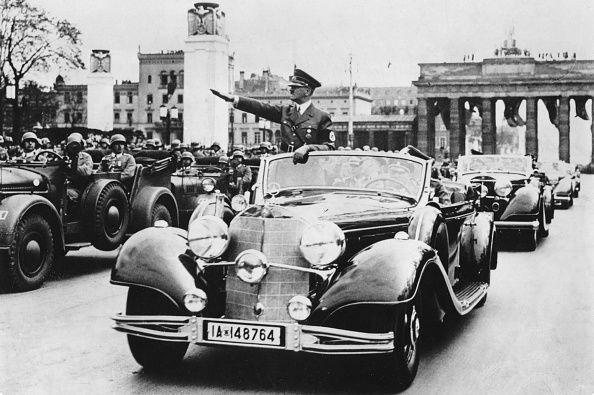 Adolf Hitler's 1939 Mercedes-Benz 770K Grosser Offener Tourenwagen is set to be sold off in a global automobile auction in mid-January.
The car, known as the "Super Mercedes," will be auctioned to registered bidders in the first round of the Scottsdale auction by Worldwide Auctioneers in Scottsdale, Arizona. The infamous car was used by Hitler as his main parade car from October 1939 until May 1941.
The vehicle, ordered and built for the chancellor of Germany, was taken from the country by the U.S Army right after World War II, in 1945. It became part of the Imperial Palace Casino collection in Las Vegas as well as several other landmark auto collections. The car, allegedly one of the eight "pre-series" models of the W150-generation 770Ks, is considered rare and valuable because it's one of few surviving Offener Tourenwagens—only five remain.
Other leaders in history who have owned the car model include Emperor Hirohito of Japan, the King of Norway, Portuguese dictator António de Oliveira Salazar, Spanish dictator General Francisco Franco and Pope Pius XI.
"If its original provenance can be set aside, surviving examples of the Mercedes-Benz 770 'Grosser,' or 'Super Mercedes,' remain quite likely the world's greatest achievement in terms of automotive design, engineering and construction," Rod Egan, principal and auctioneer at Worldwide Auctioneers, told New Atlas.
The extremely pricey car was purposely made for government officials. The vehicle could easily exceed 100 miles per hour, a big achievement for the pre– and post–World War II years, according to the auction site.
Egan told New Atlas that this is more than just a car—it's a piece of history. He hopes it will be sold to a public museum or collection to educate others.
"In short, this vehicle is one of the most outstanding and historically important cars ever built," Egan said. "It is, however, so much more than a car—it is an artifact that continues to stand and serve as a singular piece of irreplaceable living history, and as a reminder that the evil which is a part of its history must never be permitted to recur."
Ten percent of the sale of the car will be donated and used to educate others on why the Holocaust happened, according to the auction site.