Adorable Corgi Pup Found Covered in Strange Substance After Getting into a Seriously Sticky Situation
Monday, redditors discovered the image of an adorable corgi covered in a strange-looking substance. In Vietnam, the two-year-old pup, named Gody, became a viral sensation after eating dragon fruit.
About five months ago, the pup's Vietnamese owner explained how his pet dog ended up in such a sticky situation to Bored Panda. Sneaky Gody had gotten ahold of strawberry pear and eaten it all up while unsupervised. To make a sticky situation even, well, stickier, he celebrated his meal by rolling on what was left of it when he was done.
"Because he's a baby, like other small dogs, he likes to get himself dirty and sleep a lot. He also loves to eat fruits," said Gody's owner.
"I found that very interesting so I took photos of him," he added.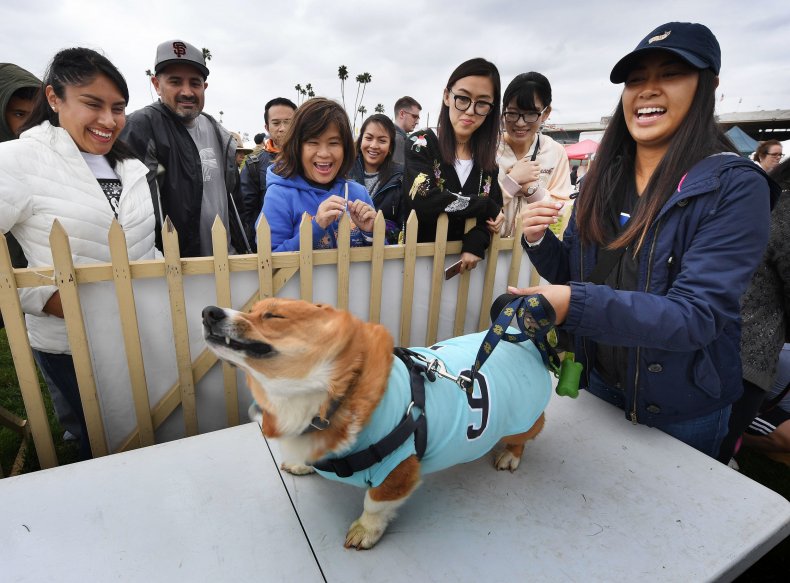 The photos of Gody have since gone viral after being posted on the dog's Facebook page. Gody's owner even shared an artist's drawing of the pup's viral moment that was submitted courtesy of a passionate fan.
The pooch's blissed out fruit soaked adventure even inspired a meme, which spoofs a scene from Gladiator, starring Russell Crowe. Gody is photoshopped wearing Maximus' armor and holding a sword in his paw.
Due to the red-looking substance all over the animal, Facebook mistook the viral image of Gody pretending to play dead. When users clicked on the image, Facebook had slapped a warning label on it.
The censored image stated, "This photo may show violent or graphic content. This photo was automatically covered so you can decide if you want to see it."
Naturally, some users took this to mean that something bad had happened to Gody. Though there are others who thought the photo was hilarious, some believed the corgi was injured. Gody is actually safe and sound in his recent TikTok video.
MeeMee Win wrote, "Facebook thought it was real!"
Susan Dietsche said, "Everyone needs a good laugh today! This is so hilarious! Thank you for sharing this!"
"What did it get into? It looks bloody but I'm guessing it's strawberries or raspberries," mentioned Lynne Strembel.
"Hysterical. Thank you for sharing. I'm sure many are sharing to their friends but it was about the best thing on Facebook today!" stated Deb Wall McCourt.
"I have to say that the picture used as a cover photo looks horrible out of context. What an adorable mischievous dog," added Anastacia Estelle Arellanez.
"This mischievous boy got to some jam and gave his folks heart palpitations when they returned home," theorized Margaret Beck.
Newsweek reached out to Gody's dog owner for comment but did not hear back before publication.