Adorable Dog Posing After Dental Work Melts Hearts Online
If you've ever had a tooth pulled, you're probably convinced that it's not the best time for a photoshoot—but one dog's gorgeous pictures after a dental procedure might change your mind.
The images were shared to Reddit by Lasse Kristensen from Denmark on Sunday. His post on the "rarepuppers" subreddit now has more than 28,000 upvotes.
The photos were posted with the caption: "My vet took these photos of my girl after she had a tooth pulled."
DeeDee is a 7-month-old Greater Swiss Mountain Dog. In the photos, she is lying on a pillow covered in a blanket as she recovers from the procedure—looking a bit forlorn, but utterly adorable.
Redditors were delighted, with one commenting: "Those are really good photos. And so stinkin' precious! What a sweet pup." Another wrote: "What an adorable pup and awesome vet."
Kristensen told Newsweek: "DeeDee had the misfortune of breaking a tooth playing with a toy, the tooth broke down the middle and had to be pulled out, as it could have gotten infected and given her even more problems. Fortunately it was her puppy teeth so the tooth had to come out anyway."
​​The American Veterinary Medical Association says pets' teeth and gums should be checked at least once a year by a veterinarian, so any potential problems can be identified early.
Pets can often become irritable when they have dental problems. The American Veterinary Medical Association says it is particularly important to be careful when evaluating your pet's mouth, because an animal in pain may bite.
"Recovery is ruff," wrote one Redditor on the photos. Another commented: "Too cute! She needs a popsicle."
While the veterinarians might not approve of popsicles, there are plenty of ways you can help your pets keep their teeth healthy.
Along with annual dental exams, the association recommends regular toothbrushing for both dogs and cats. Take care of their teeth with a soft-bristle brush or finger brush made for pets, as well as a special pet toothpaste. Introducing the tools and routine to the animal slowly can help daily brushing to become as much a part of your pet's life as it is yours.
The American Veterinary Medical Association also points out that many pet products are marketed with claims that they improve dental health, but not all of them are effective. It recommends that you talk to your veterinarian about which dental products are right for your pet.
"I had no idea the vet had taken the photos before I picked her up after the surgery," said Kristensen: "They had given her free roam around the vet office, but they said that she just wanted to lay down on her pillow and go to sleep, so they put the blanket over her and took the photo."
Other comments left on the gorgeous puppy pictures suggested that the photographer should be getting extra credit. "Your vet missed their calling," wrote one Redditor. Another dubbed the vet "Dr. Phodographer M.D."
Now firmly on the mend, Kristensen said that DeeDee was much better: "She is doing perfectly well and is perfectly fine due to the great job from the vet."
A slightly less photogenic pet went viral on Reddit this week when a picture of his hilarious napping expression went viral.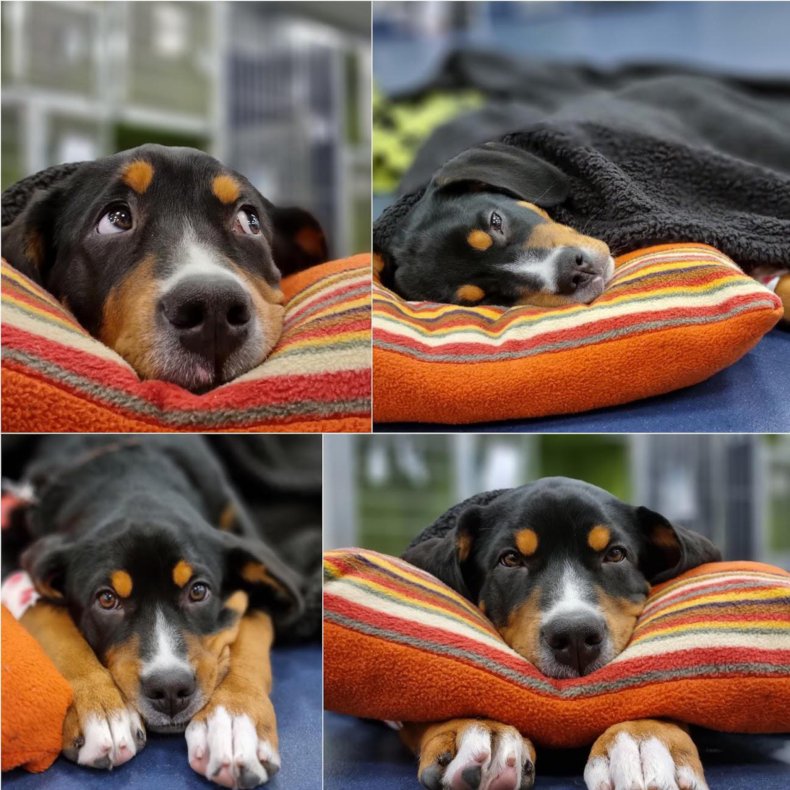 Update 03/14/22 at 7:00 a.m. ET: This article was updated to include the image and comment from DeeDee's owner.