This Weatherman Has a Small Adorable Couch For His Small Adorable Dog
Working from home has its perks. Logging online just as you wake up, for example. Another is getting to learn things about your co-workers or local news anchors that you probably wouldn't have learned otherwise, like this Dallas-Fort Worth weatherman who showed his small dog's little couch on Monday during a broadcast.
A photo posted to Reddit and making the rounds on Twitter shows one of KDFW Fox 4 meteorologist Evan Andrews' dogs, Penny, lounging on a tiny, dog-sized couch behind him, living her best life. Appropriately, the pup also has a bone-shaped pillow for resting on the canine couch.
"Considering everything going on in the world nowadays, this is about the best news that's on the news every day," Andrews told Newsweek. "I just let [my pets] roam freely in the background. Half the time, you may see one on the couch, you may see a cat lying by the drums. I never know what—that's the beauty of working from home. I've seen it with a lot of people. You never know what's going to be in the background every shot.
On Reddit, a post with Andrews' pup has been upvoted nearly 40,000 times, with many users commenting on the weather dog's adorable furniture. The user that originally posted it called it the "best thing I have seen on tv " and the "Best thing I saw on fox 4."
Other Redditors pointed out that similar couches of various designs and styles could be bought from Petco.
"The couch has a story, though, and it's legitimate, because I don't think I would ever spend that much money on a couch. But my wife just had a birthday, and her aunt bought it for her birthday," Andrews said. "We got the couch about the same day we all started working from home. As soon as I got the couch, the dogs fell in love with it. I'm like, 'I'm putting it in the back of the shot,' because everybody's got their Emmy's in the background. So I'm putting the couch."
The most expensive designs are priced at $379.99, and smaller, less luxurious designs begin at $79.99.
On Twitter, users were also overwhelmed by the cuteness of it all. "Evan, Your dog has the life I want," one user wrote.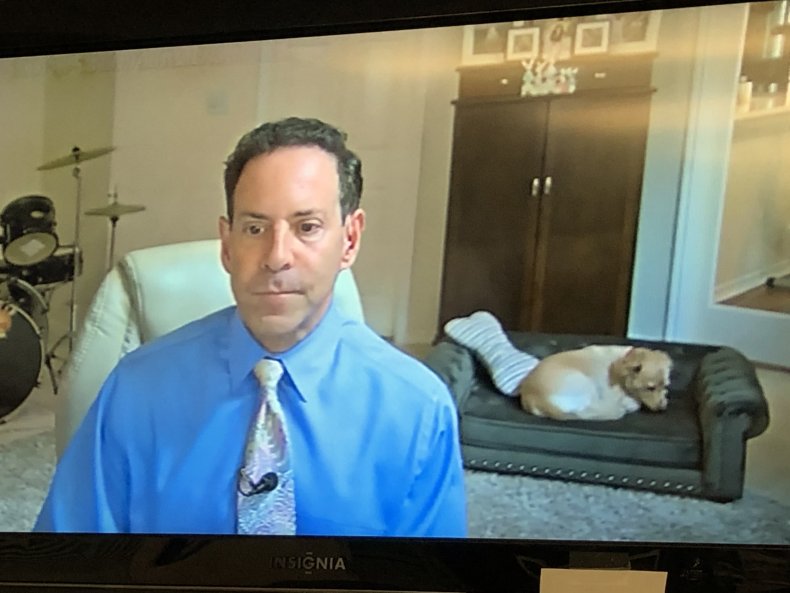 Andrews has shared many photos of his pets on Twitter. He said he has two dogs, two cats and a tortoise. On April 2, he posted a photo of himself posing with the tortoise, Frederick. "Best part of WFH? Sharing the family farm! Frederick is a hit," he wrote.
He's also posted photos of his other dog and cat, calling them his "morning WFH crew." And he's posted photos of his pets to help in reporting the weather, as in an April 4 tweet where he showed all of his pets cuddled up in bed because it was rainy and in the 40s.