Adorable Dog Who Had Both Her Eyes Removed Needs Loving Owner
An adorable dog who had both her eyes removed after falling ill is in need of a loving new home.
Rosie is a 2 year old brown and white Jack Russell terrier who needs a little more attention than most other dogs her age.
When she first arrived at Hope Rescue Centre in Wales, she had already lost sight in both of her eyes.
However, she was still suffering from painful glaucoma.
On the advice of a vet, she underwent surgery to have her eyes removed.
It's been a long and difficult journey but Rosie is now ready to venture out into the world with a new family.
Her prospective owners will need to take extra care with her though - especially while out on walks.
"Rosie does require some extra attention on walkies due to her lack of vision to avoid her bumping into things/falling off curbs," Hope Rescue Centre says.
Despite this, Rosie has been learning to adapt quickly thanks to the help and support of her current carers.
"Her foster home has been working hard to teach her cues to let her know what's coming up and it does not take her long to map out her surroundings," the shelter explains
A dog with complex needs, according to Hope Rescue Centre, Rosie is said to be best suited to "experienced owners who have a secure garden so she can freely explore the garden without the need for a lead."
"Rosie is wary of new people and does need to be gently introduced to them but with the help of a few treats it doesn't take her long to get used to a new person, once she knows you she is very affectionate but does prefer not to be picked up," Hope Rescue Centre adds.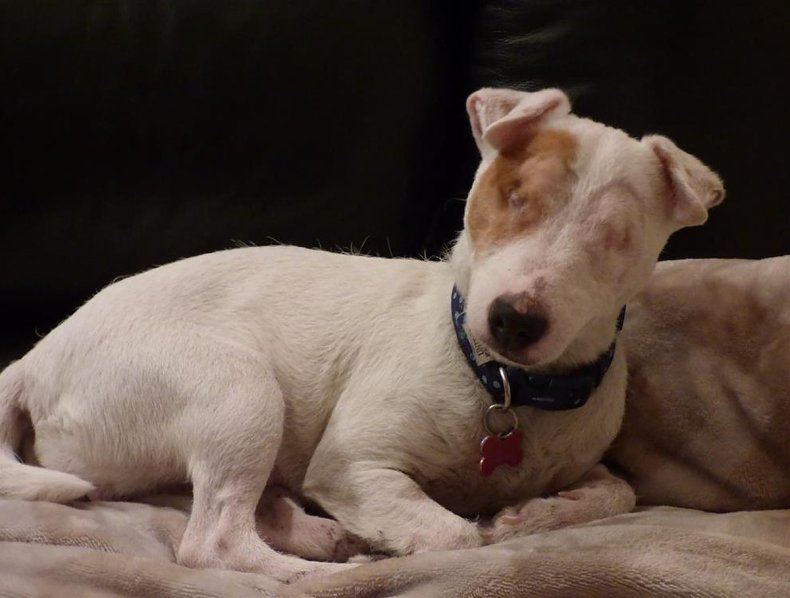 The shelter also stresses that Rosie is a dog not suited to any household with small children under the age of 14 or smaller pets like cats.
Any would-be adoptee would also need to take care when going on walks with the high-energy Jack Russell, who still loves nothing more than chasing other animals and is pretty quick too.
While in an ideal scenario she would like to be the only dog in the house, they suggest she should benefit from having "a calm canine that she could buddy up for on walks regularly."
Described as a "very clean" dog who, once familiar with her surroundings, "can be left for a few hours", while caring for the young canine offers challenges, the animal shelter insists it comes with its own rewards.
"Rosie will make a wonderful addition to the right home, who can look past her disability and see the active and playful side of her but also the sensitive girl that does need reassurance in a noisy world!"
According to the Merck Sharp & Dohme Corp. (MSD) Veterinary Manual glaucoma affects around 1.7% of dogs in North America alone.
The condition occurs due to an imbalance in the production and drainage of fluid in the eye.
This leads to a build-up of fluid that increases eye pressure and, in turn, can lead to damage of both the retina and optic disk.
There are two types of glaucoma. Open-angle glaucoma is largely painless and more gradual, beginning with blind spots and leading to loss of vision over an extended period of time.
Closed-angle glaucoma, the kind suffered by Rosie, is associated with more severe pain and a more sudden and extreme loss of sight.
Newsweek has contacted Hope Rescue Centre for comment.