An adorable kitten used up one of her nine lives and needed emergency surgery after she scoffed down 21 hairbands.
Five-month-old Hope swallowed the hair ties and was rushed to a rescue center after being found collapsed in a yard in Birmingham, England.
When vets gave the poor kitty an X-ray, they were left stunned to find a clump of hairbands in her stomach.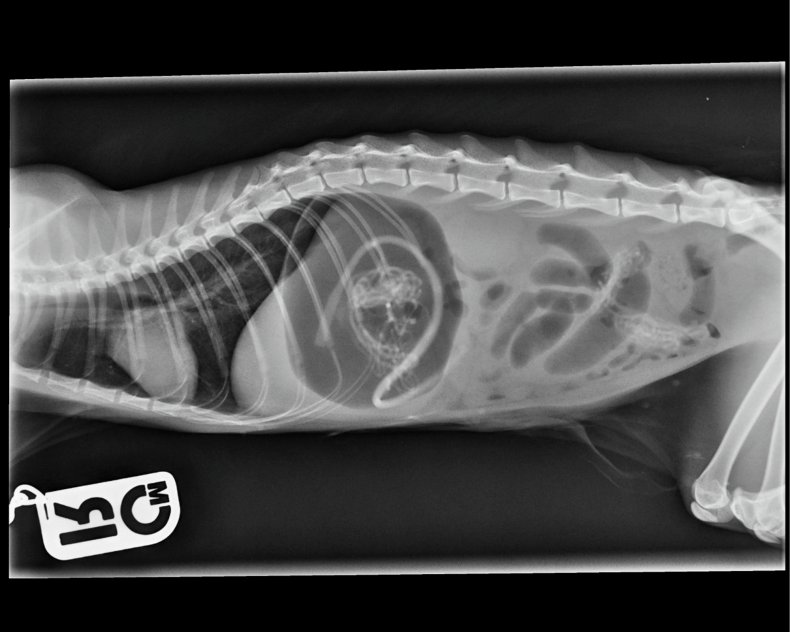 After five days of intensive nursing Hope built up enough strength to have a 4,000 pound ($4,800) operation and 21 bands were removed from her intestine.
Despite coming within a whisker of dying, Hope went on to make a miraculous recovery and will now be listed for rehoming by Cats Protection.
Staff at the charity's Birmingham Adoption Center said they were unsure whether Hope would even survive after she was brought to them in a cardboard box.
Paula Beswick, deputy manager, said: "The poor girl seemed lifeless and nothing more than skin and bones.
"When Hope did try to walk, she was very unsteady.
"We rushed her immediately to the vets who put her straight onto fluid and antibiotic drips."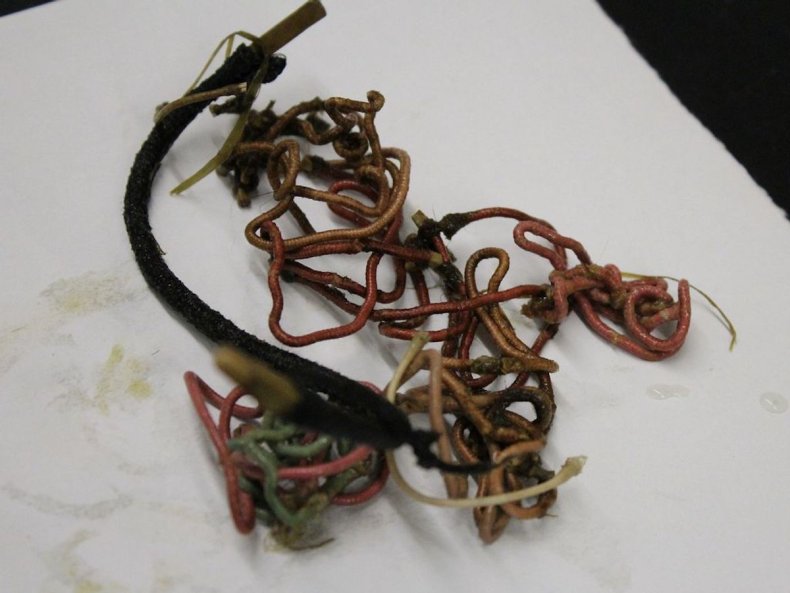 Hope was then taken to Your Vets in Olton, England, where she was found to weigh just 3.5 pounds - the weight of a kitten half her age.
She was nursed and supported to gain strength as she was extremely dehydrated and malnourished but vets were mystified as to what was causing her symptoms.
An ultrasound then revealed a mass in Hope's intestines and vets worked to build up her strength as she was too weak to survive an operation.
Beswick added: "Hope must be a little fighter as she pulled through after the bands were removed.
"She has been through such a lot in her young life already. We don't know how the hairbands got there.
"We can only imagine that somebody was playing with her and using the hairbands as a toy which she was mistakenly swallowing or simply eating them because she was so hungry.
"We cannot thank the vets and vet nurses at Your Vets enough, they tried every option to uncover what was wrong with Hope and fought so hard to keep her alive.
"Blood tests have shown that all her organs are now working well.
"She is such a sweet girl - still very underweight and needs lots of monitoring and encouragement to eat small frequent meals.
"However, we are quietly confident that she will make a full recovery."
Produced in association with SWNS.
This story was provided to Newsweek by Zenger News.