Adorable Monkey Shocks Police and Zoo After Calling Emergency Services
Police in California were shocked after receiving a mysterious 911 call from a local zoo and finding out the culprit was non-human.
According to a statement from San Luis Obispo Police, on August 13, dispatch received a 911 call that disconnected and did not receive a response after calling back.
"Our Deputies have seen their fair share of 'monkey business' in the County," police wrote on Facebook. "But nothing quite like this."
Capuchin Monkeys
According to the Denver Zoo, capuchins are the smartest of New World monkeys and some are considered as intelligent as chimpanzees. As adults, they often weigh no more than four pounds and can live up to 45 years—with an average of 15 to 25 years.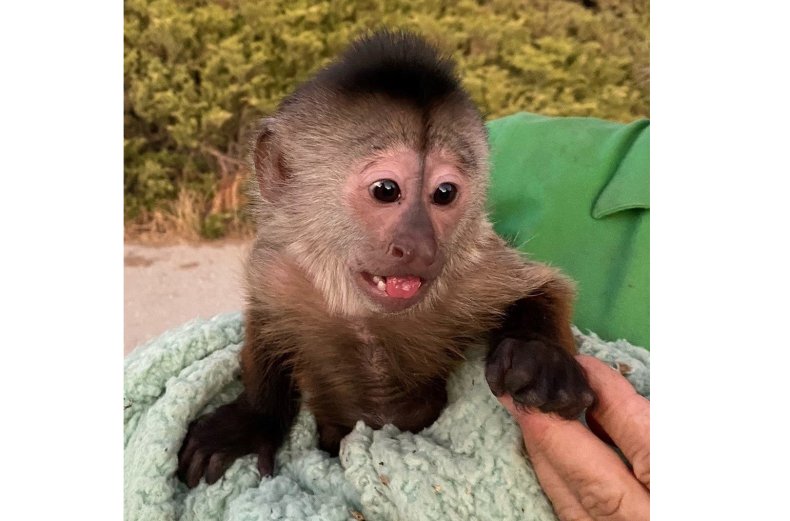 Due to their ease of training and clever personalities, capuchins are often featured in television and film including:
Friends
Big Bang Theory
Y: The Last Man
Pirate of the Caribbean
Indiana Jones Raiders of the Lost Ark
Night at the Museum
Until 2010, capuchins were also often trained as service animals but were deemed a danger due to potential aggression and disease transmission.
While it is unclear how many capuchin monkeys are currently owned as pets in the U.S., National Geographic said there were around 15,000 capuchins owned as pets in 2013.
Although illegal in many states, many do allow capuchins to be kept as pets with some baby capuchin monkeys sold for more than $12,000.
Officers were sent to the offices of Zoo to You, a non-profit organization and animal sanctuary, but were told no one made the call.
Eventually, the zoo employees realized that a capuchin monkey named Route must have called the police. They believe she picked up the zoo's cell phone which was left in one of the golf carts used to travel around the 40-acre grounds, police said.
"We're told capuchin monkeys are very inquisitive and will grab anything and everything and just start pushing buttons," police said. "And that's what Route did...just so happened it was in the right combination of numbers to call us."
Photos posted on Facebook by police showed Route wide-eyed and a little "embarrassed" about the entire situation.
"But you can't really blame her, after all monkey see, monkey do," police wrote.
Newsweek reached out to Zoo to You and the San Luis Obispo County Sheriff's Office for comment.
Other Monkey Problems
In April, a woman's pet capuchin monkey named Coco Chanel was stolen from a parked car in Minnesota.
In Kentucky, officials were shocked when they mysteriously discovered a capuchin monkey on a man's porch.
While in an Indian village, a monkey that moved into an abandoned house started terrorizing residents.