'Adorable and Morbid': Chicken Living at Popeyes Restaurant Causes a Stir
Depending on who you are, the squatter outside a Popeyes restaurant in Louisiana may arouse a laugh or a queasy stomach.
An outlet of the multinational fried chicken chain in Slidell has become home to a live rooster, who made himself so comfortable that employees built him a coop behind the establishment and gave him a name: Rocco.
Eric Freeman, a prep cook at the Popeyes location, told Newsweek that the staff had no idea where Rocco came from. The rooster simply appeared in September, the day after Hurricane Ida, and never left. After asking around the neighborhood for anyone who knew his origins, they gave up and let Rocco make himself at home.
"I said, shoot, let's get him something to eat," Freeman said. Rocco enjoys a biscuit and Cajun rice from the restaurant. Freeman has also brought him some corn and even a slice of apple pie from his own home.
The cook said the whole staff played a part in caring for Rocco, who gave them joy in return. "I'll go out there during the break and he may be crowing or something, and it's just therapeutic for me," he said.
Popeyes diners reacted with a mix of shock, delight and morbidity on the internet.
"I wish I could make this up," wrote a customer who goes by Bossmayne Toya on Facebook, alongside photos of the animal snapped from the drive-through line. "The chicken walked in front of my car to the door trying to get in." Upon arriving at the front of the line, Toya was astonished to realize that a chicken coop was visible from the order window. Her post has received more than 900 comments.
"This is both adorable and morbid," declared a post on the Reddit forum r/NewOrleans. "Meet Slidell Popeyes's Rooster Mascot: Rocco."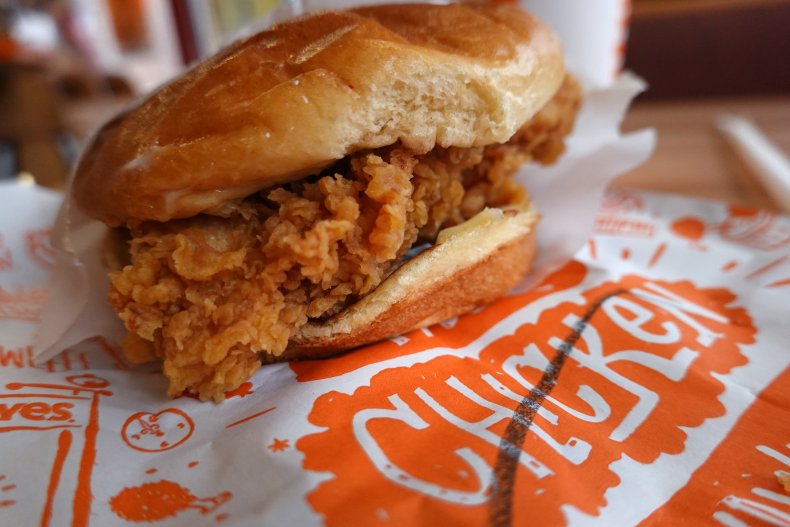 Reddit users jumped at the chance to joke about the squatter under an image of his coop.
"I don't want to be reminded that the chicken I am about to eat had a home," one user wrote, "Let alone a nice home. That chicken had a job. People depended on them."
"Farm to table," another person commented, "Or parking lot to table I guess."
"Well, you can't complain the chicken ain't fresh," another user joined in.
But according to Freeman, most customers seemed to like seeing Rocco in person—despite the morbid jokes online. They came to eat the fried chicken, he said, but also to visit the living one.