Adorable Orangutan Baby Has Historic Name to Live Up to
An orangutan youngster whose birth was captured on camera has been named to remind wildlife fans of the great ape's struggle in its native habitat.
The little ape, born at Vienna Zoo in Austria last month, has been named Kendari, after the capital of the Indonesian province of Southeast Sulawesi.
Indonesia's remaining orangutans are under threat from poaching and the encroachment of palm oil plantations into their natural environment.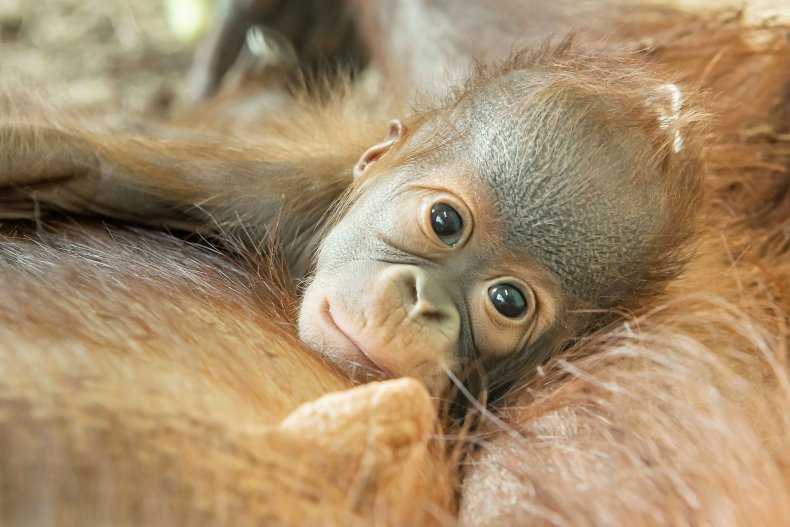 The birth took place June 19 and amazed wildlife enthusiasts because it happened during the day right in front of a lucky group of visitors.
Video footage of the once-in-a-lifetime experience was subsequently shared by the zoo.
In one amazingly intimate moment, mom Sari and her newborn can be seen nuzzling each other before Sari kisses Kendari on the nose.
At the start of the heartwarming footage, Sari eases the baby through its last moments of birth. As the exhausted youngster emerges, Sari helps Kendari recover and they stare into each other's eyes.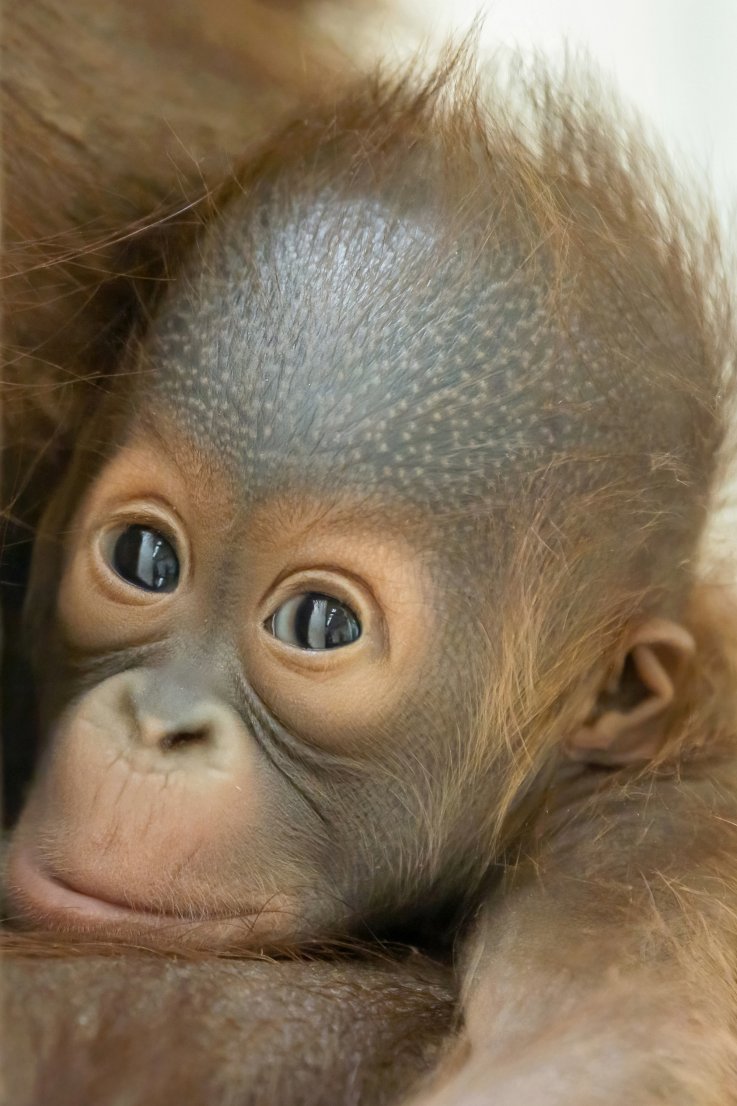 Young female orangutan Kendari was born on June 19, 2022, at Vienna Zoo in Austria.
Daniel Zuanc/Zenger
Zoo spokeswoman Corinna Buergmann confirmed that the birth took place in front of an audience.
She told Zenger News: "Sari gave birth in the indoor part of the orangutan enclosure.
"The visitors who were lucky to be there when it happened had the unique opportunity to witness the birth through the protection glass."
She added: "It seemed that Sari just felt comfortable where she was."
Zookeeper Sandra Keiblinger said: "The young orangutan's development has been excellent. We are delighted.
"Kendari is getting bigger and stronger each day. She has started to raise her head to examine her environment.
"However, she still enjoys the feeling of safety provided by her mom. Sari is doing a great job, which must not be taken for granted since it's her first child."
Expert Falko Balfanz said that Mota, a 58-year-old female orangutan, loves spending time with Sari and Kendari.
But proud mom Sari protectively keeps her newborn close to her chest as she walks carefully around the space.
Balfanz explained: "Sari is 13 years old. She has lived here since 2020 when we got her from Dublin Zoo."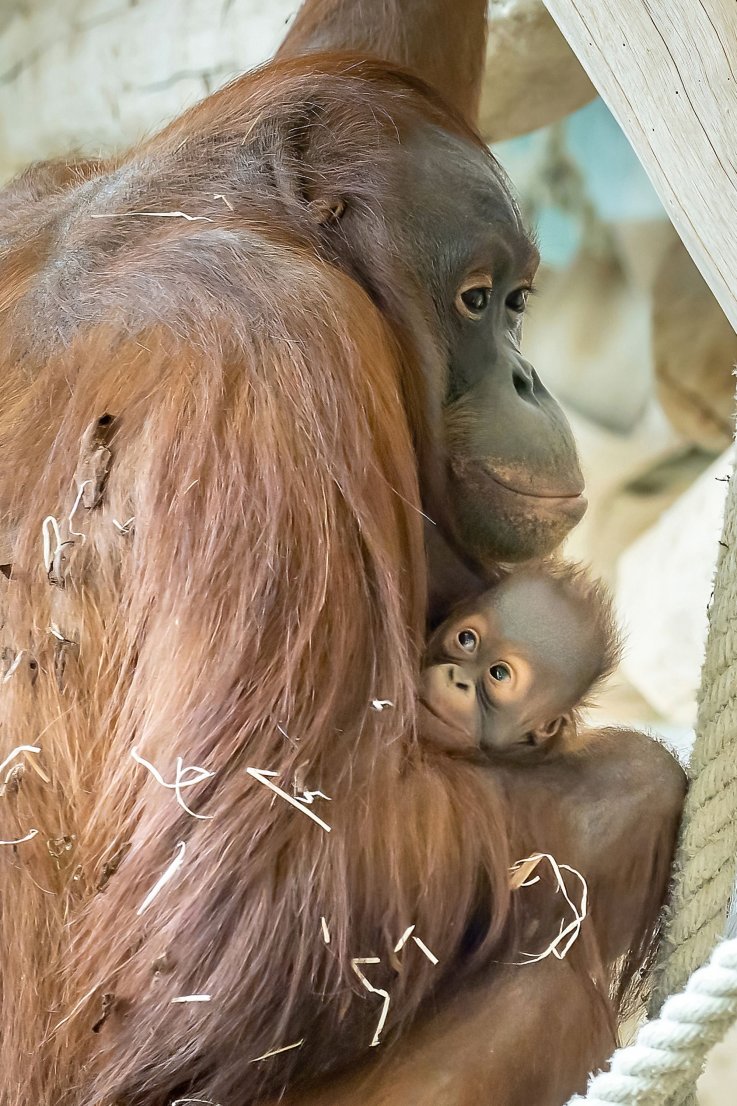 Proud mom Sari protectively keeps baby Kendari close to her chest as she walks carefully around their habitat at Vienna Zoo in Austria.
Daniel Zuanc/Zenger
The expert added that the child's father, 48-year-old Vladimir, and all the other members of the zoo's group of orangutans "are signaling interest in the baby."
Balfanz pointed out that the upbringing was a primary task of the mothers in their troupe or congress.
Zoo director Stephan Hering-Hagenbeck said: "We have modernized our orangutan enclosure in recent years.
"The social structure and atmosphere within the group has improved immensely ever since the two females Sari and Surya became a part of it when they relocated from other zoos around two years ago."
The last successful birth of an orangutan at Vienna Zoo was in 2004 when female Maya was born.
Orangutans are great apes native to the rainforests of Indonesia and Malaysia. They are now found only in parts of Borneo and Sumatra.
Orangutans can live more than 30 years, both in the wild and in captivity.
Considered to be among the most intelligent primates, orangutans use a variety of sophisticated tools and construct elaborate sleeping nests from branches and foliage.
Orangutans are a critically endangered species as human activities have caused severe declines in populations and ranges.
Threats to their populations include hunting, the illegal pet trade and deforestation.
Vast areas of the tropical forest in Indonesia have been turned into palm oil plantations to meet the immense international demand.
In 2006, Indonesia surpassed Malaysia to become the world's leading exporter of palm oil, according to the United States Department of Agriculture.
Female orangutans are often killed for their meat, while infant animals are kept as pets or sold illegally on the black market.
Several conservation and rehabilitation projects have been established in recent years to ensure their survival in the wild.
Vienna Zoo's official name is Tiergarten Schönbrunn. It was established in 1752 by the royal Austrian-Hungarian Habsburg Family.
The zoo has been one of the Austrian capital city's top attractions for many decades. It registers around 2 million visitors per year.
This story was provided to Newsweek by Zenger News.