Abandoned Bear Cub Settles Into New North Carolina Home in Adorable Photos
A North Carolina museum has shared several adorable images of an abandoned black bear cub that is settling into its new home.
North Carolina Wildlife Resource Commission officials rescued the 61-pound, 9-month-old female cub—nicknamed "Little Bear"—outside Asheville in September but determined that she was unsuitable for release.
The bear was exhibiting behavioral signs that suggested she would not be able to survive in the wild. So in late September, officials made an agreement with the Museum of Life and Science—located 5 miles from downtown Durham—to house the bear there.
The cub is now living at the museum as part of its black bear habitat, which was already home to three other adult black bears—Mimi, Gus and Yona, aged 17, 15 and 12 respectively.
Little Bear's nickname came about due to the fact she is so much smaller than the museum's other bears. Gus, for example, weighs around 415 pounds, which is almost seven times heavier than Little Bear.
The museum is also home to rescued lemurs and endangered red wolves, as well as 60 other species.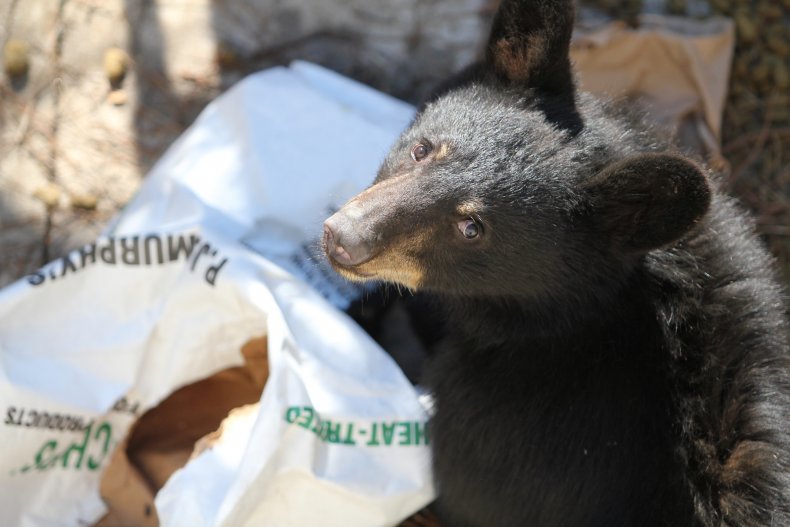 "We are excited for the opportunity to rescue this bear from a difficult situation and try to give her a new home. We hope she can thrive and enjoy her life in a safe environment among other bears," Sherry Samuels, director of animal care at the museum, said in a statement.
After arriving at the museum, Little Bear was placed in quarantine and a veterinary team performed a full-body assessment of her health.
The team conducted blood tests and carried out an ultrasound scan to make sure that her internal organs were working properly. She also received vaccinations.
Once Little Bear had completed her quarantine period, museum staff slowly introduced her to Gus, Mimi and Yona.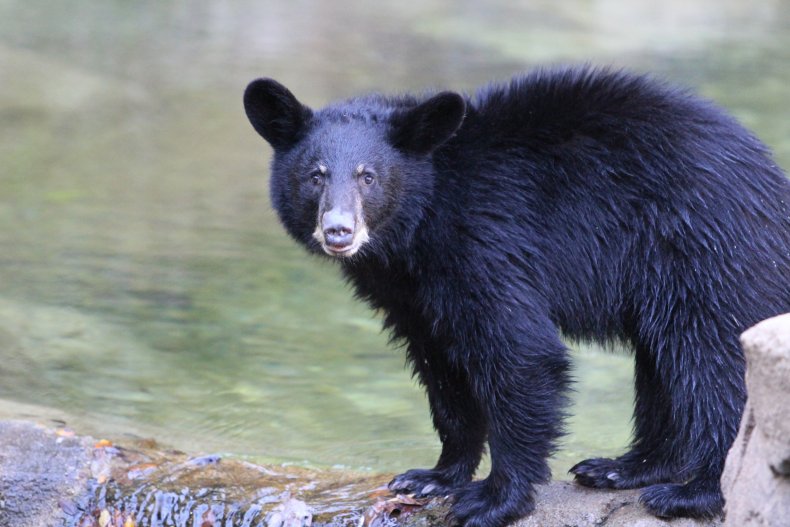 Because black bears are solitary by nature, the museum's animal care team made sure to keep a watchful eye on her during this process. And on November 8, staff gave Little Bear full access to the bear habitat.
"There are few things more exciting at the Museum than the arrival of a new animal like this bear," Carrie Heinonen, CEO and president of the museum, said in a statement.
"As an institution committed to conservation and animal welfare, we're thrilled and honored to give her a new home. She has captured our hearts, and we expect she'll have those of the whole community before long."
Unfortunately, Little Bear is experiencing some health issues that veterinarians are trying to treat.
"This little bear has health challenges we are working to solve and manage throughout the introduction period and beyond," Samuels said.
"We're seeing progress and hope this continues as she adjusts to her new home. We're excited to be at  this next step. She is interacting as she should with the other bears, and visitors can hope to see her in the bear habitat soon."
Matt Pusateri, a spokesperson for the Museum of Life and Science, told Newsweek: "The bear has started to cautiously explore her new habitat and so far seems a little nervous about venturing out on her own. Visitors haven't had many chances to spot her yet."
"On her first day in the bear habitat on Monday, however, she climbed onto a tree stump, walked around and over some big rocks, and splashed around in the water. Overall, she appears to be taking her time to get comfortable in the new space."
Black bears are the only species of bear found in North Carolina, according to the Commission. These animals are now found across approximately 60 percent of the total land area of the state.
Update 11/10/21, 12:23 p.m. ET: This article was updated to include comments from Matt Pusateri.