Adorable Pictures Show an Endangered Baby Orca Just Days Old Swimming Next to Mom
Adorable pictures show an endangered, newborn orca calf swimming next to its mom in Washington state.
The Center for Whale Research—which tracks pods of orca living in the Salish Sea—said in a statement it was the first whale calf to be born into the family for two years. The calf is just a few days old given its "lumpy physical nature," the researchers said. The mom was also spotted by researchers just a few weeks ago on February 11, with no sign of the calf.
The lumpy calf is a new addition to a Southern Resident orca family knowns as "J pod," which is made up of approximately 24 whales living in the northeast portion of the North Pacific Ocean. Southern Resident orcas are an endangered population of whales living along the U.S. Pacific coastline. There are only three pods of Southern Resident killer whales: the J pod, K pod, and L pod.
The newborn calf has been named J59, but at the moment, the sex is unknown. Its size and shape indicate it is in good physical condition, the center said.
The calf "welcomed the meteorological first day of spring," the center said, as it was spotted by the center's photo ID expert Dave Ellifrit on March 1, just off San Juan Island.
Ellifrit's photos show the calf swimming next to its mother, known as J37, in a "tight group" with two other members of the family. The last J pod calf, J58, was born in September 2020 to a killer whale called J41.
The mother (J37) was born in 2001 and has two siblings, one female and one male. She was a young mother and only 11 years old when she gave birth to her first calf in 2012.
In the pictures, the newborn stands out against its mother because of its peachy-orange color. Newborn orca calves are always born orange and black—they do not turn black and white until they get older. Scientists think this is because calves are not born with a heavy layer of blubber, so blood vessels are nearer the surface of the skin.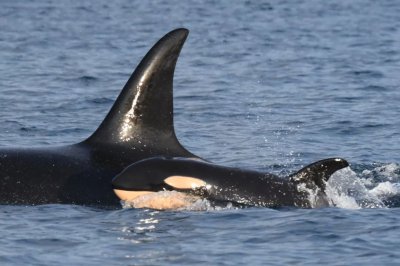 Southern Resident whales are endangered because of a lack of food, noise pollution and chemical pollution. Regulations in the area require boaters stay 300 yards away from whales in order to better protect them.
Orca have a gestation period of about 15 to 18 months. Mothers usually nurse their calves for up to two years. In some cases, the calf will eventually break ties with the mother and go its own way, but many calves stay in the pod it was born into its entire life.