Adorable Pictures Show Baby Sloth Born at Florida Zoo
Adorable pictures have been published showing a newborn baby sloth with its mother at a Florida zoo.
In a Facebook post on February 9, which can be seen here, the St Augustine Alligator Farm Zoological Park shared the first photos of the baby Hoffman two-toed sloth.
The mom, Grizzly, and the dad, Teddy, have been at the park since 2019. They used to live at Busch Gardens in Tampa Bay before becoming a well-known attraction at the "sloths landing" area of the Alligator Farm park.
In a Facebook post the park wrote: "Big News! Grizzly had a baby! The family of Hoffman's Two-toed Sloths are doing well. Congrats!"
One photo shows the baby sloth with its mother and a stuffed animal. In another, the mom can be seen hanging from a branch while her newborn is handed to her.
The park has not yet said what the baby sloth will be called, or what its biological sex is. There are also no clues as to when it will be available to be viewed by the public.
Regular visitors to the park commented on the Facebook post, saying how excited they were to visit the cub. Many said the cub was "adorable".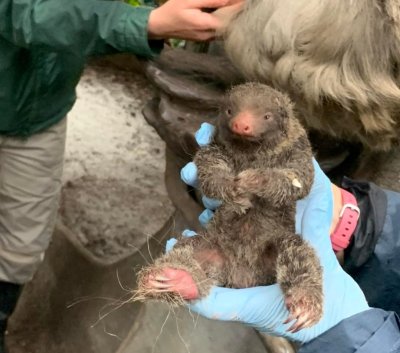 The Hoffman's two-toed sloth is one of the world's slowest mammals. They are easily identified by the number of long, prominent claws that they have on each of its front feet. There are both two-toed and three-toed sloths. Three-toed sloths are an endangered species.
The two-toed sloth's gestation lasts about a year, and results in the birth of just one cub. The baby sticks with its mother for about six months after birth. The cub will grasp the mom's belly as she moves through the trees; this is considered an important bonding period that helps the offspring learn from its mother, and develop skills.
Sloths spend nearly all of their time aloft in treetops, hanging from branches using their long claws. It even sleeps in trees, which is between 15 to 20 hours every day. They have also been known to give birth in the hanging position.
They are completely nocturnal creatures, but when they are awake they remain motionless and silent. They mainly eat leaves, shoots, and fruit from the trees, and get all of their water from plants. They are usually 2ft long, and weigh about 17.5 pounds.
The Hoffman's two-toed sloth can be found in tropical rainforests across central America and northern South America, as well as portions of Brazil and Peru.
Newsweek has contacted the zoo for comment.