Adorable Video Shows Mountain Lion Cub Burned in California Wildfire Making Friends at Zoo
A mountain lion cub who was severely burned in a California wildfire has left his crate for the first time since arriving at Oakland Zoo in September, and appears to be making friends with two other orphaned cats.
The video shows the tiny cub, named Captain Cal, with bandages wrapped around his paws, interacting with twin cubs Pink Nose and Black Nose behind a fence in at the California zoo. The cubs were all rescued from the Zogg blaze, amid the worst California wildfire season in record. According to Cal Fire officials, the Zogg fire was 100 percent contained on Tuesday, after burning through more than 56,000 acres in Shasta County, northern California, since September 27.
Oakland Zoo said on its website Wednesday that Captain Cal "finally ventured out of his crate (still bandaged heavily but walking)!" They called the update "exciting."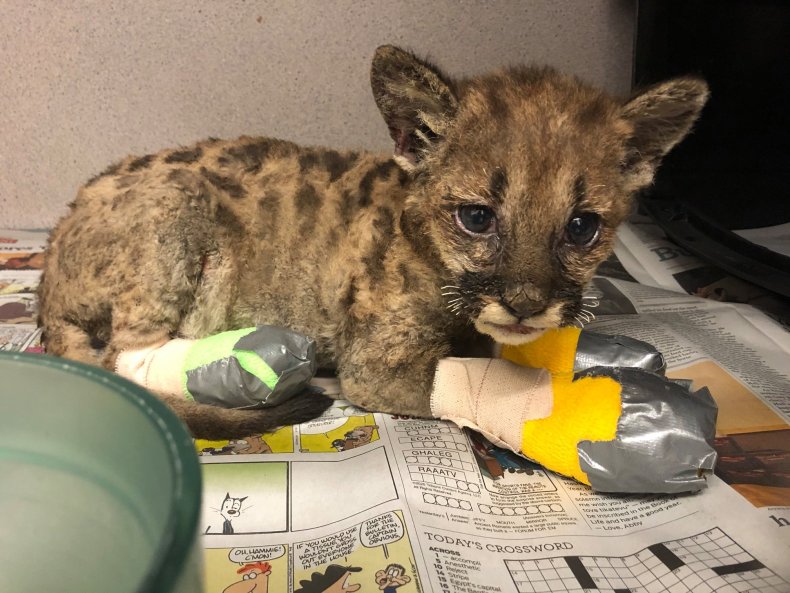 "Based on their first meeting, this looks to be a great bond the 3 will form with each other!" the zoo wrote. "It's sad that they ended up in the situation they have because of the devastating fire, but we are so happy that Captain Cal now has these two girls to grow up with for companionship and comfort."
The cats will be introduced to each other in phases, and the partition will be removed "very soon," according to the zoo.
On Wednesday, zoo workers anesthetized Captain Cal to change his bandages. "The burned pads are improving daily. We're very optimistic and happy!" the zoo said.
The California Department of Fish and Wildlife took Captain Cal to Oakland Zoo on September 30, after he was discovered alone in the Zogg fire. He was about four to six weeks old at the time, and had suffered severe burns.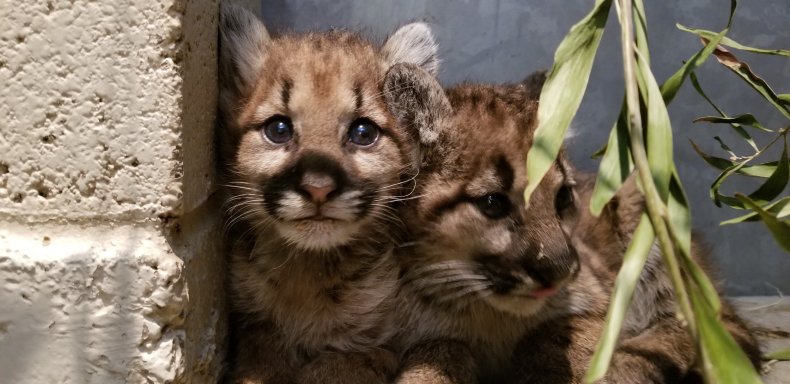 The cub was named after the Cal Fire mascot, who is also a mountain lion. Oakland Zoo plans to care for him until he recovers, before rehoming him at an appropriate facility.
Over the weekend, the zoo took in Pink Nose and Black Nose. Tests showed they were in good health. Like Captain Cal, they will be cared for at the zoo until a permanent home can be found.
On Monday, Dr. Alex Herman, vice president of veterinary services at the zoo, said in an update on the facility's website: "Today Captain Cal is bright, alert, and feisty. Eating well, and not needing an anesthetic procedure and bandage change for the first time since he has come to the Zoo!"
She said he "continues to eat well and gain weight."