The Smithsonian's National Zoo and Conservation Biology Institute has caught a glimpse of its five-week-old panda cub crawling to their mother in an adorable new video.
Spotted on the panda cam, the unnamed panda is seen crawling around the den to its mother, Mei Xiang.
The cute mother and child panda duo can be watched live via the National Zoo's live stream. At the time of writing, Mei was sleeping and cuddling her baby close.
Mei Xiang gave birth at 6.35 p.m. ET on August 21, and was said to be attentively caring for her newborn.
The panda team regularly measures the baby panda. As of September 25, the baby panda weighed three pounds and was 13.9 inches long, making it around the same size as an eggplant. The team also noted that the panda is almost as round as it is long, and is "growing nicely into the signature panda plump."
Laurie Thompson, the assistant curator of giant pandas, explained in an update that at one month old, the panda cub relies on its mother's milk for all of its nutritional needs. When the cub is around one year old, the majority of its diet will be made up of bamboo and other solid foods, but it still may nurse for comfort up to the age of 18 months.
When the baby bear was born, Steve Monfort, John and Adrienne Mars Director of the Smithsonian's National Zoo and Conservation Biology Institute, said in a statement: "Giant pandas are an international symbol of endangered wildlife and hope, and with the birth of this precious cub we are thrilled to offer the world a much-needed moment of pure joy.
"Because Mei Xiang is of advanced maternal age, we knew the chances of her having a cub were slim. However, we wanted to give her one more opportunity to contribute to her species' survival. I am incredibly proud of our animal care and science teams, whose expertise in giant panda behavior was critical to this conservation success."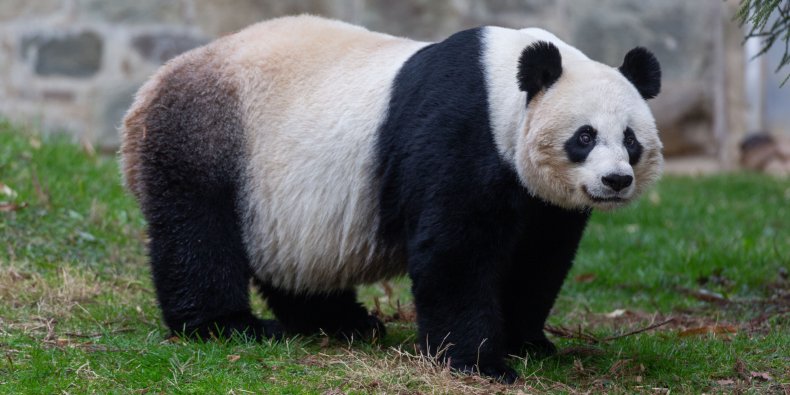 Mei Xiang turned 22 years old on July 22, making her the oldest giant panda in the U.S. and the second oldest documented in the world to give birth.
The baby's birth marked the first time a zoo in the U.S. had experienced a successful pregnancy and birth via artificial insemination using only frozen semen. The cub's father is Tian Tian, a 23-year-old panda currently residing at Edinburgh Zoo in Scotland.
This cub is Mei Xiang's fourth baby, following the birth of Tai Shan in 2005, Bao Bao in 2013, and Bei Bei Bei in 2015. The National Zoo has a cooperative breeding agreement with the China Wildlife Conservation Association which means that all cubs born at the zoo move to China when they are four years old. However, this agreement is set to expire in December 2020.