Adorable Video Shows Rescue Puppies on a Field Trip to the Aquarium
Who knew puppies visiting the aquarium could be so cute?
Evidently, the planning committee at the Safe Hands Animal Rescue in Minnesota did. The animal welfare organization brought a group of adorable animals to roam the SEA LIFE Aquarium in the Mall of America on Thursday.
According to a report from KARE11, the mall hosted two litters of puppies, all of whom got to enjoy the aquatic exhibits available at the aquarium.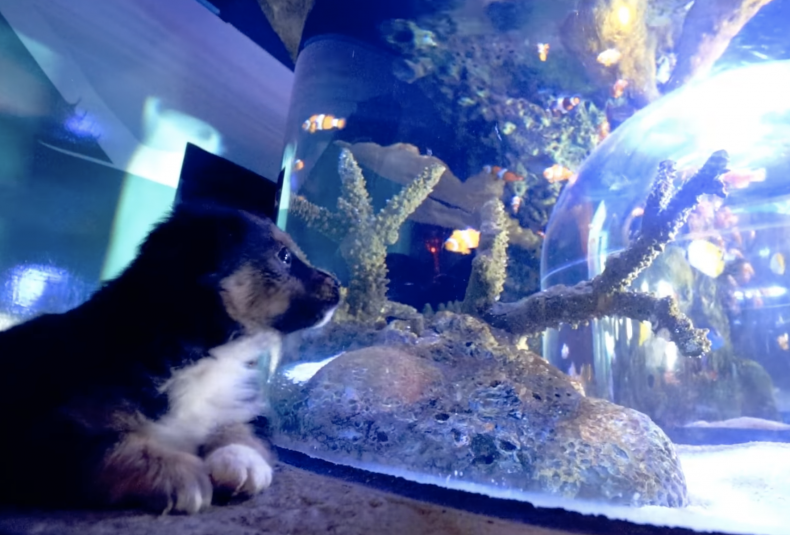 Kathie Anstett, the COO of Safe Hands Animal Rescue, told Newsweek that they were thrilled at the opportunity to bring the pups out on such a fun trip.
"SEA LIFE had reached out to us ... we always like opportunities where we can socialize puppies and give them new experiences to help them develop," Anstett explained.
"They come from Kentucky, they don't get a lot of socialization and experiences in their lives."
The aquarium posted on Facebook and Instagram adorable video of the pups racing down the halls and watching inquisitively as a variety of marine life swam around in their tanks.
"So much cuteness!" was the aquarium's caption.
The Safe Hands Facebook page reposted the video to their account as well, calling the video featuring 10 of their little pups "cuteness overload."
Viewers on the platforms could not get enough of the curious pups visiting the aquarium.
"Omg I wish I was there for that!" one fan wrote on Facebook. "Could not be any cuter," another wrote.
Even Anstett herself called it "the cutest thing I've ever seen."
"It was funny, at first you could tell they were like, 'Where am I?' But then once they settled in ... it didn't take either group of puppies long to warm up to what they were seeing and all the people," she told Newsweek.
"It was just really a fun, fun event, for the puppies for sure but the humans as well."
According to KARE11, the visit was part of the Safe Hands Rescue's virtual Fur Ball Gala, which began on May 10 and will end on May 22. The animal rescue wrote on its website that the goal is to raise $100,000 for internal renovations at The Safe House, its animal sanctuary property in Kentucky.
"Specifically, we need to turn the existing barn into an animal holding ward where dogs can receive proper care and reside in a safe, clean environment until they make the journey up north," the site's blog post explained.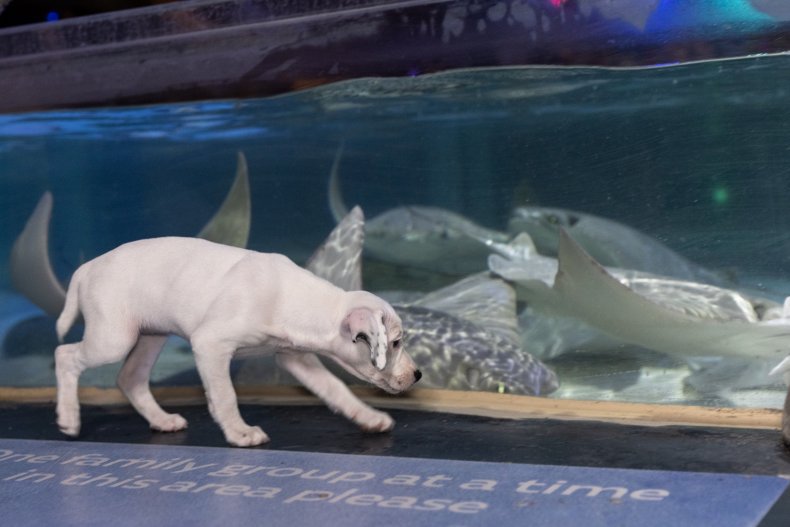 Anstett explained that the Kentucky house is a part of their expansion project to take on more animals that don't always make it to shelters.
"We recently purchased [the Kentucky] property," she told Newsweek. "We've been working in Kentucky for 14 years now in southeast Kentucky with three primary rescue groups or shelters in that area. This property came upon us, and we purchased it."
"Our plan is to be down there, boots on the ground, not only able to help the community but helping more animals in that community," she added. "We're going to take dogs, especially the most critical and the sick that need care, get them out of those shelters and into our place so we can start medical treatments and whatever they need."
Diana Hein, the marketing manager for the SEA LIFE Aquarium, explained to Newsweek that they wanted to partner with the organization because of the impressive work they have done bringing animals into "furever" homes.
"We came up with the idea to promote their Fur Ball Gala," Hein said. "We wanted to welcome in their puppies and kind of have a puppy take-over in aquarium ... and hopefully bring awareness so people in the community can then donate to their fundraiser."
According to the Safe Homes website, the money being raised for the Kentucky facility would be a game-changer for them.
"With a completed animal holding ward, Safe Hands will be able to accept animals right away...no waiting. Often just a few hours can mean the difference between life and death for dogs and cats who are hungry, thirsty, ill or injured, or sometimes hours from giving birth or just newborn," the post said.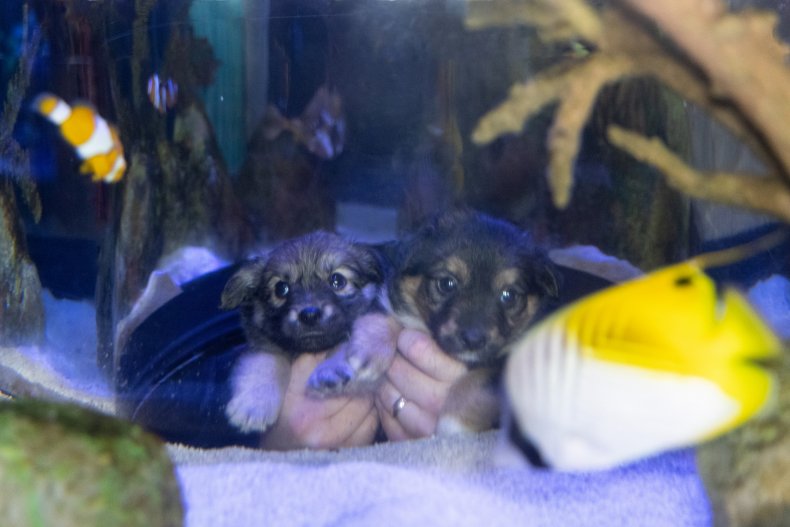 Safe Hands Rescue also noted that this was its second year going virtual for the Fur Ball Gala due to COVID-19 restrictions.
"Homeless animals need your support now more than ever," the organization said on its website. "COVID-19 has already hurt so many companion animals across the country and more and more pets are being forced into homelessness."
Anstett added that being able to come together, albeit in a limited capacity with others, was beneficial for both the human caretakers and the dogs.
"We've all been so confined and stuff, it was nice to get out. Of course, we all had our masks on, we all did what we're supposed to do. But it was nice just to come together," she told Newsweek. "Those puppies had so much fun, it was such a good experience for them. I do know that they went home and slept!"
And for those in the Kentucky and Minnesota areas looking to grow their families, Anstett confirmed that the smaller pups seen in the video are up for adoption.
"The bigger puppies that were at the event actually all have homes, but the littler ones will be available for adoption next week," she said to Newsweek. "Our puppies in particular go very quickly on our website, so we always recommend people are constantly checking our website."
On TikTok, another video of precious pooches has gone viral, this time for an adult dog bringing a nearby cat into their photoshoot. All of the dogs posed happily, and even with the dogs trying to help, the cat still refused to look at the camera.