Adorable Video Shows Two-Headed Turtle Hatchling Found on Beach
On Sunday, a group of biological technicians made a stunning discovery on a North Carolina beach: a baby sea turtle with two heads. Remarkably, the news comes just three weeks after another two-headed turtle hatchling was reported down the coast, in neighboring South Carolina.
Cape Hatteras National Seashore posted a clip of the two-headed hatchling, found here, to their Facebook page on Tuesday. "Are two heads really better than one?!" reads the video's caption. "It's not everyday that park biologists find a two-headed sea turtle!"
In the clip, a gloved hand is seen gently holding the tiny turtle. The hatchling paddles its flippers mid-air, while its two heads survey the scene.
The video has already racked up 74,000 views at the time of writing, along with about 1,500 shares.
Cape Hatteras National Seashore officials took to the clip's comments section to answer viewers' many questions—and concerns—about the turtle's potentially uncertain future.
Many, for example, wondered if the turtle had been taken back to a research facility to receive more intensive care. But according to the scientists, that level of intervention was not necessary.
"This turtle was released into the ocean after it was found at the bottom of the hatched nest during an excavation," they explained in a comment. "There are many genetic deformities sea turtles can exhibit, but this one was experiencing good health and had good flipper function once in the water."
Despite the turtle's apparent good health, the park admitted, in a separate comment, that "because of its genetic mutation, [it's] unlikely it will survive as long as some others."
Added Cape Hatteras National Seashore Public Affairs Specialist Michael Barber in a statement to Newsweek: "Overall, genetic deformities of sea turtle hatchlings at the Seashore and around the world are common. However, finding a live, two-headed sea turtle hatchling is rare."
He went on to note that "in the last five years, Seashore staff have found two, two-headed sea turtle hatchlings, both of which were not found alive."
Others commenters on the video expressed concern that environmental factors might be at play in creating this sort of genetic mutation—a possibility that Cape Hatteras National Seashore officials didn't touch on.
"Mutation from radiation... Welcome to the future," lamented one viewer.
"You can thank Big Oil for that one," said another.
The Cape Hatteras National Seashore also noted that this particular hatchling is a loggerhead sea turtle, "​​the most abundant species of sea turtle that nests in the United States," according to The National Oceanic and Atmospheric Administration (NOAA).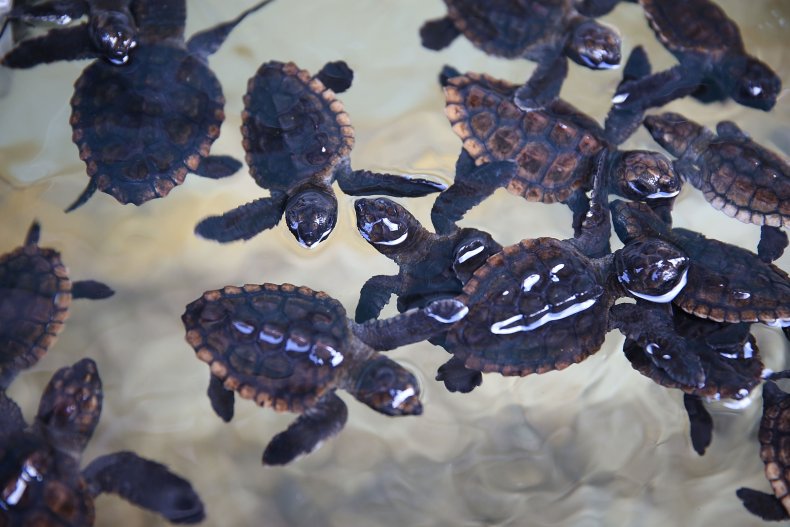 While two-headed turtles are certainly rare, they're not entirely unheard of in the region. In July, South Carolina's Edisto Beach State Park sea turtle patrol found a two-headed loggerhead hatchling that was struggling to crawl. Edisto Beach is located about 45 miles from Charleston and has been running a loggerhead sea turtle program since 1982.