A fireman was shocked when he met a new member of his family in a now-viral TikTok.
Desiree Delehant, a teacher based in Kansas, posted the video to her account @momofboys1224, which has been viewed 15 million times. The sweet clip shows the moment Delehant's husband, Joshua, was surprised with his "dream puppy," which was a Dalmatian the family named Ember.
Known for their spotted coats, Dalmatians are energetic and playful dogs, per Hill's Pet Nutrition.
"These dogs are intelligent, can be well trained and make good watchdogs," the company noted.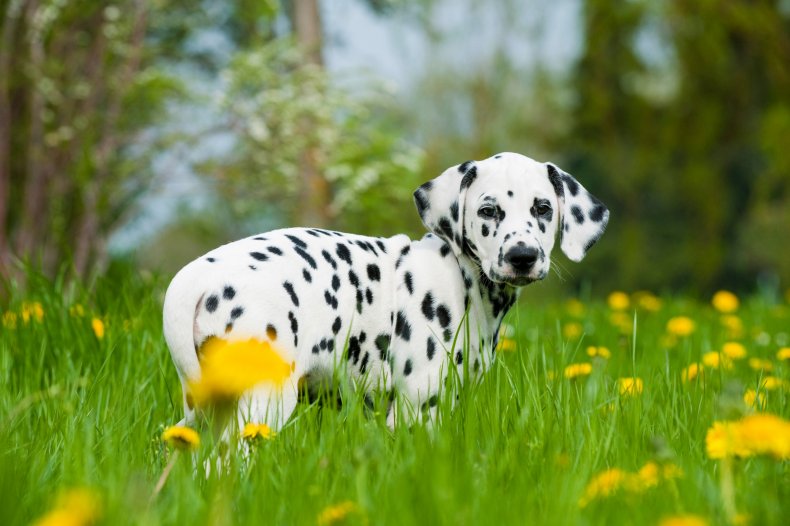 It also stated that Dalmatians "thrive" when around their owner.
"This dog is for someone who wants to spend time with a pet," the piece read.
In the video, Delehant stops by the fire station to surprise her husband with the young Dalmatian, who is in the backseat with their child.
They greeted him, and as he glanced to the backseat of the car, their child urged him to look at what they were holding, which was Ember.
He stood there for a moment with a surprised smile on his face and took a step back.
"You did not spend money on that," Joshua said in disbelief.
She told him it was a gift for his birthday and Father's Day and encouraged him to hold her.
The video concluded just as he reached through the window to hold Ember for the first time.
"Fireman gets his fire puppy," the video caption read.
Delehant wrote to Newsweek that Joshua worked as a firefighter for more than 20 years, but he's wanted a Dalmation for an even longer amount of time.
She said that Ember was part of an accidental litter after the owner's dog became pregnant before she was spayed. Ember will be three months old in May.
Since the family welcomed Ember into their home, Delehant said she has settled in well with them and the two other dogs they already have.
"Joshua is absolutely in love with her and has spoiled her so much that she has to be covered up with a blanket at night to go to sleep," Delehant said. "I, of course, love her too."
The TikTok account has shared several videos showing Ember as she settled into the family's routine. Clips show her going for walks, learning training commands and visiting the fire station.
Delehant said Ember is now kennel trained and knows the commands to sit and shake. She explained they are training her the same way they trained the labs they've had.
Joshua's reaction to Ember charmed many viewers who took to the comments section to share their delight.
"Dalmatians are great dogs," a viewer wrote. "How sweet."
Wrote another, "A firefighter with a Dalmatian, that's so sweet. That puppy needs a photoshoot on the fire truck in the firehouse and to meet the other firefighters."
"He says no but his face says yes," a comment read.
Some commenters revealed that, before they saw Ember, they hoped she was a Dalmatian.
"Not me thinking 'that better be a Dalmatian' the whole time," one TikTok user wrote.
Ember is not the only Dalmatian making waves on the Internet.
A viral video shows one Dalmatian puppy who was found sitting on top of a refrigerator.
One video showed the sweet relationship between a cat and a dog and how it grew from the time they were a kitten and a puppy.
Another adorable video revealed a woman's parents' reactions to her new dog that they told her not to get.
Updated 04/26/2022, 6:06 p.m. ET: This story has been updated with comments from Desiree Delehant and a verified video of the incident.