Adreian Payne's Friendship With Cancer Patient Remembered After His Death
A heartwarming friendship between former NBA player Adreian Payne and an eight-year-old cancer patient is being remembered by fans following the basketball star's death early Monday morning.
Payne, a 31-year-old who played for Michigan State before ending his NBA career with the Orlando Magic in 2018, was shot and killed in Orlando, Florida, police confirmed to Newsweek. The incident happened in Orange County around 1:30 a.m. on Monday, and Payne was later pronounced dead at the hospital.
The suspected shooter, Lawrence Dority, 29, was arrested at the scene and was taken to Orange County Jail. Dority is facing first-degree murder charges, police told Newsweek.
Payne's death was met with an immediate outpouring of support from former teammates and fans. But perhaps the most notable tributes were those who remembered Payne's special bond with Lacey Holsworth, a young cancer patient who stole his heart when Payne played for the Michigan State Spartans from 2010-2014.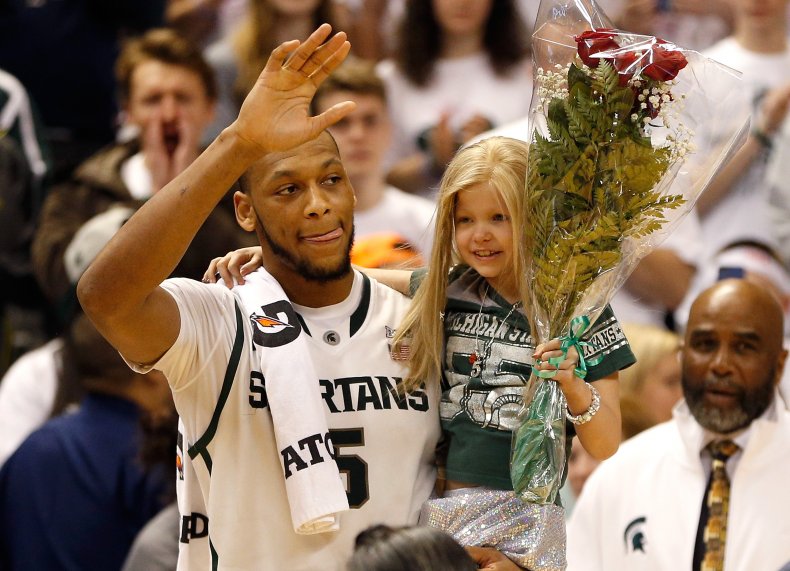 Payne first met Lacey Holsworth, whom her family called "Princess Lacey," during a hospital visit in 2011, according to the Washington Post. The pair immediately struck up a bond, and Payne began referring to her as his little sister. For the following several years, Payne invited Lacey and her family to games in Michigan and across the country.
When the Spartans won the Big Ten tournament title in Indianapolis during the 2013-14 season, Payne celebrated the win with Lacey, holding her in the air to cut down the nets. The 6-foot-10 basketball star also carried Lacey in his arms on Senior Night, and she was given a championship hat along with the rest of the team.
The story of their friendship gained national attention, with Lacey becoming something of a celebrity among the Spartans. Then, in 2014, when Lacey died of complications from the fatal-nerve cell cancer neuroblastoma, Payne and his teammates saluted her in an emotional ceremony.
"Words can't express how much I already miss Lacey," Payne said in a statement after her death, according to ABC News. "She is my sister, and will always be a part of my life. She taught me how to fight through everything with a smile on my face even when things were going wrong. I'm a better man because of her."
"She said she first liked me because of my smile, but it's her smile that made America fall in love with her. I know she's smiling and dancing in heaven right now. My princess is now an angel," he added.
Following his time with the Spartans, Payne was the 15th pick by the Atlanta Hawks in the 2014 NBA draft and was traded to Minnesota during his rookie season. He appeared in 107 NBA games over three seasons, ending with the Orlando Magic in 2017-18. He later played basketball in Greece, China and Lithuania.