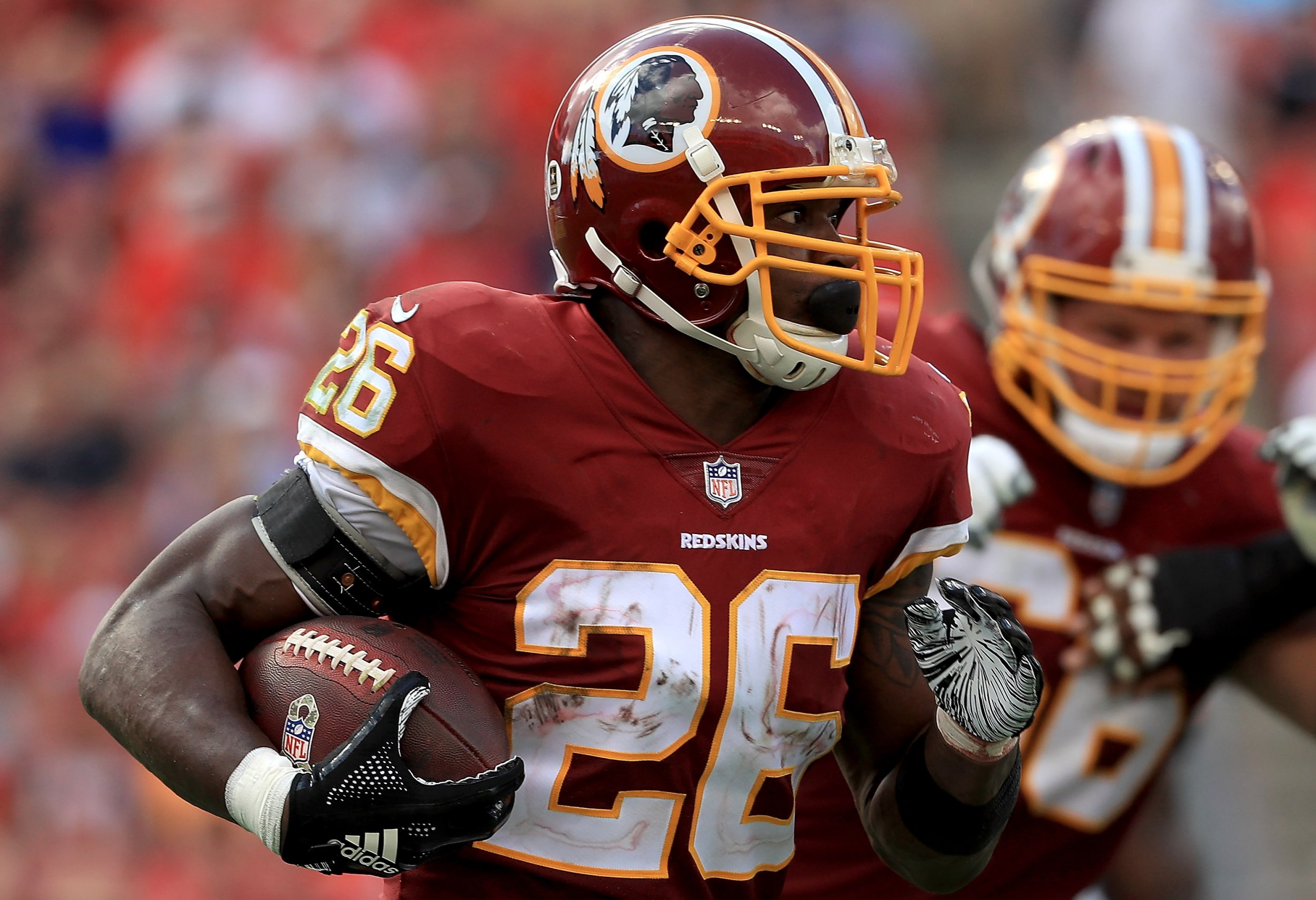 Washington Redskins running back Adrian Peterson admitted that he still uses a belt to discipline his son despite his past child abuse suspension.
In a feature for Bleacher Report, Peterson said, "I had to discipline my son and spank him the other day with a belt."
The former All-Pro added that he also disciplines his kids in various other ways, including making them do wall squats, sitting in timeout and taking away their electronics.
"There's different ways I discipline my kids. I didn't let that change me," Peterson said in the article.
Peterson was charged with felony child abuse after using a switch to spank his then-4-year-old son, which resulted in a suspension. The incident left his son with cuts and bruises all over his body, including in the buttocks and scrotum area.
Peterson pleaded no contest to a reduced charge of misdemeanor reckless assault for his role in the incident, which resulted in a two-year probation period, a $4,000 fine, 80 hours of community service and a one-year NFL suspension.
It's unknown whether the league plans to discipline Peterson after his latest confession, but it was stern with its expectations for him in the past.
In 2014, commissioner Roger Coodell scolded the running back in a letter, claiming that he didn't show proper remorse for his conduct.
An additional letter from the NFL told Peterson that his reinstatement was "based on the results of the counseling and treatment program set forth in this decision. Under this two-step approach, the precise length of the suspension will depend on your actions. We are prepared to put in place a program that can help you to succeed, but no program can succeed without your genuine and continuing engagement.
"You must commit yourself to your counseling and rehabilitative effort, properly care for your children, and have no further violations of law or league policy."
There hasn't been a comment made by the Redskins or the NFL as of Wednesday evening.
Washington will face the Dallas Cowboys on Thanksgiving Day. Peterson, 33, has seen a career resurgence in 2018, leading the Redskins with 723 rushing yards.
He is currently signed to a one-year, veteran minimum contract, joining Washington last August after recording a career-worst 529 yards for a season in which he had a minimum of 100 attempts.
The former NFL MVP ranks ninth all-time in career rushing yards with 12,999.
Uncommon Knowledge
Newsweek is committed to challenging conventional wisdom and finding connections in the search for common ground.
Newsweek is committed to challenging conventional wisdom and finding connections in the search for common ground.