Adriana Reyes, Uvalde Shooter's Mom, Insists They Had a Good Relationship
The mother of Salvador Ramos, the shooter who authorities say killed 19 children and two adults at Robb Elementary School in Uvalde, said claims that the two had a strained relationship are false.
Adriana Reyes said she was "surprised" to find out that her 18-year-old son had gone on a rampage that killed 21 people on Tuesday in Texas in an exclusive interview with the Daily Mail.
"My son wasn't a violent person. I'm surprised by what he did," she told the British tabloid. "I pray for those families. I'm praying for all of those innocent children, yes I am. They [the children] had no part in this."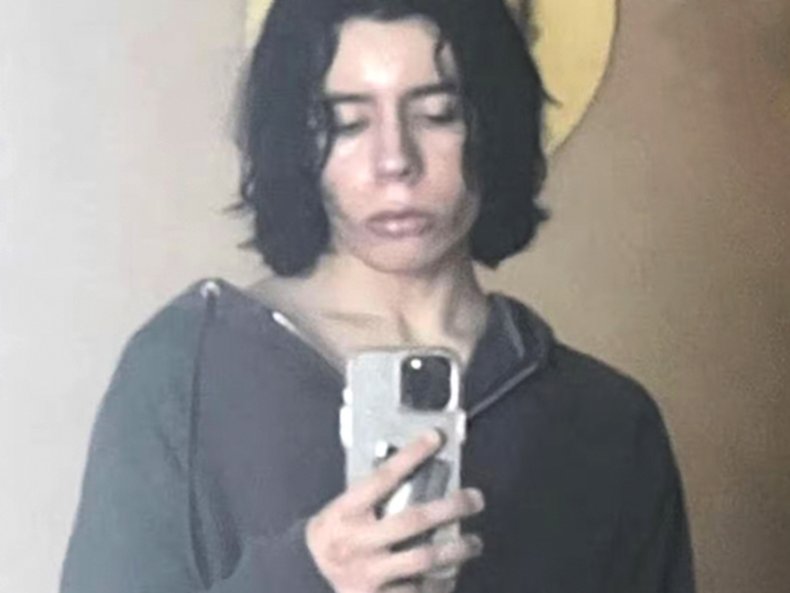 Ramos was reportedly living with his grandparents in a house near the primary school at the time of the attack, a couple of miles away from his mother's house in Uvalde.
In an interview with NBC, the mother's boyfriend, Juan Alvarez, said that Ramos went to live with his grandmother after a fight with his mom over Wi-Fi. He said the relationship between Ramos and his mother was tumultuous and that the two often fought. Neighbors talking to El País said Reyes "was going through bad times," but Reyes did not address these claims.
One of Ramos' high school classmates, Nadia Reyes, told the Washington Post that Ramos posted a story on Instagram a couple of months ago showing him screaming at his mother and calling her a "b****."
Adriana Reyes said reported rumors that the two had a strained or toxic relation were false, and that the two had a "good relationship."
"I had a good relationship with him. He kept to himself; he didn't have many friends," she said.
She did not address why her son was reportedly no longer living with her and had moved to his grandmother's place.
According to the British tabloid, Reyes was by the bedside of her mother Celia Gonzales in a San Antonio hospital as she conducted the interview. It has been reported that Ramos shot his grandmother before heading out to the primary school and opening fire on the students and teachers. At time of writing, she was in critical condition.
Reyes told the British tabloid the last time she had talked to Ramos was last Monday on his 18th birthday.
She said she had a card and a Snoopy stuffed animal to give him. Ramos reportedly bought two rifles after his birthday, the day he was legally allowed to purchase long guns, including rifles and shotguns.
Ramos' grandfather Rolando Reyes said the family had no idea the 18-year-old boy had bought the weapons. "If I'd have known, I would have reported it." Neighbors talking to El País said Ramos' grandmother knew the teen had purchased the rifles and the two had argued about him carrying them outside.
Neighbors talking about Ramos said he was a quiet, lonely teen. His grandfather said he was "quiet" and his mother's boyfriend said he was "kind of a weird one," because he didn't talk to anybody.
He said he was shocked to find out the teen had murdered 21 people.
It has emerged that Ramos announced his rampage in a Facebook message just before the attack. Texas Governor Greg Abbott said Ramos posted three messages on social media before the shooting: one said he was going to shoot his grandmother, the second that he had shot her, and the last message announced he was going to open fire at a primary school.
Friends of Ramos have told reporters that the teen was bullied and deeply troubled, often lashing out at people. Family and friends have talked about Ramos being bullied because of a speech impediment during childhood, in middle school and junior high. According to what his friend Stephen Garcia told the Post, Ramos once posted a photo of himself wearing eyeliner and was bullied hard for it.
"Bullying, cyberbullying, and persistent humiliation are what ultimately send these mass shooters into a homicidal rage," psychotherapist Lena Derhally told Newsweek.
"A number of mass shooters do not suffer from low self-esteem but instead have narcissistic traits and their violence and aggression is often set off by humiliation," she said. "Most of these mass shooters who target schools have had major red flags indicated by their online profiles that largely go unchecked and ignored."