Adrien Brody and the Ostentatious Glory of Art Basel Miami Beach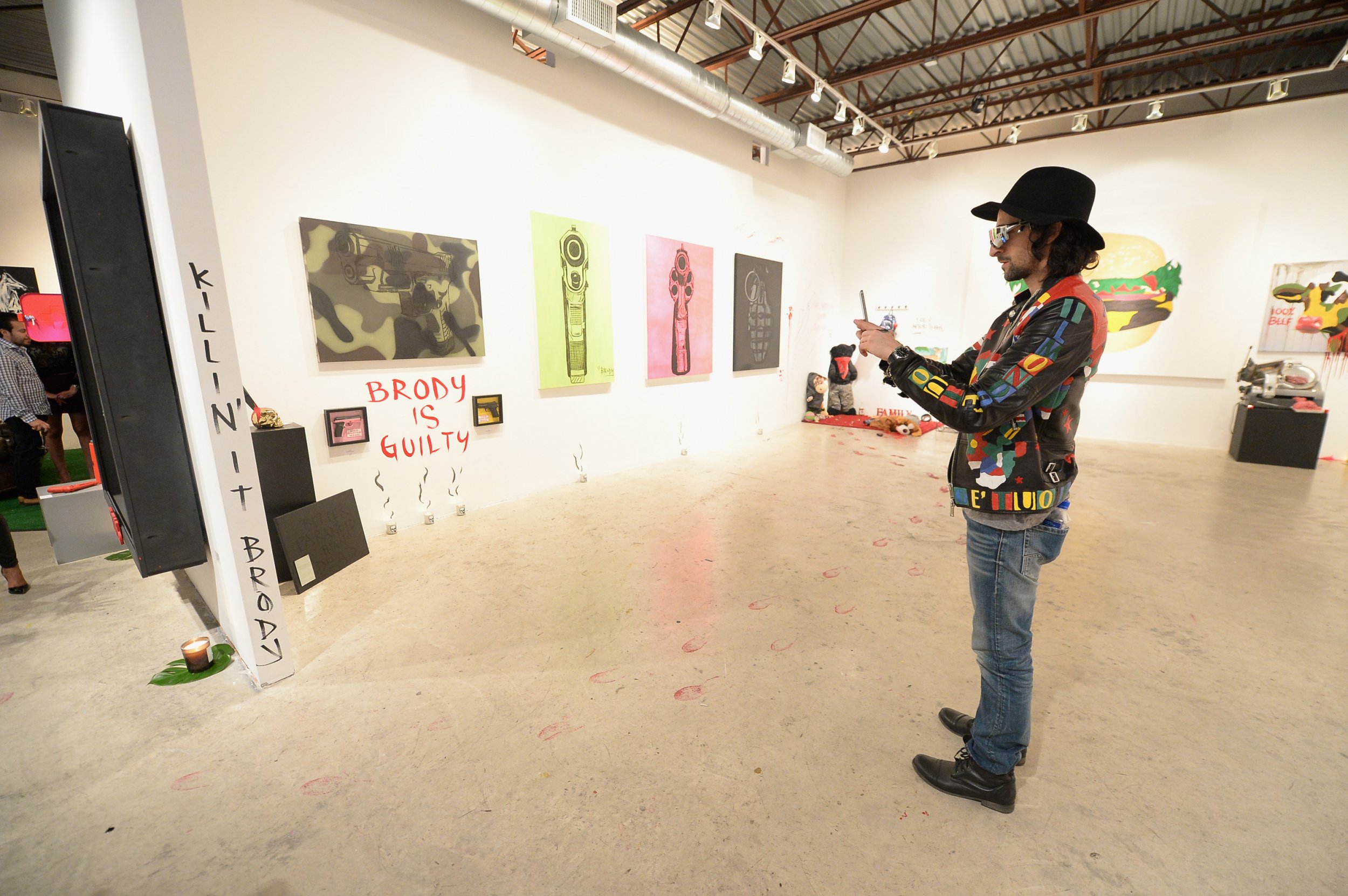 I'm waiting for Adrien Brody with Domingo Zapata, the guy whose Porsche Lindsay Lohan was driving that time she hit a guy in Manhattan a few years ago. We're in a makeshift green room in the back of Miami's Lulu Laboratorium gallery space. Zapata is also a successful Spanish artist, and after 30 seconds he gets bored with my small talk and takes out a cigarette. He's wearing plaid pants, and his hair is styled into some sort of artfully unkempt hybrid of dreads and cornrows. In the back of the room, four young women dressed as identical '50s soda shop girls giggle in front of a vanity mirror. The door opens, but it's not Brody; it's Zapata's friend and former Real Housewives of Miami star Karent Sierra. She sheepishly asks if she should have a shot of whiskey before taking two. Sierra was the original owner of the Porsche Zapata lent to Lohan.
When Brody finally arrives, he's wearing a leather jacket covered with the flags of the world, a pair of reflective mirror sunglasses that is actually more of a visor and a glinting McDonald's Golden Arches pendant on a chain that dangles around his neck. He is also holding a toy gun. Zapata isn't. This is a problem. Brody tells him to do pushups.
"That's part of the punishment," says the Oscar winner. "You have to. If you leave your weapon, you have to do pushups. Do five."
Zapata happily obliges, and as he's pumping his elbows, I ask Brody if he had the McDonald's bling custom made for the night. "No," he says. "But it fits."
The necklace is a nod to Brody's first art exhibition, "Hot Dogs, Hamburgers and Handguns," which is debuting outside the door to the green room. The gallery is packed with beautiful, ostensibly important people, and there are more people who ostensibly aren't quite as important waiting outside the door. Maybe they have a friend inside who knows somebody. Maybe they're hoping the hulking bouncer has a change of heart. Maybe some other force will direct their attention back to the kaleidoscopic carnival teeming throughout the streets of Wynwood, Miami's rapidly gentrifying arts district known for its colorful murals. But the streets are exclusive to no one, and at Art Basel being somewhere others cannot is often more important than anything hanging on a wall. Context and staging are just as important for the lipo, the tans, the coiffed chest hair, the heels, the boob jobs and the linen suits as they are for the art. In the gallery, they are valuable. Next to a celebrity, they are valuable. On the street, they are nothing. So the people outside the door wait.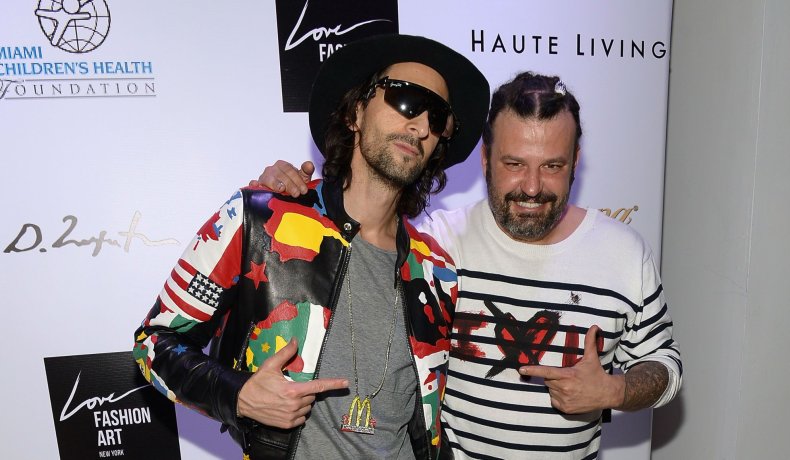 Art Basel was founded in Basel, Switzerland, in 1970 as a place for the international art world to congregate. The Miami Beach edition has been around since 2002 and is by far the most significant art event in the U.S. In 2015, AB/MB featured 267 galleries from 110 countries, and over 77,000 patrons attended. But in recent years, the conference has become less about the artwork it exhibits and more about the tabloid fodder it produces. The list of exclusive parties is longer than that of the exhibiting galleries, and with exclusive parties come celebrities, and with celebrities come attention, and with attention comes branding. Every movement of A-listers like Leonardo DiCaprio and Lenny Kravitz is cataloged, and every event is defined solely by the list of recognizable names its organizers and sponsors can say attended. Toward the end of the week, I'll hear a story about a friend of a friend who was kicked out of a women's bathroom in a particular club because DiCaprio needed to use it.
Both Brody and Zapata are part of Basel's coterie of celebrity regulars. The art world they occupy is one that is closely tied to fashion and fame, less so one that is celebrated in museums. Brody and Zapata's exhibition at Lulu Laboratorium—some of Zapata's works are on display as well—is everything academics and certain New York gallerists have come to detest about Basel. The most important thing to come out of it will be a press release. Nevertheless, Brody is determined to isolate his career as an artist from his career as an actor.
"I threw it out," he says bluntly of his celebrity. "I threw it out today. It comes with me, obviously, as baggage, but I threw it out. Today, I'm 'Brody.' I asked them to take the name 'Adrien' off the thing. I'm Brody. I'm an artist. Obviously, I appreciate it, because there's interest and I'm a known person, and there's some curiosity as to what I should be up to—"
Here, Zapata cuts off Brody to defend his friend's new mission, noting how they met in a "painting environment," how he was able to recognize Brody's talent and how his work is making a "statement." This is all very important, because if there's anything artists dabbling in a discipline other than the one they have become famous for desire, it's to be appreciated for what they're trying to do, not for what they've done. The message is clear: Brody is an artist, dammit!
"I'm like, 'Hey, you've got to fucking go for this,'" Zapata concludes. "And he went all the way, working hard, like anyone. Starting from zero."
"Yes, I am," Brody says.
Now they begin to talk over each other. It's imperative to communicate that Brody isn't fucking around with this.
"He is—working 12 hours a day, working in the studio in upstate New York—"
"Here. Upstate. I drove my own material. I drove it in a box truck to New York—"
"He took his paintings with his hands—"
"I pulled an all-nighter—"
"From the truck to here—"
"I've been painting. I've been building and designing the boxes. I've been—"
"So—"
"The beauty of it is the creation," Brody finally interjects. "The creation and the freedom I have. When I say I discard the rest, I'm sure there will be people criticizing."
"This has to be frustrating," I say.
"It limits them," Brody says. "It doesn't limit me because I did it. I do it, and I do the work for my own satisfaction, my own fire, my own—"
"And the message," adds Zapata. "The message to the world."
"Well, the people willing to acknowledge a message will hear it. The others, I can't enforce that they get me or get the purity in my vision. I can't do that. It's out of my hands. That's why I say I leave it behind, because it's out of my control. You can hope, you can express..."
He pauses.
"You can express the truth, and hopefully that resounds with people."
The four soda shop girls in front of the vanity mirrors have now put on roller skates.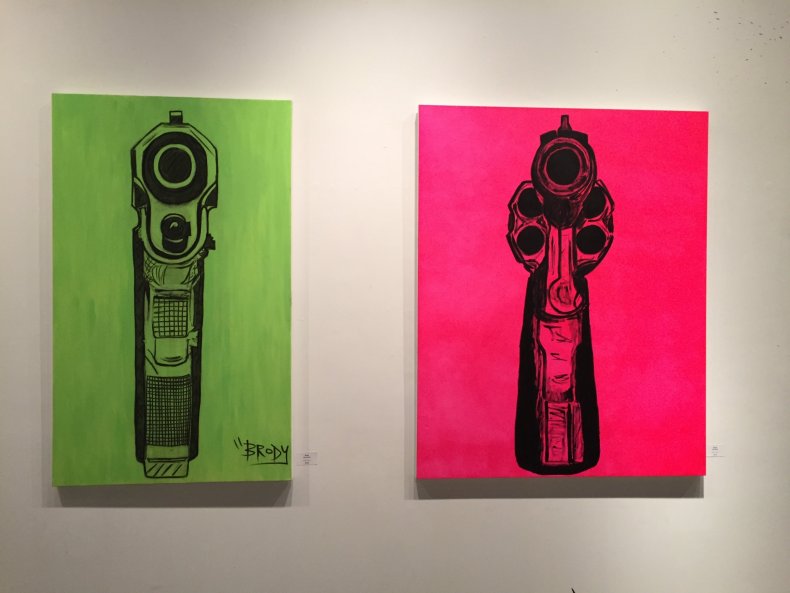 There isn't much more to Brody's art than its title suggests. There is fast food, and there are guns, and the point, essentially, is that both of these things are bad. Yes, even though they are not only accessible but also glamorized in American culture, they are, in fact, not good. That is the twist.
Paintings of grenades and weapons hang alongside displays of mounted toy guns, often splattered with fake blood. There is one stark painting of a french fry container holding not fries but cigarettes that's going for $50,000. The other works are similarly priced.
More interesting than the art are the people in the room, many of whom look like they've been torn out of a magazine spread. The model-types pose for pictures, as do the few celebrities still left after the pre-showing dinner concluded. Richard Schiff from The West Wing is there. So is Arielle Kebbel. Scottie Pippen came and went. A DJ spins gallery-friendly remixes of hip-hop hits and old favorites like "Tom's Diner." There's a crowded bar area. Smartphone cameras are unholstered. After a while, the soda shop girls roll out on their skates and perform a choreographed routine. It is as surreal as it sounds.
Brody memorably played Salvador Dalí in Woody Allen's Midnight in Paris, but the way he approaches art brings to mind the film's caricature of Ernest Hemingway—straight to the point and hell-bent on grabbing truth and beauty by the balls. "What Domingo has painted for a long time is a series on culturally significant works that speak to Spanish culture," Brody explains. "Bullfighting. Matador-ism. I played a matador. I played Spain's greatest matador, Manolete. We have friends in common who are young matadors and retired matadors. It's meaningful to me, and I respect that. There I was in Majorca, painting in his father's painting studio, really steeped in what shaped him as an artist and a young man. I'm very sensitive and conscious of all that. I said, you know, I should paint something that's relevant to me and culturally significant to American culture and pop culture, which I'm very much a part of. The very first image that came to me was a hamburger."
Guns followed fast food as, to Brody, violence is the yin to fast food's yang. Together they make up a glittering binary star of death that is slowly destroying America. "You need a point of view," Brody says when asked about creating works united under a particular theme. "I'm also experimenting in different areas of creativity with my work as an artist. Most artists distill a concept into one style. They will do a series of that style. I am not doing that. Just like my acting. I feel like I should be a chameleon, as an artist and as an actor. I should be able to just fucking create. And if I find something that inspires me, it gives me energy and power and zest for life. If I can share that with people and there will be people that relate, that's wonderful."
Though "Hot Dogs, Hamburgers and Handguns" may be an easy target for scholars looking to lament the downfall of the contemporary art world, it's hard to say it's any less valuable—whatever that means—than anything else at Art Basel. In fact, it's admirable how efficiently it encapsulates the confluence of art and celebrity and fashion and branding that most have come to associate with the conference. The context surrounding Brody's works was more striking than the works themselves, but this was the case throughout Miami. The art itself isn't the point. There is so much of it, in so many different forms, flying at attendees so rapidly and from so many angles, that nothing is allowed to register in any meaningful way. At Basel, a poignant piece of art is no more impactful than a standout tweet; it's all just part of an endless scroll of content.
Because everything is moving so fast and because it's so hard to discern true value, it's also nearly impossible to distinguish reality from art. On Friday, when a woman was knifed in the neck, art-goers mistook the attack for a performance piece. "It was calm and everyone was milling around and talking," sculptor Gregg Hill told the Miami Herald. What's a greater indictment of the modern art world: Brody's harmless party, where a good time was had by all, or a bunch of haughty millionaires in exotic eyeglass frames, standing idly and considering the artistic merit of a woman bleeding out in front of them as they sip champagne out of plastic flutes?
The most incisive, culturally relevant piece of art at Art Basel Miami Beach ironically isn't contained within a gallery. It's the conference itself. For a week every December, Miami Beach is a petri dish of American excess that rivals Las Vegas, only it's playing out under the guise of a collection of fine art exhibitions. Keeping with the times—and perhaps with Brody's "statement"—the police even killed a guy in the middle of Miami Beach on Saturday. It didn't get near the coverage of the stabbing, of course, which took place near an installation. Context is everything.
In Miami, the lens has been focused on the superficial with such intensity that it has become the substance. Street style photo galleries outnumber journalistic pieces about the actual art 10 to 1. The vast majority of Americans familiar with Basel know it through Us Weekly or People or TMZ, not any of the arts publications that had a quaint little "Magazines" display in an uncharted corner of the labyrinthine Miami Beach Convention Center. Also brushed into a corner was the Basel Salon, which hosted illuminating discussions with artists like Trevor Paglen, Jenny Holzer and recent MacArthur genius grant recipient Nicole Eisenmann all week. Unless an attendee made a concerted effort to seek these out, they would never know they existed.
What everyone did know about, what was getting headlines, was Brody's exhibit. While it's unlikely many of the people at Lulu Laboratorium for its unveiling had MFAs, from a what-this-may-say-about-art-in-2015 macro perspective, that was kind of the point. There was nothing academic about it, and there's not necessarily anything wrong with that in the same way there isn't necessarily anything wrong with Keeping Up With the Kardashians. The ostentation of the "Hot Dogs, Hamburgers and Handguns" event was glorious, marvelous and thought-provoking—just maybe not exactly in the way Brody intended. Simply put, it was a work of art.