Adults Can Get Measles Too, and Are at a Higher Risk for Complications Than Kids and Teens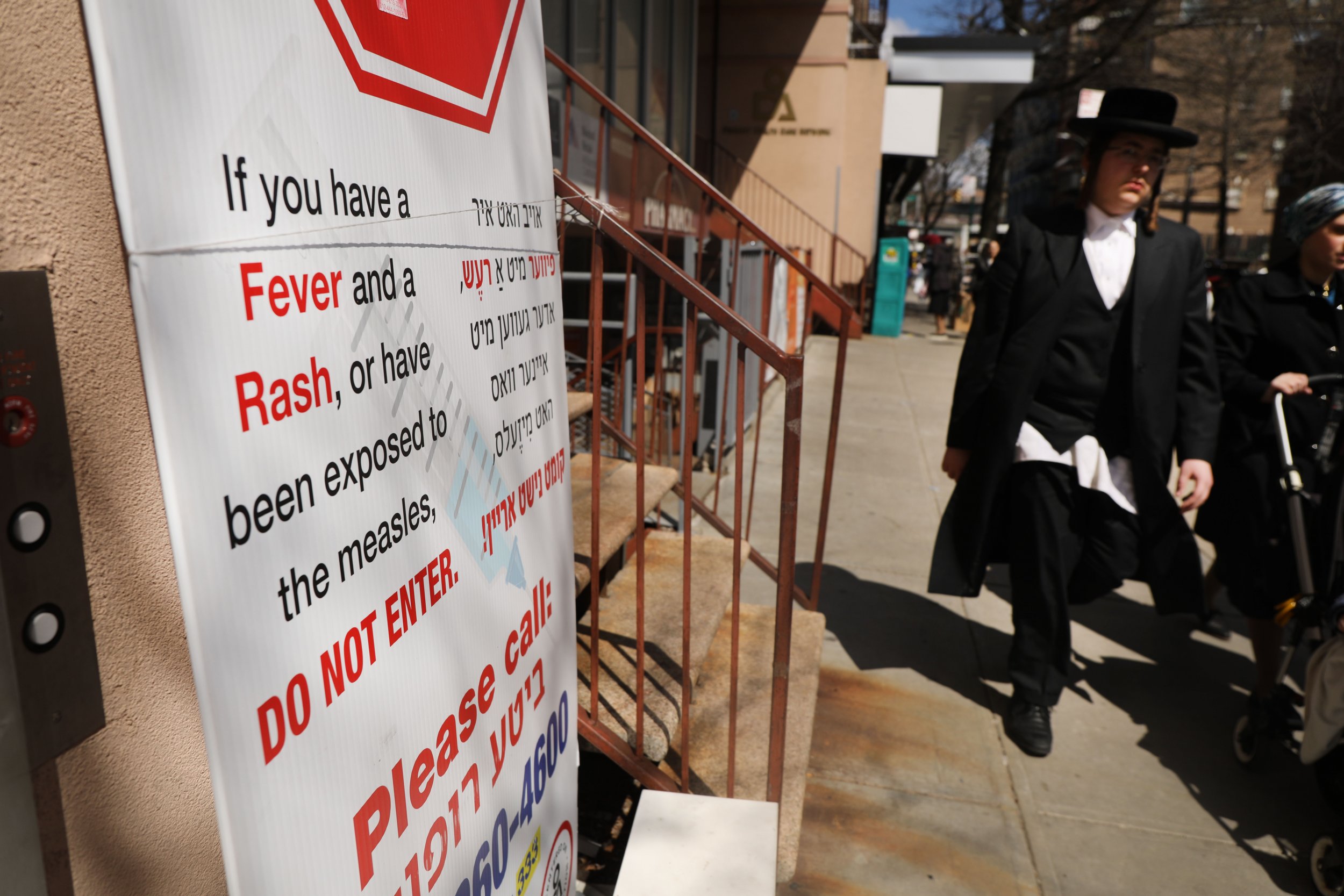 Much of the measles conversation has been centered around children, childhood vaccination and the virus spreading among kids in schools and elsewhere. But children are not the only ones susceptible to the potentially deadly virus. In fact, adults are actually some of the most at-risk people for complications associated with the measles virus.
Unless a person has had the measles before and it was confirmed with a lab test, or they have been vaccinated against the virus, they are at risk of getting the measles.
"Adults can definitely get measles. Their cases are similar to children and being an adult is actually a risk factor for severe illness and complications," Dr. Melissa Stockwell, with Columbia University Medical Center, told Newsweek. In 2017 there were 110,000 deaths related to measles worldwide, according to the World Health Organization.
The Centers for Disease Control and Prevention (CDC) advises that children under five and adults over the age of 20 are at higher risk for measles complications. One of the most common complications adults come down with is pneumonia or an infection in the airways or lungs. Some adults are more vulnerable than others and some might have more serious complications. Other complications include encephalitis — a swelling of the brain — diarrhea and vomiting.
"Adults older than 20 years, pregnant women and those with compromised immune systems are at high risk for severe illness and complications from measles," said Stockwell. Women who get the measles while pregnant could suffer a miscarriage or stillbirth, or enter labor prematurely, according to the National Health Service.
Thus far in 2019, there have been 465 cases of measles reported to the CDC. Many of those cases have been reported from New York City's Brooklyn borough, where an outbreak has taken the Williamsburg neighborhood by storm. The health commissioner for the city issued an order Tuesday that said those who can't prove immunity or vaccination could be fined $1,000.
"If you've already had measles, you can't get measles again. However, measles can be a serious and deadly disease, therefore it is far better to get vaccinated than to get the disease," Stockwell told Newsweek.
The commissioner reported that the health department was also made aware that some people were hosting so-called "measles parties" in Brooklyn to deliberately expose their children to the virus. The idea is that the kids contract measles in a controlled setting instead of being vaccinated. However, health officials and doctors advise against measles parties, noting that vaccines have repeatedly been proven safe while exposing a child to a potentially dangerous virus — a virus that could then be passed on unintentionally to others — is not a good idea.
The measles virus highly contagious and up to 90% of unvaccinated or not-immune people who come in close contact with someone carrying measles will get sick, according to the CDC.
People with measles don't start to show symptoms for a week or two after they have been exposed. Some people don't get the traditional measles rash either, but they are still contagious even without the rash if they do have measles, Stockwell said.