Adviser Says Donald Trump In 'Great Mood,' Thinks Bruce Castor Made 'Some Good Points'
Jason Miller, adviser to former President Donald Trump, told Fox News on Wednesday that Trump was in a "great mood." Miller also relayed Trump's words of praise for the members of Trump's legal defense team in his Senate impeachment trial.
Trump, who was permanently banned from Twitter on Wednesday, has not made a public statement about his impeachment trial. Trump's legal team—Bruce Castor and David Schoen—made opening arguments in Trump's defense on Monday. Many observers criticized Castor's remarks for not directly addressing the impeachment.
In a Wednesday interview with Fox News, Miller said that Trump "thinks that David Schoen did a very excellent job. Also, there are some good points that Bruce Castor made."
"There are a few things that we need to tighten up," Miller added.
Newsweek reached out to Miller for further comment.
Castor's opening statements were roundly panned by lawmakers. Republican Louisiana Senator Bill Cassidy told reporters he believed Castor's remarks were "disorganized" and "random."
Castor and Schoen attempted to make the case that since Trump had already been voted out of office, impeaching Trump would be unconstitutional. Cassidy had been expected to vote along Republican party lines against the trial. Instead, Cassidy joined five other Republicans who voted along with Democrats to allow the trial to proceed. Cassidy told reporters that, in their opening statements, Democrat House impeachment managers made a "compelling, cogent case and the President's team did not."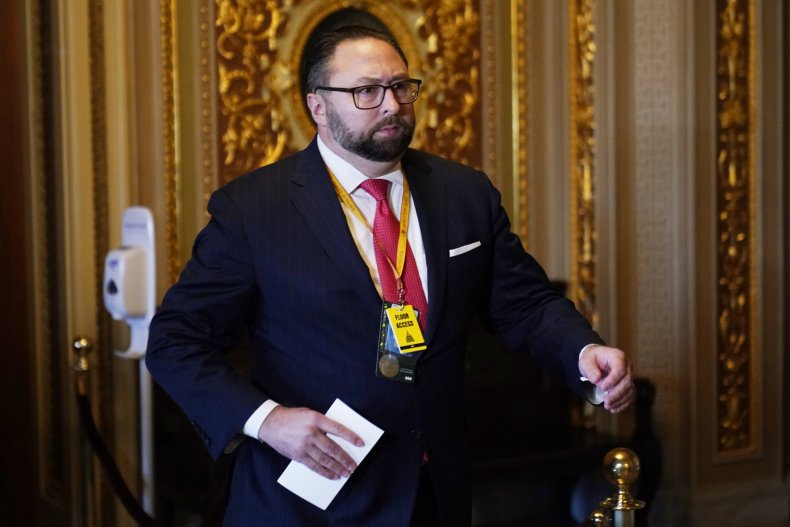 Republican Maine Senator Susan Collins told reporters on Tuesday that Castor "did not seem to make any arguments at all, which was an unusual approach to take."
Trump faces conviction in the Senate for allegedly inciting violence against the U.S. government. Democrats allege that Trump's repeated baseless claims that voter fraud rigged the election, including remarks made by Trump at a January Stop the Steal rally in Washington, D.C., encouraged his supporters to cause a riot at the U.S. Capitol in January. Five people died in the riot. Trump has not yet issued a public statement about the impeachment trial.
In a February letter, Trump was invited to testify in the Senate trial by lead Democrat House impeachment manager Jamie Raskin. Trump declined to appear.
In a response to Raskin, Schoen and Castor described the request as a "public relations stunt."
"Your letter only confirms what is known to everyone," Schoen and Castor added, "you cannot prove your allegations against the 45th President of the United States, who is now a private citizen."
Trump often relied on social media platforms to communicate with his base. Many of those websites suspended Trump's accounts after he repeatedly claimed that voter fraud was responsible for his November loss to President Joe Biden. Twitter permanently banned Trump, a status that Twitter CFO Ned Segal said Wednesday would not be changed.
"When you're removed from the platform," Segal told CNBC in a Wednesday interview, "you're removed from the platform."
Segal added that Twitter's policies were designed to prevent people from inciting violence. "[Trump] was removed when he was president and there would be no difference for anybody who's a public official once they've been removed from the service," Segal said.