Aerial Footage Shows Widespread Damage Caused by Hurricane Laura
Hurricane Laura swept through Louisiana on Thursday, causing widespread damage and leaving thousands without power. There were also six reported fatalities from the storm.
Shortly after making landfall, Hurricane Laura was categorized as a Category 4 storm, but it was downgraded to a tropical storm at around 7 p.m. CT on Thursday.
Aerial photos, posted across social media following the storm, show the widespread damage that Louisiana and parts of Texas experienced.
In one video posted to Twitter by Ginger Zee, chief meteorologist at ABC News, aerial footage shows the damage in Cameron, Louisiana, where the storm made landfall. "Horrible damage up through Lake Charles & tornado damage into Arkansas," Zee noted in her tweet.
WeatherNation's Twitter account shared a similar video of aerial footage of Cameron. "Many homes & businesses were flattened by hurricane force winds & storm surge. Surge flooding is still ongoing!" the video's caption said.
Another video posted to Twitter, from Josh Breslow of WKRN in Nashville, Tennessee, shows similar footage taken from above Lake Charles, another part of Louisiana that was severely affected by Laura.
"Aerial views show damage by #HurricaneLaura to a neighborhood outside of Lake Charles, Louisiana," ABC News wrote in the tweet, whose images showed multiple houses destroyed by the hurricane.
The U.S. Coast Guard in Heartland, New Orleans, shared a video showing footage from overflight assessments above White Lake and Cameron. Laura's storm surge and flooding damage can be seen in the video.
After the hurricane made landfall, a fire broke out at a chemical plant in Lake Charles. A video posted by WDSU in New Orleans shows aerial views of the flames and smoke filling the sky.
Todd Yakoubian, a meteorologist for KATV in Arkansas, shared a video on Twitter showing a bird's-eye view of a Lake Charles radio tower that was knocked down by the storm.
"Powerful Hurricane Laura winds knocked down a radio tower causing it to crash into a business and cause damage. An apartment complex was destroyed with huge sections of roof missing and some walls collapsed," he wrote in a caption to the video.
In an email to Newsweek, the Federal Emergency Management Agency (FEMA) wrote that Hurricane "Laura caused widespread and extensive wind-related damage; trees and power lines are down, many homes and businesses are damaged."
The email continued, "There is flooding in areas in the southern areas of the state, water supply issues (some due to power loss, some due to damaged infrastructure). There is limited access to survivors in several communities. Extensive damage is reported to almost every building/business in Calcasieu Parish (southwest Louisiana). Beauregard Parish to the north also reported catastrophic damage with crippled infrastructure.
"Multiple residential and commercial structures were damaged in Allen Parish with limited access to survivors in at least 3 towns," FEMA wrote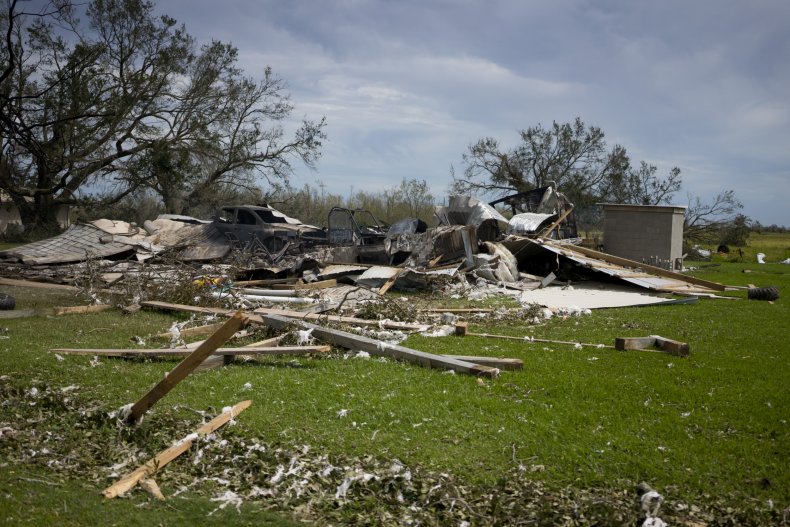 According to the agency, more than 600,000 customers were without power in Louisiana and another 180,000 in Texas. "Power and water are priority. FEMA has 113 generators staged in Louisiana and Texas if requested, and another 314 generators available in our distribution centers," FEMA's email said.