2018 From the Air: Aerial Photographer Records a Year of Change in London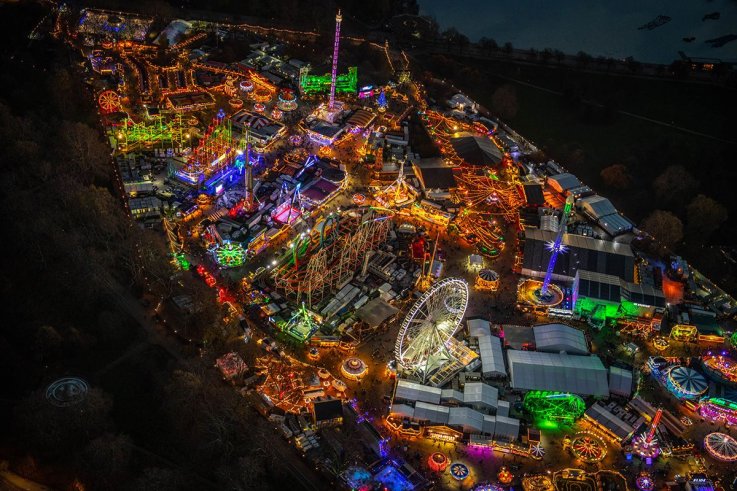 For more than 20 years, renowned aerial photographer Jason Hawkes has been photographing London from a helicopter hovering hundreds of feet above the British capital.
He said, "In that time, I've seen some incredible changes to the skyline of the city. I fly in AS355 helicopters with the doors open, at heights ranging from around 450 feet up to 2,500 feet. It's quite a challenging environment to shoot from: very noisy, windy and sometimes even a little turbulent. But the views on a clear day, when the light is great, are nothing short of staggering."
Throughout 2018, Hawkes recorded the changes wrought by major construction projects such as the new U.S. embassy and the redevelopment of Battersea Power Station, as well as the citywide transformations by the changing of the seasons.
In this Newsweek gallery, Hawkes takes us on a backwards journey though 2018—from the jewel-like glow of the huge Winter Wonderland theme park to the russet glow of fall trees, to the dried brown grass of a long hot summer and the bright greens of spring, and back to the wintry cityscapes at the start of 2018.
Jason loves shooting just after dusk, when the city lights come on and there is a little bit of color left in the sky. New advances in digital camera technology allow him to capture the city in low light and at night. "It's a fantastic city—the sprawl when looking from above is incredible," said Hawkes.
Air quality is key to obtaining pin-sharp images; haze or pollution can ruin aerial photos. Hawkes attaches his camera to a gyroscope mount which cancels out vibrations from the helicopter's rotors, allowing him to capture precise details.
Hawkes is based just outside London and works worldwide. All his images are shot from helicopters. In London he can be seen hanging out of the door of an AS355 helicopter most weeks.
This gallery features just a small selection of the stunning aerial views of London captured by Hawkes over the past year. To see more, visit his website. For the latest info and behind-the-scenes pictures, follow him on Twitter at @jasonhawkesphot or on Instagram at @jasonhawkes.