"Karen's got a gun. And her husband does too. If you're protestin', they will point them at you."
Yes, these are the lyrics to a catchy tune, but more than that, the words are a mirror of true events inspired by a couple in St. Louis who actually pointed and waved their firearms at protesters.
Patricia McCloskey and her husband Mark McCloskey made headlines after a storm of photos and videos depicted the couple angrily holding their guns up outside their home as protesters passed on Sunday.
Nearly 300 people calling to defund the St. Louis Metropolitan Police Department and the resignation of St. Louis Mayor Lyda Krewson marched through the gated community located in the lavish Central West End neighborhood where the McCloskeys -and the city's Mayor Lyda Krewson-live. When the crowd reached the couple's property, however, the protesters were met by an armed Mark and Patricia McCloskey.
The videos of the incident went viral online, and while many people on social media criticized the McCloskeys for drawing weapons on peaceful protesters, Patricia McCloskey's aggression became the inspiration for the song, "Karen's Got a Gun," a parody of Aerosmith's 1989 hit "Janie's Got a Gun" written and shared by songwriter Jonathan Mann.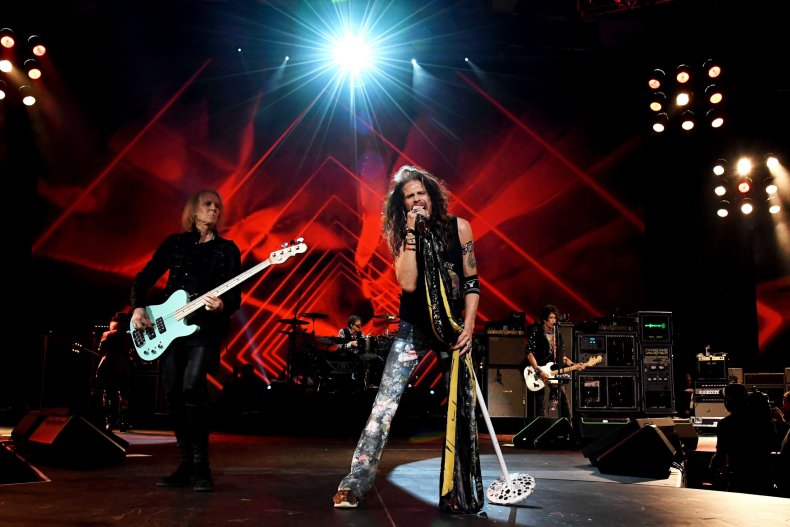 "I looked at the pictures of them together and their big house, and I saw this anger. I felt like the looks on their faces were so telling," Mann told Newsweek in a phone interview on Tuesday.
"There's something very clear to me—and maybe I'm off base—about who they are and how they're feeling. So I approached it—maybe unfairly—and started to imagine what [Patricia McCloskey's] life is actually life. It would've been really easy to just do something making fun of them for the way that they looked, but I didn't want to take that approach," Mann continued. "I tried to imagine what life choices one would have to make to be standing where they were with those guns."
Mann, also known as the "Song a Day Guy," has written thousands of songs highlighting and often poking fun at timely current events over the last 12 years. His YouTube and Twitter are flooded with hilarious jingles from "The Ballad of Steven," based on JetBlue flight attendant Steven Slater's expletive-filled rant over the intercom system at New York's JFK airport in 2010, to 2020's "Let the Old People Die," inspired by 69-year-old Lieutenant Governor Dan Patrick's claims about senior citizens willingness to die to save the economy from the coronavirus pandemic.
When Mann caught wind of the McCloskey's gun-toting debacle, he said he knew instantly that he needed to make a song about it.
"I write a song every day. That's sort of my schtick. It's very common for me to write about current events and news items that pop up, and with this particular one, I knew right away when I saw [what happened] that I wanted to make a song about it.' Janie's Got a Gun' came right into my head, and my first instinct was that I knew I needed it to be 'Karen's Got a Gun,'" Mann explained.
With a more uptempo beat, Mann's song portrays Patricia McCloskey as the "Karen," which is the stereotypical nickname for middle-aged white women who have thrown tantrums publicly, usually in instances in which they are exuding racist behavior and attempting to capitalize on their white privilege. The song's lyrics imagine the various fictive reasons that might have led Patricia McCloskey to be standing beside her husband while threatening protesters with a handgun, like a possibility of living through a sexless marriage or getting riled up from drinking wine all day.
Of course, Mann, who lives in Jersey City, has no idea what the true nature of Patricia McCloskey's home life is like or why she and her husband were so quick to take up arms when protesters entered their neighborhood. But the songwriter suggested that the underlying meaning of the song was merely his interpretation of unhappiness.
"I started making up a story basically in my head about their sexless marriage and all that kind of stuff and the feeling of having the life you think you wanted but still being unhappy. That's not an uncommon feeling, and I look at someone like her in this ridiculous house with these ridiculous weapons that they're holding, I'm like, 'They can't be happy.' It's written all over their faces," Mann said. "Not that it's easy to be happy nowadays for anybody."
He added: "In a weird way I almost wanted to empathize with her, which I guess is not the right reaction. But I didn't want to just solely make fun of her. I wanted to sort of understand how she might be feeling underneath all that anger."
According to the McCloskeys, who are lawyers and own the injury legal firm McCloskey Law Center, they were in fear for their lives when protesters arrived in their community on Sunday. Speaking with CBS News' St. Louis affiliate KMOV, Mark McCloskey compared the protest to "the storming of Bastille."
"The gate came down and a large crowd of angry, aggressive people poured through," he said. "I was terrified that we'd be murdered within seconds. Our house would be burned down, our pets would be killed."
The couple reportedly called 911 before they took it upon themselves to safeguard their home with their own firearms.
Members of the activist group Expect Us, which organized the protest, told KMOV on Monday that protesters were rallying peacefully and no threats were made against anyone living in the McCloskeys' neighborhood. They have since launched a petition requesting the couple be disbarred for aggravated assault with a deadly weapon.
Newsweek was unable to reach the McCloskey's for comment.