AEW's Cody on the TNT Championship and Wrestling With 'Outsiders'
When All Elite Wrestling put on its first show in 2019 with Double or Nothing, the only championships were the AEW World Heavyweight Championship, the AEW Tag Team Championships and the AEW Women's Championship.
A little more than a year later, after a lot of fans asked for another men's singles title, the TNT Championship was born.
Back in May, Cody defeated three competitors—including Lance Archer—in the finals to become the inaugural TNT Champion in AEW's second Double or Nothing show. However, the second-generation wrestler and AEW Executive Vice President doesn't want fans to see it as a "midcard" title or less than the AEW World Heavyweight Championship—and he's doing so by defending it against all comers.
In his open challenges, the 35-year-old has taken on AEW talents regardless of weight class; he's taken on one half of tag teams; and he's even taken on "outsiders," wrestlers who aren't signed to All Elite Wrestling. He's done all of this to help make the TNT Championship special in the wrestling industry.
Newsweek caught up with Cody on Tuesday, ahead of his next TNT Championship defense, to talk about the new title, what it means to him and what it means to the company. This interview has been edited and condensed for the sake of clarity and length.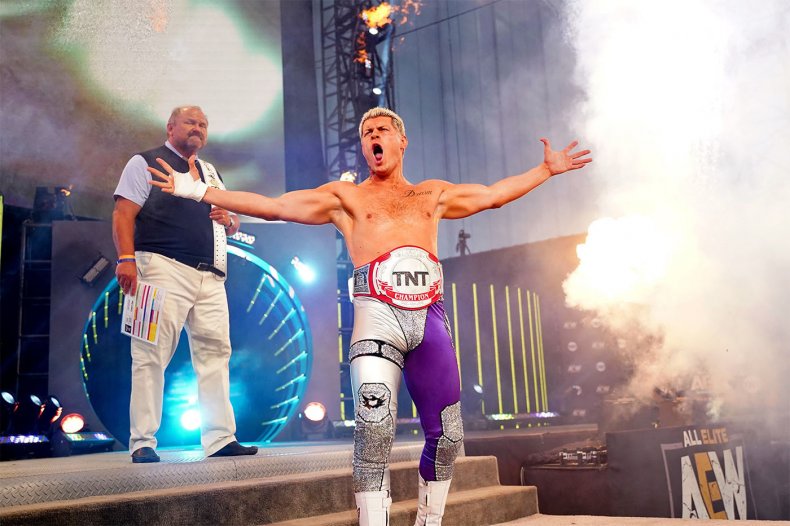 Fans were asking for another singles title for the men, and now it's a reality with the TNT Championship. How does it feel to be the first, and to put it on display on Dynamite every week?
It's a big responsibility to have any championship. When you win it, it feels like you've made it in wrestling. Whenever you get to carry it home, when you bring it through TSA or your family comes over and wants to see it—it's special.
When we talk about finding the identity of the company, the identity of that belt goes hand in hand, as it hasn't carved itself out yet. Some people thought it's a midcard championship or even a television championship because that's what they've been trained to think. I don't blame anyone for thinking that, but it's our job to retrain and to also show you for the first time what [the title] is meant to be.
You look at [New Japan Pro Wrestling's] IWGP Intercontinental Championship and it going on last in the Tokyo Dome. You look at the type of matches in the TNT Championship and the title being [on Dynamite] almost every week. You don't have a midcard championship, but I don't know what it is yet either.
I'm [wrestling] for five more years full time. Who knows, maybe I'll hold onto this thing for five years and it'll have an absurd legacy as a title with an insane story behind it.
That championship means a lot to me, I hope it means a lot to the fans, because it was there when we needed something in terms of the pandemic and COVID. Some said to put on old pay-per-views or evergreen content and then there were others who disagreed, who said we needed something now and something fresh. We can't get the feedback of a live audience, but we owe those people who give us their two hours of time each week; we owe them. And I was really pleased with the TNT championship tournament and the open challenge and what it's been able to offer.
It's a mixed bag of where [challengers] comes from. Not just main roster talent—it's outside talent, it's legendary talent and that list that Arn [Anderson] and Tony [Khan] have put together has a lot of potential. It's very stout, you can't look past the one in front of you. Be aware that it's a good thing.
You talk about the responsibility of holding the title, but does that responsibility also include elevating the talent that doesn't necessarily have the name recognition, like a Jungle boy or Sonny Kiss?
Part of the open challenge is veering away from the rankings, which is centered on the World Championship. I think the open challenge is letting the fans see guys wrestle for the very first time. Maybe they've only seen them in a short tag match or heard something in passing or some of the talent like you mentioned, Jungle Boy and Sonny Kiss, who have been with us from the beginning and for them to go out there and have a title opportunity is very important because it lets folks know right away this is why they were signed on the ground floor. This is what they have to offer.
And in the case of, like, Jungle Boy or Sonny Kiss, there are differences in the offering. The quality of the match isn't reliant on them—I'm the one with over 10 years experience and wrestled some of the greatest wrestlers in the world. It's my job for this to be great, and nothing but great, and for them to show the world who they are if the world hasn't seen them yet. And to show the world that they are growing.
Sonny Kiss and Jungle Boy, not unlike MJF and Britt Baker, were rookie freshmen. Not just that, but franchise rookies and freshmen. And now they are in year two and there is something completely different and I love seeing them find out who they are, and grow as wrestlers and what they are able to do in the ring. The open challenge is the chance for people to see that growth.
Sonny Kiss was your opponent last week and that match was great, but unfortunately there was backlash from some viewers before the match, because of his sexuality. I know you've responded online, but can you tell me what he means to AEW?
AEW needs to be a snapshot of what wrestling and the world looks like in 2020. When you're an artist and you showcase life in any capacity, you have to showcase life of what it looks like right now. And what it looks like in 2020 and 2021, Sonny Kiss is very much an example and snapshot of that. We want to be supportive of that and informed. We have a long way to go, but I didn't realize until I got closer [to the situation] of the severity of the weight that was on that match and the importance to that community and all communities. And we're going to keep moving that way.
To put a blanket statement on it, and I said it in my tweet, you want everyone to watch your show. You want viewers and everyone to love your show, but for me there's no place for homophobia in 2020—there never was a place for it. And I'm so proud that we got the match back on track about the best wrestlers wrestling on the wrestling show, and Sonny, the entire time, through very harsh things thrown his way, kept his head up, went out there and absolutely shined for himself. Shined for all our communities and I was very proud of that and to be a part of it.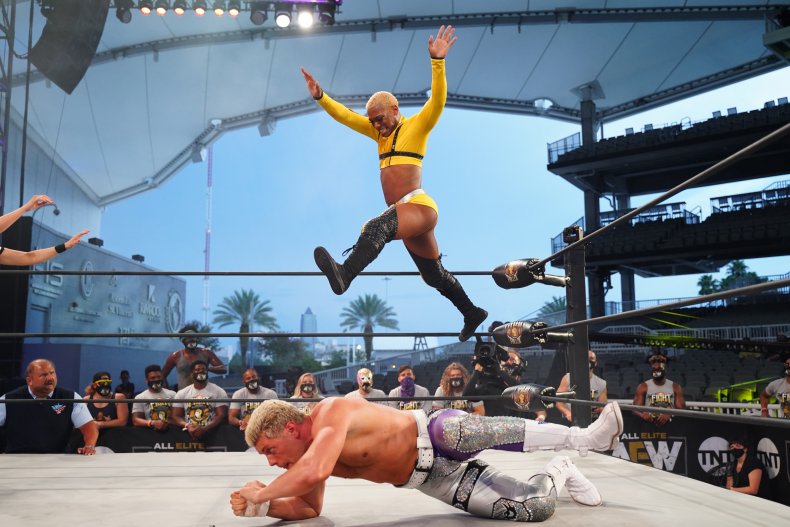 You mentioned in the past and earlier in this interview that "outsiders" can challenge for the TNT Championship. Does that decision coincide with wanting fans to see what these wrestlers, who may not get the national television exposure, can do?
AEW has been the company, especially prior with All In, and having that indie-friendly aspect and not pretending that [the independent wrestling] world doesn't exist. It's thriving, so much great content is coming from the independent scene and I got to experience that first-hand for a two-year field study after I left WWE. That's really more what you see there.
We can't be up our own butt and be pretentious. There are other great wrestlers out there that are unsigned and we have to acknowledge that and the grassroot element of how AEW was built.
We have to respect others who built their brands and have grassroot followings of their own. That's why I'll go ahead and give a sturdy hint. This week, from what I was told, my opponent is an outsider. And I think that's great. That creates an opportunity where when you say open challenge it's honest in terms of that wording generally is.
Watch Cody take on a mystery opponent for his TNT Championship this Wednesday, starting at 8 p.m. EDT on TNT.