AEW 'Dynamite' Results: Tag Team Appreciation Night & TNT Title Match Scheduled
This week's episode of All Elite Wrestling Dynamite is a doozy as the promotion celebrates tag team wrestling.
Tag Team Appreciation Night goes down August 12 and will feature some of the best tag team wrestling in the entire industry. But that's not the only type of wrestling fans will see on Wednesday.
First up, we have Chris Jericho taking on Orange Cassidy. A rematch of their pay-per-view bout a few months back, Cassidy has gotten the upperhand of Jericho in recent weeks, defeating him in a debate and dumping gallons of orange juice on him and the rest of The Inner Circle.
Can Orange Cassidy get this elusive win over "Le Champion" or will Jericho's dominance continue?
In other non-tag team match news, Cody will defend the TNT Championship against Scorpio Sky tonight. Cody has elevated the new AEW championship to become must-see in recent weeks, but can the former Tag Team Champion Sky rip the title from one of the EVPs of AEW?
Kenny Omega and Hangman Adam Paige, the AEW Tag Team Champions, will defend their titles against Luchasaurus and Jungle Boy. Paige and Omega are the longest reigning Tag Team Champions in the company's history, but the lead members of Jurassic Express are ready to take their game to the next level with some gold.
The Young Bucks will take on Evil Uno and Stu Grayson of The Dark Order in tag team action. The Dark Order have a ton of momentum after their victory last week, but The Young Bucks look to keep Uno and Grayson out of the tag team title picture and insert themselves in that spot.
Wrestling fans will also be treated an appearance from The Rock n Roll Express and Arn Anderson and Tully Blanchard will all appear on tonight's Dynamite.
Here's everything that happened on the August 12 episode of AEW Dynamite.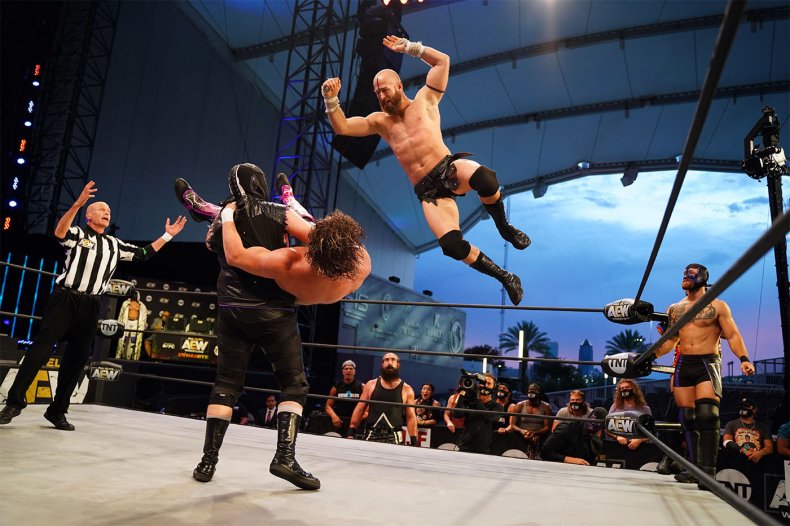 AEW DYNAMITE RESULTS
The Young Bucks vs Evil Uno and Stu Grayson
Before the match, the Dark Order attack The Young Bucks on the ramp.
Nick Jackson pins Evil Uno after avoiding The Fatality and rolling up Uno.
The finish was set up when Matt Jackson was taken to the back and three members of The Dark Order prevented him from returning to the ring leaving Nick to face Uno and Grayson alone.
Backstage
MJF comes out and starts talking down to his campaign team as he walks through the halls.
MJF Promo
MJF instructs his assistant Nina to show the polling numbers. A map of the United States is shown on the tron and MJF is leading Jon Moxley 500 to negative 1000.
MJF says that Moxley has made it clear that he doesn't care about the fans because he's not here, but MJF is here and he promises that will be the case always as the new champion. MJF says that Moxley is afraid of change and of him, which is why he's not here.
MJF keeps calling Moxley, "Dictator Jon" and says that he's unlike any wrestler that he's wrestled yet. MJF says that he'll make things more comfortable for Moxley. MJF lies on his back in the middle of the ring and asks if he's more comfortable now.
He says that if Moxley wants to prove him wrong, he should hand over the "keys" over to him. He shouldn't wait for All Out to give him the title.
Moxley's music hits and MJF instructs Wardlow and his associates to go to the aisles to cut him off. They leave MJF alone in the ring when Moxely comes out from the back and attacks MJF and hits him with his finisher
Moxley gets on the mic and says that they won't be even for almost costing him the match last week until All Out when he teaches MJF humility.
Matt Hardy Interview
Hardy is asked about Sammy's attack from last week. Hardy says that he doesn't die and at All Out he will kick Guevara's ass.
A person wearing a hat walks by and Matt Hardy starts to slam him into the wall. It's actually a referee that Hardy thought was Sammy.
Cody (c) (with the Nightmare Family) vs Scorpio Sky - TNT Championship Match
Cody wins via pinfall after a Cross Rhodes
Scorpio Sky did kick out of the first Cross Rhodes
After the bell, Brodie Lee appears on the tron and says that on August 22, he will take on Cody and defeat him. Lee is holding the old TNT Championship and he says he'll take the new one and give him back the old one.
Hangman Page and Kenny Omega (c) vs Jurassic Express - AEW Tag Team Championship Match
Omega pins Jungle Boy after the Last Call
Santana and Ortiz Backstage
Santana and Ortiz ask how they think The Best Friends got home last week. They say they don't care and that they got a lot of money for the tires they stole. They take Best Friends' luggage, which was in the van and chuck it in the shower and pour bleach all over it.
Tag Team Appreciation Night
The Young Bucks are in the ring with Rock n Roll Express, Arn Anderson & Tully Blanchard, and FTR
The Young Bucks talk about how Rock n Roll Express were the original Young Bucks and inspired teams like the Rock n Rollers and Matt and Jeff Hardy. FTR says he's a big mark for these two teams and talks about how he has been able to travel the world with his best friend and provide for his family because of these two teams.
The Rock n Roll Express talk about how The Young Bucks are the new torchbearers for tag team wrestling.
Arn says that the Rock n Roll Express were the best team of their generation but the top tag team in the world right now is FTR.
Tully Blanchard takes the mic says that they can all pat each other on the back, but no one in this ring has the gold. He starts to run down Arn and then the Rock n Roll Express, but they hit Tully in the face and a brawl ensues.
Dax sells his injured knee from last week as The Young Bucks take Tully out of the ring with Shawn Spears. While their backs are turned, FTR attacks the Rock n Roll Express and hit them with the spiked piledriver before the Bucks and Page and Omega come out to save them. FTR rolls out and leaves.
Chris Jericho Backstage
Jericho interrupts referee Mike Chioda's interview backstage and tells him to call the match right down the middle. And if he does, he can get a job in AEW. Jericho leaves with a wink.
Hikaru Shida vs Heather Monroe
Monroe is making her Dynamite debut
Shida wins via submission after a stretch muffler variation
After the match, Shida is interviewed and is asked about challengers for All Out. Shida says that she's waiting for all challengers.
Backstage
Jack Roberts says that Lance Archer could have finished any match in seconds. Archer is tossing a wrestler backstage when he stops Roberts and takes Jake's shirt off to show his back. Jake's back reads "everybody dies."
Orange Cassidy vs Chris Jericho
Best Friends and Inner Circle have been banned from ringside.
During the match, Jericho takes out his metal bat and is ready to hit Orange, but Chioda stops him. Jericho yells at the referee, but Cassidy gets the upperhand.
Towards the end, Santana and Ortiz is about to come into the ring but Best Friends intercept them. This distracts the referee and allowing Jake Hager to come in and hit Orange with a move, but Cassidy kicks out.
Cassidy pins Jericho after a roll up, but it's set up when Jericho low blows Orange when the referee wasn't looking and Cassidy ducks the Judas Effect to get the pin.