AEW's Sammy Guevara Issues Apology for Explicit Comment About Sasha Banks
All Elite Wrestling's Sammy Guevara is in hot water following an explicit remark made about WWE superstar Sasha Banks that resurfaced Monday.
In 2016, Guevara was a guest on the Raw's 4th Hour podcast when he made the remark after meeting Banks at a WWE tryout. Guevara said he "wanted to rape" Banks in reference to his apparent affections toward the former WWE Women's Champion.
You can hear the clip of Guevara's remark below.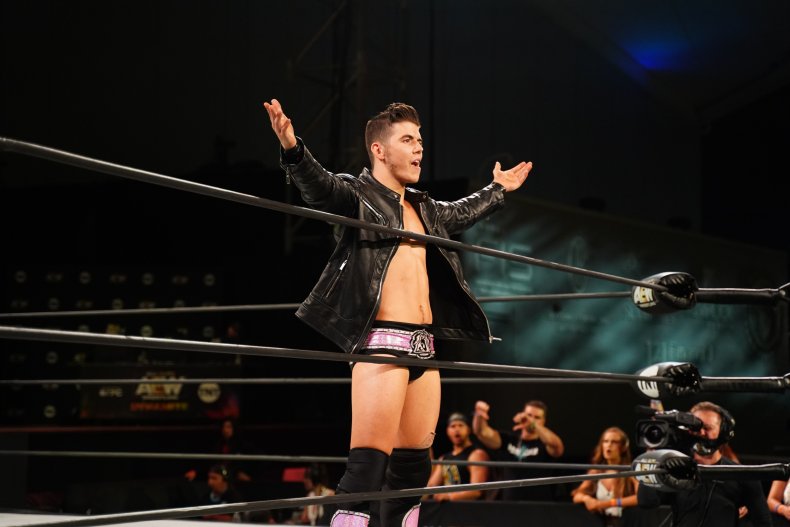 The resurfaced remark made Sammy Guevara trend on social media Monday morning and comes off the heels of the #SpeakingOut movement, where women have shared stories of sexual harassment, assault and abuse, that began last week and has flipped the wrestling industry on its head.
Guevara has since issued a statement and apology regarding his comments, which you can read below.
Sasha Banks has also spoken out to address the controversy making the following statement on Twitter:
AEW has also responded by suspending Guevara without pay until further notice.
Guevara isn't the only AEW wrestler to face backlash in the wake of the #SpeakingOut movement. Allegations of abuse against Jimmy Havoc appeared last week from the wrestler's former partner.
AEW put out this statement following the abuse allegations against Havoc:
"We wish Jimmy Havoc all the best as he receives treatment and counseling in an effort to overcome the mental health and substance abuse challenges in his life. We are aware of various reports related to Jimmy. We are evaluating his status with our company and will address it when he has successfully completed his rehabilitation."
This morning, Impact Wrestling star Joey Ryan deleted his Twitter account following numerous allegations of harassment and abuse from multiple people surfaced online. He released a statement over the weekend addressing the allegations.
Ryan also deleted BAR Wrestling's Twitter account, a promotion he started back in 2017. PWInsider is reporting that Ryan will not be returning to Impact Wrestling.
Abuse allegations against numerous wrestlers including David Starr--whose statement and Twitter account were deleted--and NXT UK stars Jordan Devlin and Travis Banks flooded social media late last week and over the weekend.
Devlin and Banks took to Twitter to release their own statements regarding allegations against them.
Allegations against Matt Riddle, who WWE just moved from NXT to Friday Night SmackDown, also surfaced last week. Riddle put out his statement while WWE put out their own, which you can read below.
"Individuals are responsible for their own personal actions. WWE has zero tolerance for matters involving domestic violence, child abuse and sexual assault. Upon arrest for such misconduct, a WWE talent will be immediately suspended. Upon conviction for such misconduct, a WWE talent will be immediately terminated."
"WWE's ability to fine, suspend or terminate a WWE talent will not be, however, limited or compromised in any manner in the event incontrovertible evidence of such illegal misconduct is presented to WWE."
Jack Gallagher who was a star of WWE's 205 Live, was released by the promotion on Friday following allegations against him.
Update with comments from Sammy Guevara, Sasha Banks and AEW.