AEW President Tony Khan Reveals Why Sammy Guevara Returned From Suspension
Sammy Guevara made a surprise return from a month-long suspension on Wednesday's AEW Dynamite and All Elite Wrestling's President and CEO Tony Khan has explained why the young wrestler's suspension was lifted.
Speaking with Sports Illustrated, Khan said that Guevara recently underwent sensitivity training, and that the 26-year-old seemed to take those lessons to heart. "Sammy completed four weeks of extensive sensitivity training, and his curriculum included subject matters of tolerance, gender, race relations, and why people's words matter," Khan said. "During his suspension, he was very contrite. I asked him to use that time to try and become a better person, and I think he did.
"Sammy was off television for a month and suspended without pay for 30 days, and I think it was the right time for Sammy to come back because he's shown that he's very sorry and that he can change. He's spent every day over the past month trying to prove that."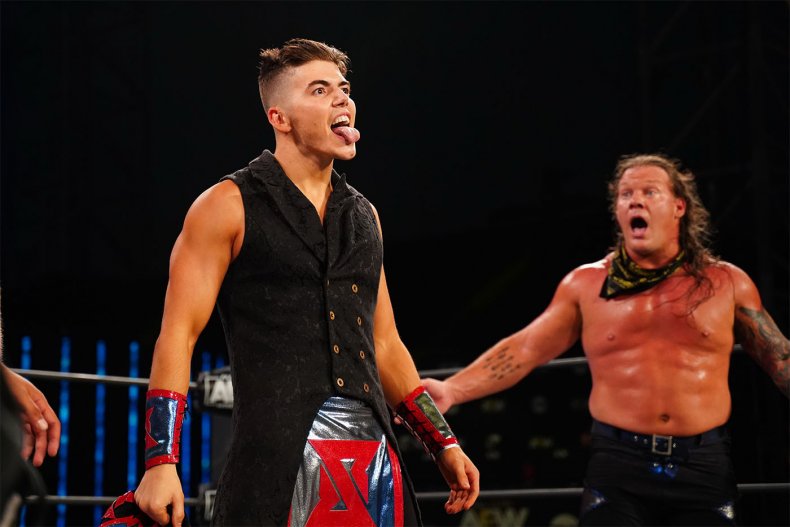 Guevara's suspension came after past comments he made on a wrestling podcast about WWE superstar Sasha Banks came to light. In 2016, Guevara was a guest on the Raw's 4th Hour podcast when he said he "wanted to rape" Banks when he first met her at a WWE tryout.
When the comments resurfaced in late June, they made Guevara into a trending topic. The wrestler put out an apology on Twitter shortly after.
"I've made stupid, inappropriate and extremely offensive comments in my past," Guevara wrote. "In my idiotic mind, I thought I was being funny in using words and terms that represent nothing but horror and pain. I am truly sorry for my hurtful words and actions, and I will never forgive myself."
Banks posted a response to Guevara's comments on Twitter and revealed that she had a dialogue with the AEW wrestler. "I don't condone or tolerate this kind of behavior," she wrote. "What one thinks is just a side comment can have a massive impact on someone else's life, and can send the wrong message."
AEW then issued a statement and suspended Guevara indefinitely on June 22 without pay. During that time, his salary went toward the Women's Center of Jacksonville.
While speaking to SI, Khan made sure to condemn Guevara's remarks. "Sammy needed to make a lot of strides to keep his job and make amends for stuff he shouldn't have said," Khan said. "None of us knew he said those things, and it's stuff that was years old, but that doesn't make it right."
Guevara's last appearance on AEW Dynamite was on the June 17 episode, in which he tagged with fellow Inner Circle member Chris Jericho against Chuck Taylor and Trent. His return was a surprising one, as he entered the ring following Wednesday's main event wearing a mask to help Jericho and other Inner Circle members, Jake Hager, Santana and Ortiz. Guevara unmasked himself to the surprise of his stablemates.