AEW's Tony Khan Talks His Company's LGBTQ+ Milestones and Taking on WWE
All Elite Wrestling (AEW) comes to New York City Wednesday night for Grand Slam, which the company promises will be one of its largest events of the year.
Ahead of the show that takes place at Arthur Ashe Stadium in Queens, AEW founder, president and CEO Tony Khan spoke with Newsweek about coming into WWE's backyard, as well as how AEW has become viewed by many as the more open and diverse wrestling promotion.
AEW made an immediate impact on the professional wrestling scene when it launched in 2019, and it has been threatening WWE's stranglehold on television ratings ever since. While AEW adheres to the same policy as most wrestling companies—and many entertainment entities—of not discussing politics, the promotion has stood out for its open embrace of talent from the LGBTQ+ community. In fact, AEW crowned the first transgender champion in professional wrestling history when Nyla Rose won the women's title in 2020.
"I'm very excited about some of the great milestones," Khan said. He also mentioned a tag team match that could further that trend. "We've got a big opportunity this week on Grand Slam with Anthony Bowens trying to become the first openly gay world champion in AEW history, and it would be a big pro wrestling milestone."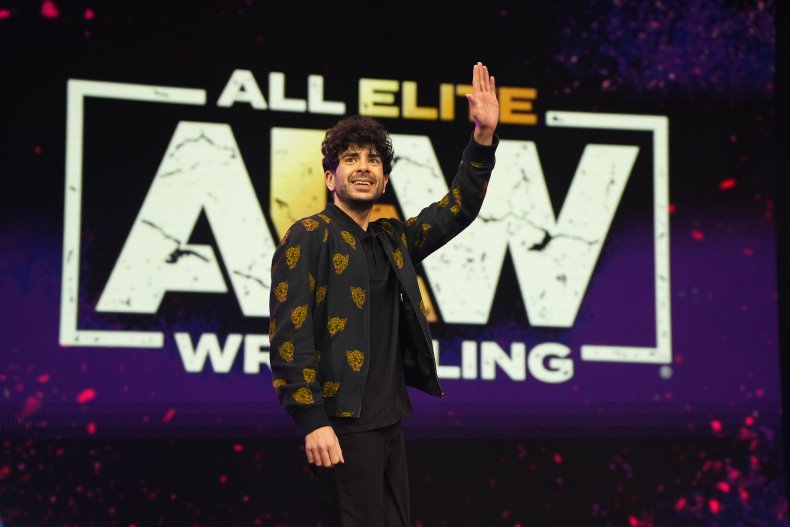 A lot of headlines regarding AEW in recent weeks have involved CM Punk, who went on a rant during a media scrum about various other members of AEW's talent roster. He was also reportedly involved in a backstage altercation with a few wrestlers, who also happen to be company executives.
"Beyond my announcement on the September 7 AEW Dynamite, I can't say anything further on that," Khan said.
During that announcement, Khan said the world championship recently won by Punk was vacated. No disciplinary action has yet been announced for Punk—who once enjoyed huge success in WWE—but Wrestling Observer reported that Punk suffered a legitimate injury during the match in which he won the title and is expected to miss up to eight months.
While Khan said he couldn't talk more on Punk, he did discuss AEW's return to New York City. WWE, which is headquartered in nearby Connecticut, has always historically seen the Big Apple as somewhat of its home court, especially Madison Square Garden. Khan, though, noted the success AEW had with running a show in the city last year, which he said "sent a message to fans all over the world that New York City is a home to AEW and all pro wrestling."
Part of AEW's Grand Slam can be viewed live Wednesday night on the company's TBS program Dynamite, while the rest of the show will air Friday on TNT's Rampage. Khan made another subtle dig at WWE when hyping up the show to Newsweek.
"This will be the best live wrestling event in New York all year," he said. "I promise you, and I guarantee it."
AEW coming into WWE territory isn't its only step into new markets. Khan announced the company will set up for two nights in Canada next month, and he is looking to bring his roster for a tour of the United Kingdom in the near future.
"I'm very excited to bring AEW across the border for the first time and planning for that to be the first of many international trips over the years," Khan said. "We'll continue to expand our travel plans and visit more great markets all over the world."