'The Affair' Season 5 Premiere: New, Returning Cast Members and More Spoilers About Final Season of Showtime Series
At the end of every dark tunnel, there is light. That will be the precedent hovering over many of the characters when The Affair returns to Showtime with its fifth and final season on Sunday. Of course, fans should expect things to get particularly muddy for both Noah and Helen Solloway before they get better.
The series' final synopsis hints at a tizzy of tumultuous times for the divorcees and everyone else tied up in their web as Season 5 is expected to "chronicle the aftermath of last season's horrific events and find the characters coming to terms with the consequences of their choices."
Hope does seem to be on the horizon. "Everything really does fall apart in the end—but somewhere in that wreckage, the seeds of change finally sprout," the synopsis read.
For Noah, played by Dominic West, that change may be a potential return to the family he left behind seasons ago. The Season 5 trailer teases Noah's emotional battle with Helen (Maura Tierney), seemingly trying to correct the errors of his ways from way back when he first committed adultery and left his family for his now-dead ex-wife Alison (Ruth Wilson). Helen, however, doesn't seem to be interested in dredging up the past and starting over with Noah, especially not when she has the attention of a new man.
Claes Bang is slated to star in a reoccurring role as Helen's new love interest Sasha Mann—an intoxicatingly charming A-list actor who will "influence how she lives her own life in the wake of a personal loss," according to the show synopsis. While Noah—who is defiantly against Helen's new romance—aims to fix the turmoil he caused his family and figure out his relationship with girlfriend Jenelle, played by Sanaa Lathan, Helen will be busy getting "everything that she's been missing" from Sasha.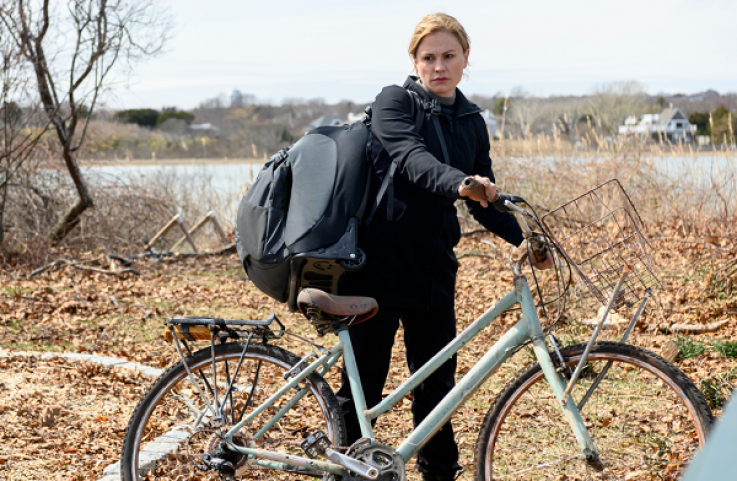 Meanwhile, Alison will remain an important factor in the show despite Wilson's departure. Joshua Jackson, who played Alison's first husband Cole, is out this season, however, fans will be introduced to the ex-couple's grown-up daughter Joanie in the new season. Set in future times, Anna Paquin will star as the adult Joanie, who makes a return to Montauk to piece together the puzzle surrounding her mother's death all while spiraling into a state of immense depression.
Paquin, who was a fan of the show before signing on, said she was thrilled to join the cast. "I had seen and loved the first season...I did a full marathon of all the episodes when I was hired to make sure I fully understood the world of the show," Paquin told Entertainment Weekly in July.
"It was helpful to get to know my onscreen parents as their characters and learn about Joanie's childhood," she continued. "She's a coastal engineer and is, I think, appropriately cynical about the prognosis of the planet from an environmental standpoint. She ends up in Montauk on an assignment from work."
Actor Lyriq Bent will also be featured in the new season as Joanie's husband Paul along with Michael Bruan, who will star as EJ, a man Joanie meets during her time in Montauk who will help her "understand her life in a way she has never before."
Other additions to the cast include Jennifer Jason Leigh and Mozhan Marno while actors Emily Browning, Catalina Sandino Moreno, Omar Metwally, Julia Goldani Telles, John Doman, Jadon Sand, Jake Siciliano, Abigail Dylan Harrison and Kathleen Chalfant are also slated to make appearances.
The Affair Season 6 premieres on Showtime on Sunday at 9 p.m. ET.
'The Affair' Season 5 Premiere: New, Returning Cast Members and More Spoilers About Final Season of Showtime Series | Culture