Affirmative Action Is Not Just About Students: Colleges Debate Whether to Hire Fewer White People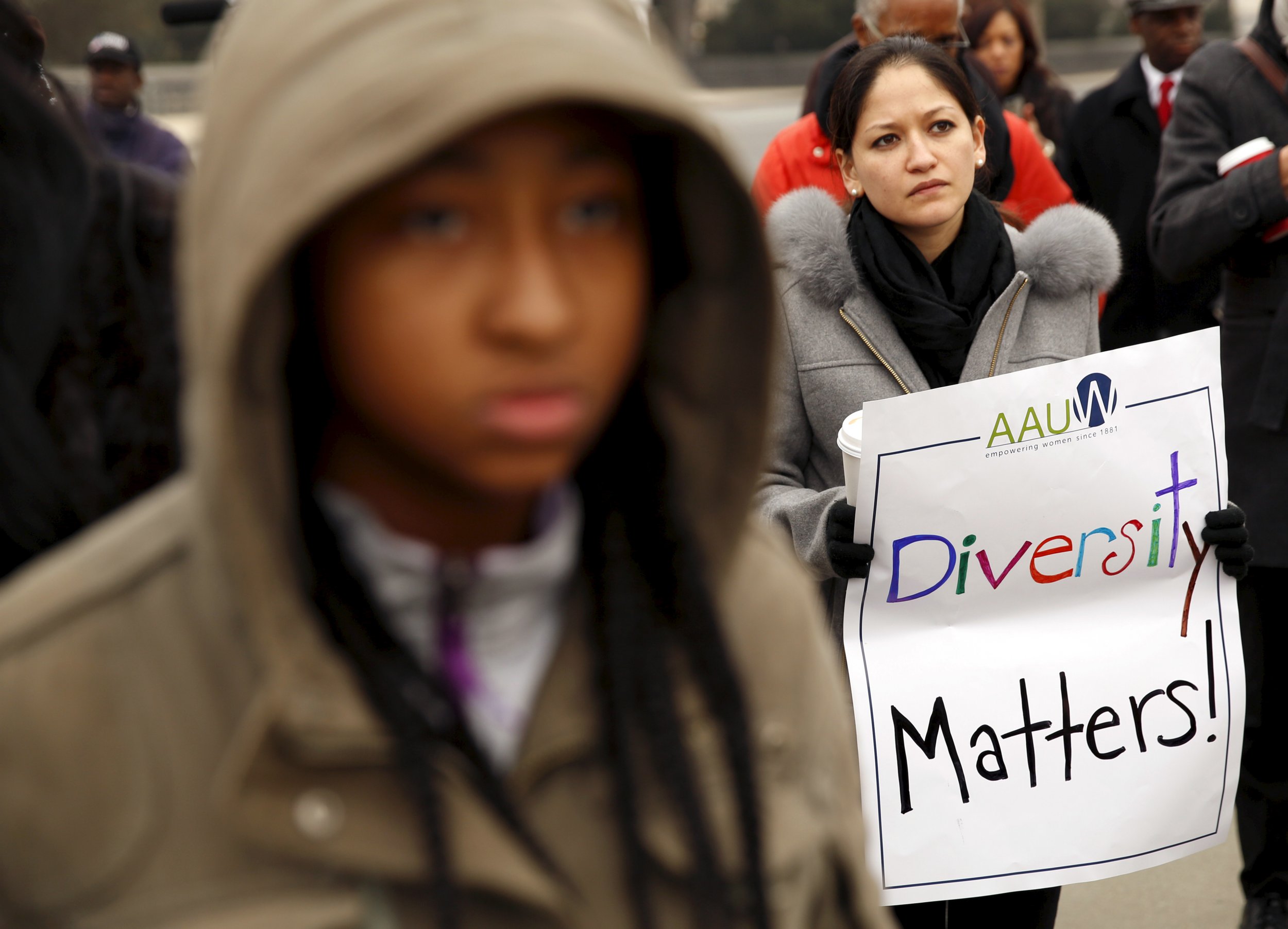 Newsweek published this story under the headline "Hiring Muddle" on March 17, 1975. In light of recent news involving President Donald Trump targeting affirmative action, Newsweek is republishing the story.
Is it proper for the Federal government to put pressure on colleges and universities to hire more women and minority-group men for their faculties? And if such pressure is appropriate, what sort of standards should apply? These questions have bedeviled government bureaucrats and campus officials for the past several years. Now everybody is more, confused than ever. The government has issued a major reinterpretation of its requirements for "affirmative action" on the hiping front. Symptomatic of the problems, one of the country's biggest universities has just released it definitive anti-discrimination plan - an intricate program stretching over fully 30 years that satisfies hardly anybody.
The academic world has been fiercely split on affirmative-action programs from the start. On one side stand those who support the contention of women's groups and civil-rights leaders that numerical goals and timetables are the only practical way to enforce fair hiring. Ranged against them are a number of educators who believe that affirmative action, at least as it is defined by the Federal bureaucracy, constitutes a threat to academic standards, and a thinly disguised quota system that discriminates against white males. Edward Levi, the new Attorney General, was an outspoken critic of affirmative action while president of the University of Chicago. "A law against discrimination," he once warned, "turns toward a law in favor of quotas."
Last December, in an attempt to placate critics on both sides, Peter E. Holmes, director of HEW's Office for Civil Rights, wrote that affirmative-action requirements for faculty hiring "must not operate to restrict consideration to minorities and women only." To civil-rights and feminist activists, it appeared that the effect of Holmes's controversial clarification would be to dilute their efforts to enforce fair hiring practices. To administrators at colleges and universities, it further beclouded the controversy over just what they must do to satisfy Federal anti-discrimination watchdogs.
In February, after four years of troublesome negotiations with HEW, the University of California at Berkeley unveiled a Byzantine blueprint for a 30-year affirmative-action program that still apparently pleases no one but the Washington bureaucrats. Under the new systems, the university has ten years to make sure that its ranks of assistant professors reflect the ethnic and sexual make-up of the pool of scholars in each discipline in the nation. If by 1985, women hold 40 per cent of all American doctoral degrees in Sanskrit, for example then women will have to hold close to 40 percent of the assistant professorships on Berkeley's Sanskrit faculty. After 1985, the university will have twenty years more to bring the tenured faculty, too, into line with the national percentages.
Issue: Though it was heralded by HEW as the model for future affirmative-action plans at colleges and universities, the Berkeley plan is already under heavy fire from all concerned. Isabel Welsh Pritchard, a coordinator of Berkeley's League of Academic Women, complains that Berkeley will never be forced to fulfill the absolute statistical requirements of the plan because, according to HEW policy, school officials need only persuade the government that they have made "good-faith efforts" to comply. But political scientist Paul Seabury, a rigorous opponent of affirmative action, doesn't like the plan any better than Pritchard. "The issue, as I see it," he explains, "is Berkeley's acceptance of the principle that it will now be regulated as a public utility by statistical commissars in Washington."
Some academicians now predict that resolution of the affirmative-action controversy will come - temporarily, at least - not through court rulings, but from the current financial crisis. Few colleges are hiring anyone at present, white or black, male or female, and even the most vehement advocates of affirmative action recognize economic necessity as a rationale for slow or no compliance. "Higher education was the last place where protection against discrimination was legislated," warns Mordeca Pollock, an assistant professor at Brandeis and coordinator of the university compliance division of the National Organization for Women. "In an economic crisis, it will be the first place where protection is abolished."