0 Percent of Republican College Students Think Affirmative Action Is 'Very Fair,' But 7 Percent Say Legacy Admissions Are
Republican college students don't consider it to be "very fair" that students get preferential treatment because of their race during the admissions process, but some find it acceptable for legacy students to be treated differently when they apply, a new poll shows.
College Pulse, a survey and data analytics company, released a poll Thursday that asked 1,500 college students which applicants should receive preferential treatment. While not a single Republican student agreed that affirmative action was "very fair," seven percent responded that the legacy admissions process, in which students have a better chance of being accepted if they're related to alumni, was "very fair."
Both affirmative action and legacy admissions policies have faced heavy scrutiny for being unfair to students and considering factors other than a student's merits. Days after a judge ruled in favor of Harvard University's affirmative action admissions policy, California Governor Gavin Newsom signed a bill into law that requires schools to disclose whether legacies get preferential treatment.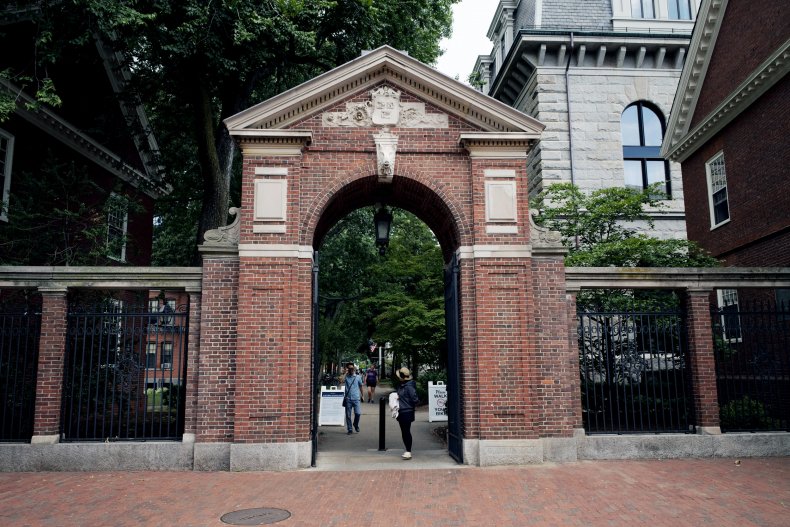 In contrast with the zero percent of Republican students that considered affirmative action "very fair," almost a quarter of Democratic students responded to College Pulse's poll that it was "very fair."
There was less of a gap between Democrat and Republican students when it came to legacy admissions, though. Four percent of Democrat students considered legacy admissions "very fair," compared to seven percent of Republican students.
Over the years, the Supreme Court has heard a number of cases related to affirmative action and its possible they may rule on another. Weeks before College Pulse conducted its survey, on October 1, Federal District Court Judge Allison D. Burroughs ruled that Harvard University's "race-conscious admissions" process wasn't discriminatory against Asian American applicants. After the ruling, the advocacy group Students for Fair Admissions, who brought the lawsuit against Harvard, vowed to appeal and even take the case to the Supreme Court.
The legacy admissions process hasn't been a perfect system, either. Critics argue it puts minority students at a further disadvantage, as students have no control over their parents' alma mater and the policy was thrown back into the spotlight after news broke of the college admission scandal. The fraudulent scheme, in which wealthy parents paid to falsify their children's exam scores and athletic records to aid their acceptance to prominent institutions, prompted legislators to put forth related bills
The University of Southern California and Stanford University were among the institutions named in the college admission scandal and on October 4, Newsom signed Assemblymember Phil Ting's bill into law, which requires higher education institutions to disclose whether legacies are given preferential treatment. If the school uses a legacy admissions policy, they must also disclose how many legacies were admitted and whether they had the necessary academic qualifications.
Republican and Democrat college students, according to the poll, saw eye-to-eye on whether merit or birth should reign supreme in the admissions process. When faced with the hypothetical situation of two college applications being completely equal aside from GPA and legacy status, both political groups agreed: GPA should be given more weight.