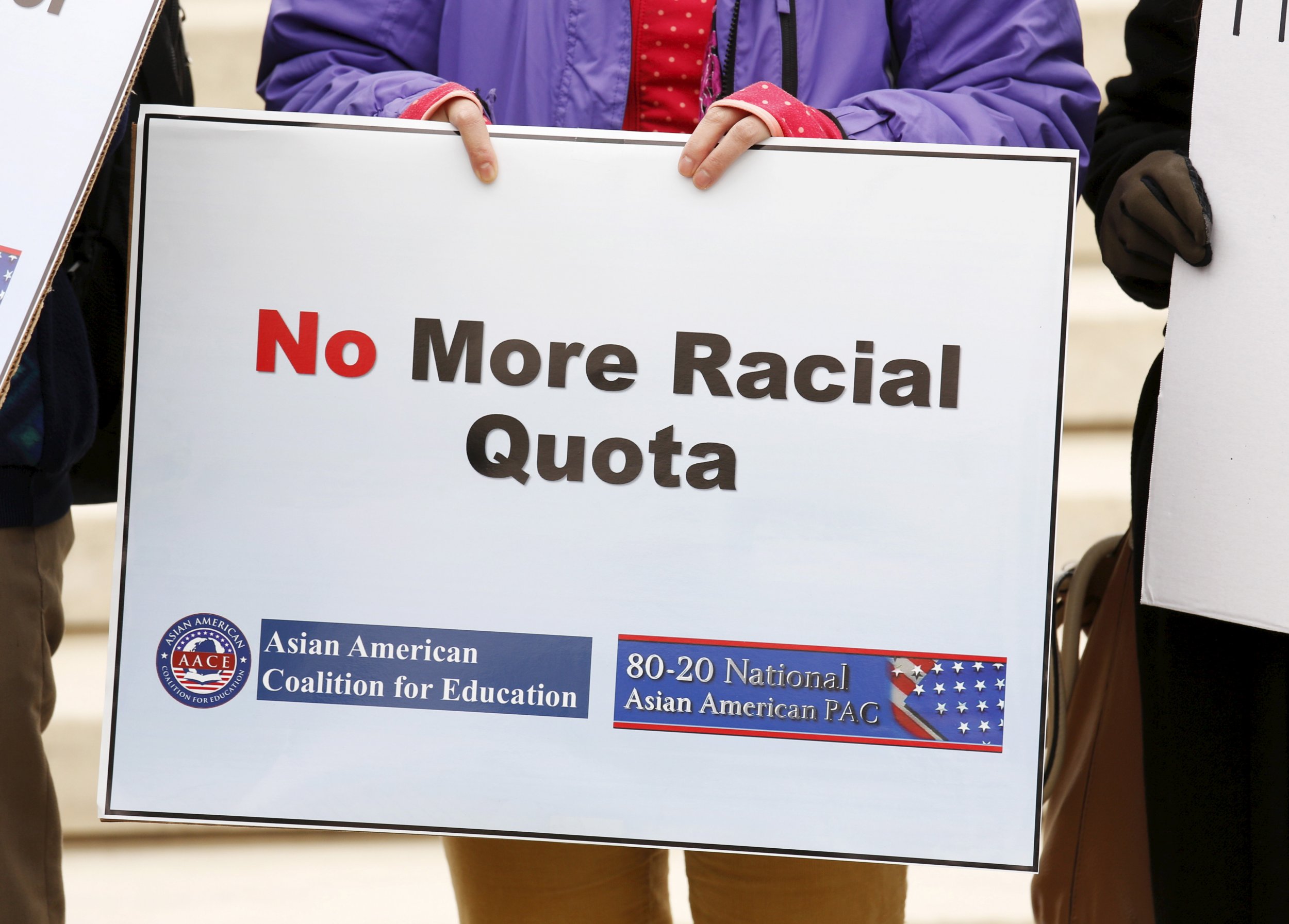 Newsweek published this story under the headline "Reverse Discrimination" on March 7, 1977. In light of recent news involving President Donald Trump targeting affirmative action, Newsweek is republishing the story.
The charge of "reverse discrimination"-meaning racial discrimination against whites or sexual discrimination against men-is fast becoming one of the most explosive issues in the field of civil rights. It has grown out of the various "affirmative action" programs, often required by Federal agencies, designed to place women and minorities in positions not generally open to them in the past. Some of these plans may involve quotas or preferential systems based on race or sex. The question is whether it is legitimate to use a preferential system to fight a discriminatory one. The U.S. Supreme Court last week agreed to rule on this emotion charged matter in a case from California. Allan Bakke, who is white, twice applied for admission to the medical school of the University of California at Davis, and twice was rejected. On the strength of his academic record, Bakke may well have deserved one of the 100 spots in the entering class. But up to sixteen of those places had been set aside for "disadvantaged" students under an affirmative-action program designed to increase the number of Chicano, black, Asian and American Indian doctors in the state. Bakke alleged that he had been the victim of reverse discrimination. The Supreme Court of California agreed with him and the university appealed to the U.S. Supreme Court.
Shut Out: Advocates of affirmative action contend that these programs are necessary to help overcome decades of discrimination against minority citizens and women. Officials at the university note, too, that the competition for admissions has become so intense that unless affirmative action is pursued, almost no non-white students would be enrolled and members of the minority groups would be effectively shut out of the medical and other professions. Opponents of the program usually concede that women and minorities have been discriminated against in the past. But they argue that racial or sexual discrimination is plainly illegal whomever it affects. If favored treatment for minorities and women penalizes a white or male, they contend, constitutional principles are being violated under color of law.
When the UC Davis plan was declared unconstitutional by the state court, many civil-rights groups tried to dissuade the university from appealing. They feared that the Bakke case was a particularly weak test for affirmative action, so rather than allow the issue to be decided on a national basis by the conservative Burger court, they hoped to confine the damage to California. In properly drawn affirmative-action plans, special efforts to recruit minorities are supposed to be undertaken, but the legality of establishing a quota for admissions is in doubt; the Davis plan set a figure of sixteen. And although there has been demonstrable discrimination against minorities in many medical school is only nine years old and has no history of racial discrimination.
In 1974, the U. S. Supreme Court faced a similar case brought by a white man, Marco DeFunis, who had been denied admission to the University of Washington law school. But DeFunis had later been allowed to enter the law school pending resolution of his suit, so the Court declared the case moot and thus avoided the issue. Bakke has not been admitted at UC Davis. Because of the Supreme Court's crowded spring calendar, it may not hear the Bakke case until next fall. Its decision could shape the nation's employment and university-admissions policies for years to come.