Afghan Female Robotics Team Risked Lives to Apply for U.S. Visa But Were Denied
An all-female team from Afghanistan hoping to take part in an international robotics competition has been denied entry visas to the U.S.
The six strong high school team had applied for a one week visa to accompany their robot to Washington D.C. to take part in the First Global Challenge international robotics competition in July.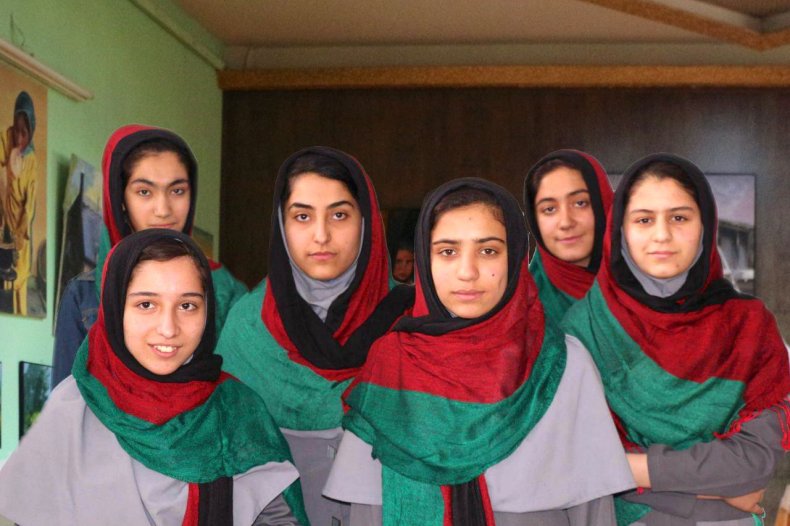 The team twice made the perilous 500 mile journey from the western city of Herat to the American embassy in Kabul—not far from a recent suicide bombing that left 90 dead—to no avail.
The team had already experienced setbacks in obtaining the equipment and materials needed to build the ball-sorting robot, with vital parts sent by competition organizers only cleared by customs three weeks ago, while other teams had months to prepare.
"We want to develop and explore our minds and creativity and maybe unveil the genius inside of each one of us," the team wrote on their webpage. "This opportunity would allow us to invent, design, and create things that could possibly allow our community, our lives, and us."
Entrepreneur Roya Mahboob is the country's first female tech CEO, and brought the girls together for the project.
"It's a very important message for our people" Mahboob told Forbes. "Robotics is very, very new in Afghanistan."
The Citadel software founder said that when the girls first heard the bad news about their visas, "they were crying all the day."
The U.S. State Department does not comment on the reasons for rejecting visa applications, however official figures show the difficulty of obtaining the kind of business travel visas sought by the girls, with only 112 granted in May, 2017. By contrast, 780 of the visas were issued for visitors from Iraq, and 4,067 from Pakistan, which neighbors Afghanistan.
Afghanistan is not one of the six Muslim majority countries targeted in President Trump's travel ban.
First Global President Joe Sestak, a former Navy admiral and former member of Congress, told Mashable that he had not been told the reason for the denial of the girls' visa request, and said that a team from Sudan and a Syrian refugee team had been granted visas to attend.
The girls' robot will now travel to the U.S. without them, where they hope to watch it compete against hundreds of others via Skype. A video celebrating the team will reportedly be played at the competition.
Mahboob said that the team's success was a hugely important symbol in Afghanistan's patriarchal society.
"In Afghanistan, as you know it's a very man-dominated industry," she told Express Tribune. "The girls, they're showing at a young age that they can build something."