Afghan Female City Workers Told to Stay Home Despite Earlier Taliban Promises of Tolerance
The interim mayor of Afghanistan's capital Kabul, Hamdullah Namony, said on Sunday that female city workers are ordered to stay at home despite the Taliban's vows to respect and protect women's rights.
Namony said some women will keep their jobs in city government only because they can't be replaced by men—including those in the design and engineering departments and attendants of women's public restrooms, the Associated Press reported.
"There are some areas that men can't do it, we have to ask our female staff to fulfill their duties, there is no alternative for it," Namony said during his first news briefing since being appointed.
According to Namony, women made up under one-third of around 3,000 city employees before the Taliban took over the nation last month. Those female city workers worked in all departments.
The Taliban on Friday replaced the Women's Affairs Ministry with a Ministries of Prayer and Guidance and the Promotion of Virtue and Prevention of Vice which, Reuters reported.
The new ministry will be responsible for enforcing the Taliban's interpretation of Islamic morals and law.
A dozen women on Sunday protested briefly outside the ministry against the new rules set by the Taliban, the AP reported, calling for inclusion in public life. One sign read: "A society in which women are not active is (sic) dead society."
The Taliban have been scaling back the rights and freedoms of women and girls in the country since the takeover of Afghanistan—with some of the new rules similar to those implemented when the Taliban were in power during the period between 1996 and 2001. At that time, women and girls were banned from education and work.
On Friday, the Taliban's education minister said in a statement that all male teachers and male students in sixth through 12th grade are set to return to class without mention of female students. At the time being, girls are allowed to pursue their education until the sixth grade.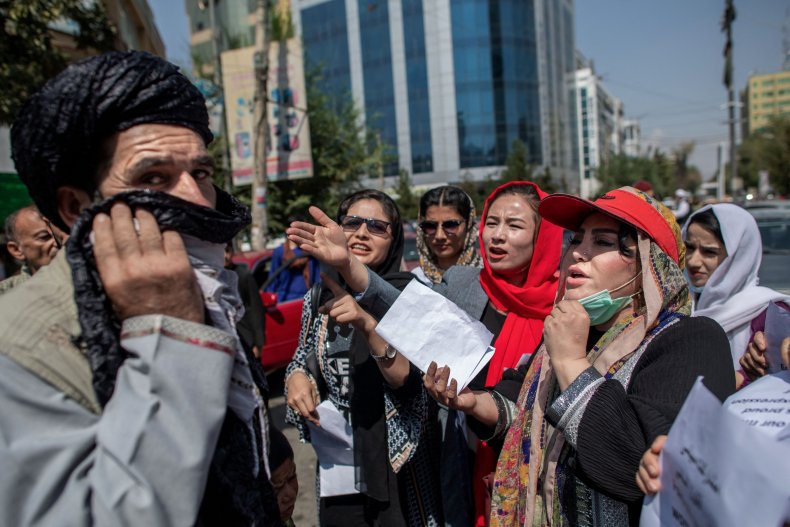 According to The Wall Street Journal, teen girls were not allowed to return to schools as they reopened following the minister's announcement. The Taliban are set to consider female teens' education, according to the paper.
On September 12, the Taliban said that women can continue pursuing higher education at universities, but they will be attending gender-segregated classrooms while wearing a hijab.
The Taliban's higher education minister, Abdul Baqi Haqqani, said at the time: "We will start building on what exists today."
"We will not allow boys and girls to study together," Haqqani said. "We will not allow co-education."