The Biden administration has requested congressional funding to begin the resettlement of Afghan refugees, the Associated Press reported. By the end of this month, the U.S. plans to settle 65,000 refugees, and by this time next year, the country aims to settle 95,000 refugees.
Following the end to America's longest war, the nation now faces what some have called a "moral obligation" to support the resettlement of the thousands of Afghans who supported U.S. military forces during the time of the country's occupation.
Right now, the federal government finds itself working to resettle some 37,000 refugees. Newsweek previously reported that over nearly 10,000 of these individuals will find themselves in the historically refugee-friendly states of California and Texas, with over 5,200 ending up in California and nearly 4,500 coming to Texas.
While these two giants of the American landscape stand to see the most Afghan refugees, most of the U.S. will be welcoming these allies within a matter of weeks. So far, according to data gathered by the AP, only Hawaii, South Dakota, West Virginia, Wyoming, and the District of Columbia have closed their doors to the administration's resettlement efforts.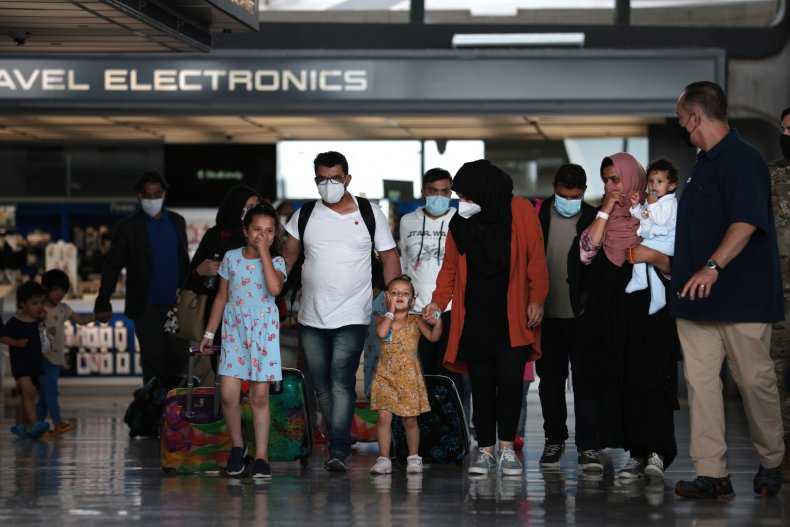 While immigration has served as a feature of American political polarization for decades, in this case, resettlement appears to be a bipartisan effort. The red states of Florida, Missouri and Oklahoma have each decided to take in more than 1,000 refugees—among the most in the country. The blue states of New York, Washington and Maryland similarly stood amongst the top welcomers, also taking in north of 1,000 refugees.
States that have rejected resettlement efforts seem to have done so because of either lack of capacity or lack of existing Afghan communities. Current federal resettlement efforts attempt to place newly arriving Afghans in existing Afghan American communities, where they can remain in touch with their culture while also being around others who will support their journey in becoming accustomed to American life.
Lutheran Social Services, a South Dakota refugee resettlement agency, told U.S. News and World Report that the state does not have the requisite capacity to support successful integration. Similarly, Wyoming does not have any existing Afghan communities, having never taken in refugees in since 2001.
West Virginia is still deciding on how and if the state may be able to accommodate Afghan refugees, Governor Jim Justice said last month. Hawaii has remained quiet about its intention, and D.C. faces high housing costs that could make resettlement challenging. Despite his party's stance on certain immigration policies, Senate Minority Leader Mitch McConnell supports resettlement.
"It seems to me we owe it to these people who took a chance with us, that they could have a more normal life in (their) backward country, to help them have a new life somewhere else, and if some of them want to come to America, I think that's fine with me," McConnell said during an address in Kentucky.